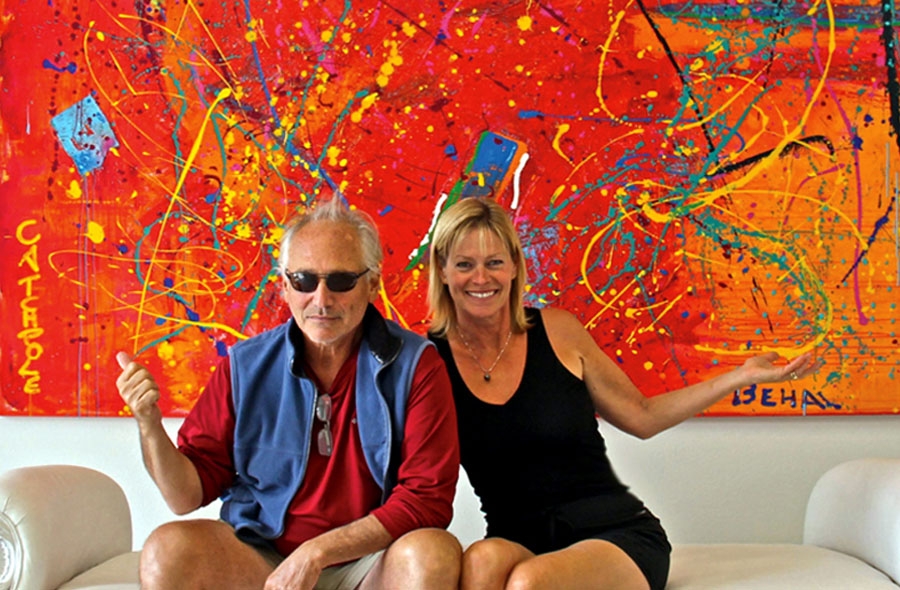 Jeannie Catchpole and Steve Behal are proof positive that love and life are capable of reflecting the zenith of union through art.
Their extraordinarily passionate and collaborative marriage is unusual in almost every aspect as it insists on stepping outside the box of proprietary ego and offers us the opportunity to witness predestined union on the canvas of their art and in their lives.
Born within 40 miles of each other outside Toronto, they attended the same college, majored in different areas of art but never met until fate temporarily united them at the prestigious Canada's Cup Match Race held at the Royal Canadian Yacht Club. Steve: a renaissance man, painter, actor, writer and a multiple award winning photojournalist. Jeannie: a nationally honored, multiple award winning, cutting edge graphic artist and painter. Both were accomplished sailing enthusiasts and as fate would have it, had been recruited to utilize their talents at the elegant and internationally renowned yachting event.
Jeannie was happily married and Steve was decidedly single. For the next three years each found a seemingly endless commonality in personal tastes, film appreciation and artistic perspective but then separated as Catchpole moved to Sun Valley, Idaho with her husband and Behal remained in Toronto moving forward with his increasingly popular photographs of world celebrities, Royals, politicians, iconic events and even notorious book covers….
The two had no contact at all for the next 20 years yet their respective lives paralleled one another in a near eerie fashion. Both felt compelled to reroute their respective forms of artistic expression. Jeannie, with an enviable client list to her credit, had honed her extraordinary fine art training and had become a lauded watercolorist specializing in sumptuous landscapes and compelling portraiture. Her international client base would have left many talented artists to remain content to continue in their praised medium but Catchpole felt this "undeniable need…. a not to be ignored force" within her that demanded an artistic transformation that would send her beyond the confines of her traditional schooling and into the limitless frontier of the abstract.
Concurrently, Behal continued to practice his ancillary passions for painting, writing and art photography but shifted his creative focus from his highly lauded photojournalism to the acting craft. He progressed and earned roles playing opposite talents such as Al Pacino and Collin Farrell in The Recruit and Rene Zellweger in the Academy Award winning film, Chicago. He was cast in edgy character parts in episodic television and found satisfaction in the theater as both an actor and a director. When asked why he chose to channel his energies from his established and successful career as a photojournalist to the uncharted and often difficult world of the acting profession, he said, "to ignore the need would have been to surrender to fear… that his very core demanded that he be free from the confines of the familiar and delve into the unknown recesses of himself."
We see both Catchpole and Behal seeking freedom through art; both seemingly answering to a similar muse while totally unaware of the others journey. The extraordinary similarities of creative need and transformation are unmistakable while in real time they both pursue astoundingly similar paths of another form, one of personal retrieval. Catchpole is now single and Behal, having been married briefly is seeking a solution to the conundrum of what he needs for a peaceful partnership with himself and another.
In 2007, Jeannie Catchpole is working on a very large acrylic abstract in her Sun Valley studio. The piece has consumed her attention for over 18 months. Like all art it has a sentience and this one simply refuses to be compliant and "allow closure". Without any rational reason, Jeannie thinks of Steve. She laughs when recounting the moment, "I hadn't thought about this guy in 20 years but he might as well have been standing in my studio." Considering the circumstances and most importantly the nature of both Catchpole and Behal, it seems almost inconceivable that she would do anything other than simply step to her computer and Google him. She sends him a message informing him that her life will be taking her to Toronto in the near future and would he like to meet. She waits for an answer.
One would think that with all of their other synergistic confluences, Catchpole and Behal would not only get together in short fashion but run into each other the next day on some undefined street corner. Not so. It took a year for the two to reconnect but when they did it was yet another reminder of their similarities and predestination.
Jeannie meets Steve for some tea only to find herself in his flat staring in astonishment. Catchpole remembers, "It was as though I had walked through my own studio door. There was art stacked and hanging everywhere, floor to ceiling… I couldn't believe it but Steve had even chosen the exact same color and hue for his walls and the same corresponding placement for them as I had for my own space in Sun Valley. I was speechless … It was just plain spooky and yes… so wonderful too!"
A year and a half passes and Catchpole and Behal are now an international couple dividing their time between their resort home in Sun Valley and their Canadian pied a terre in Toronto. The 6×8 foot unfinished canvas still braces itself against the same wall where it had invited Jeannie to contact Steve. Catchpole has since requested that Behal consider contributing to the canvas. Behal admits to being uncharacteristically nervous and perhaps justifiably wary of such an idea. His now much beloved partner in life is asking him to venture onto the real and metaphoric canvas of their reunion. Convention says that it is her piece. Jeannie asks him again three times in as many weeks.
One night, Catchpole is woken by her lover at 2 a.m. and Behal says to her, "If we are going to work on this painting together it has to be now." She sights the hour and other work as deterrents born from concern but he simply says, "What's it to be Jeannie?"
For the first time they paint together. They discuss, collaborate and create a new and enhanced incarnation for the acrylic abstract before them. They say it was as if the canvas had been waiting for them to come together with it. Their painting finds its own rhythm and within 2 days is finally happy with itself. Steve selects the name.
Tongue in cheek, the name seems to join and identify their unique identities in art and in life. Catchpole and her Sun Valley studio are situated in the high desert foothills of the Smokey Mountains. Her creative gift often grounds itself in disciplined planning and application that is reflective of the topographical environment in which she paints: an airy and vast land of meaningful open space. Behal is an intensely creative soul; collecting experiences, correlating professions and manifesting all as art itself. His life is one of creative traffic. When the two join they form a new and expressive entity. Their mystically collaborative piece will be called "High Desert Traffic".
Wikipedia defines synergy as:
The creation of a whole that is greater than the simple sum of its parts.
It would seem that the story of Behal and Catchpole's first joint painting, "High Desert Traffic", stands as an undeniable affirmation of that very definition. In it we see a delicious and vibrant example of just what can be accomplished through an honest and perhaps fated commitment to love through art.
Jeannie and Steve have added to their collection with other intensely vibrant and harmonic acrylic pieces. Their joy in co creation seems only to grow and enhance their work.
To view "High Desert Traffic" and other works of art by Jeannie Catchpole and Steve Behal please visit their website at:
---
Franny Cheston is a writer, sound producer and voice over artist currently residing in Sun Valley, Idaho.