Tucked away in Dubai's edgy industrial district, the M.A.D. Gallery and its stable of radical artists are ripping up the art and design rulebook.
To the unenlightened, Dubai's sprawling Al Quoz area, located a mere two and a half kilometers from the uber-luxurious Burj Al Arab hotel, is a dusty, sand-swept industrial zone, filled with nameless backstreet garages, tire fitters and concrete contractors. However, to those in the know, Al Quoz — and Alserkal Avenue in particular — is Dubai's creative heart, a hotbed of galleries, specialty retailers, museums and the odd trendy café.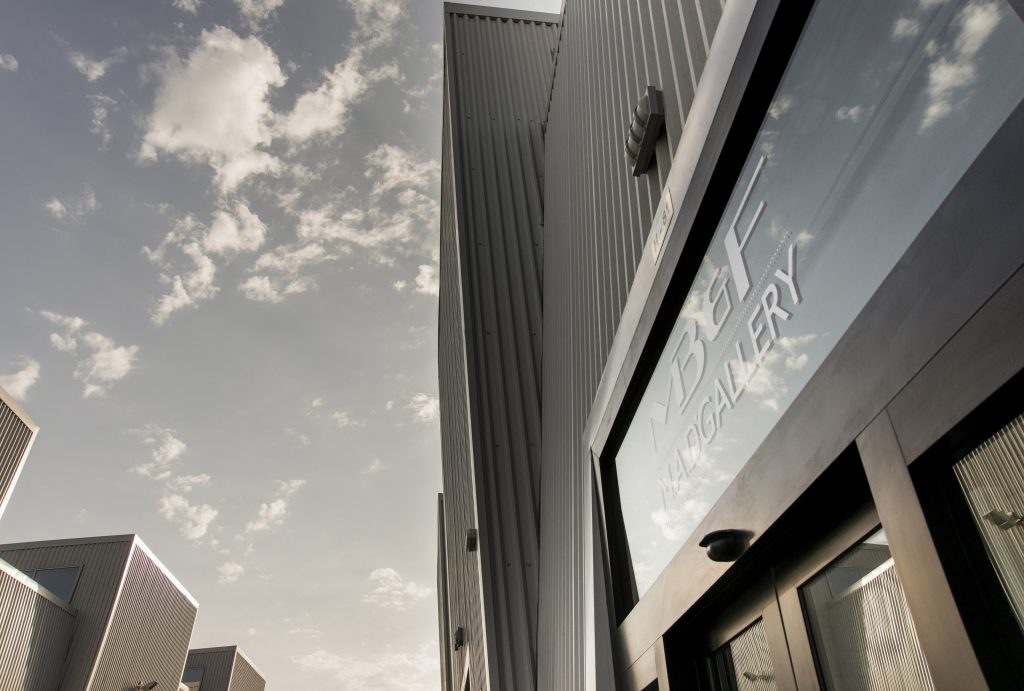 Maximilian Büsser, founder of the avant-garde boutique watch brand MB&F, decided that this edgy arts district would make the ideal home for the third location of his M.A.D. Gallery which is devoted to the inventive genre of mechanical art devices. The creative establishments in Al Quoz are typically unpretentious, so they rely on word of mouth and their reputations for business. And since foot traffic in Al Quoz is virtually non-existent, clientele is kept to the most exclusive of UAE residents.
Choosing an unconventional gallery space made perfect sense, considering Busser's artistic convictions and vision. In 2005, after years of conforming to the rules of corporate watchmaking, he had his "Falling Down" moment. He escaped the safe world of horology with a myriad of defiant ideas and started a rebellion which he called MB&F – Maximilian Büsser & Friends. He headquartered his fiercely unconventional Swiss watch brand in Geneva.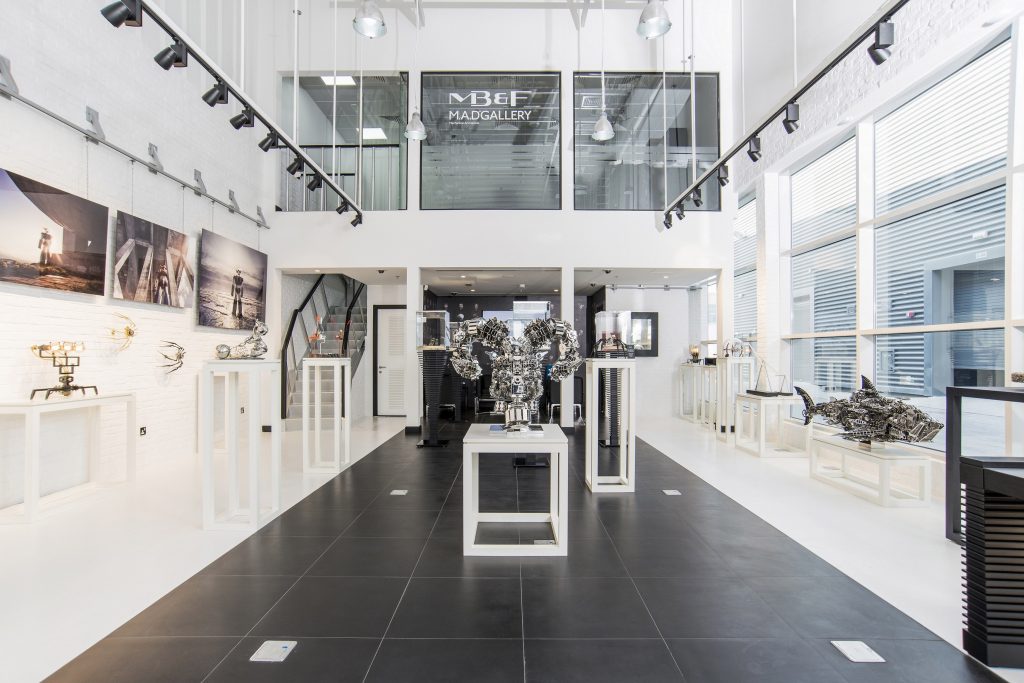 The "Friends" named in his company's new title consisted of fellow creatives, all of whom were blessed with a restless streak. Büsser wanted to assemble a group of radical artists with a penchant for the extreme — rebels without constraint — who were rock star watchmakers and sculptors.
Büsser's passion for kinetic art, horology and mechanical art devices led him to establish the first M.A.D. Gallery in Geneva, just a stone's throw from MB&F's office. The second M.A.D. Gallery opened in Taipei in 2014, followed by the Dubai location in 2016.
The gallery on Alserkal Avenue showcases the complete range of MB&F Horological Machines and Legacy Machines as well as a collection of carefully-curated mechanical art devices from around the world. Each piece represents the pinnacle of this art form, from an arachnid-inspired wall clock to custom-built motor cycles. As visitors to this unconventional gallery quickly discover, the M.A.D. Gallery certainly lives up to its name.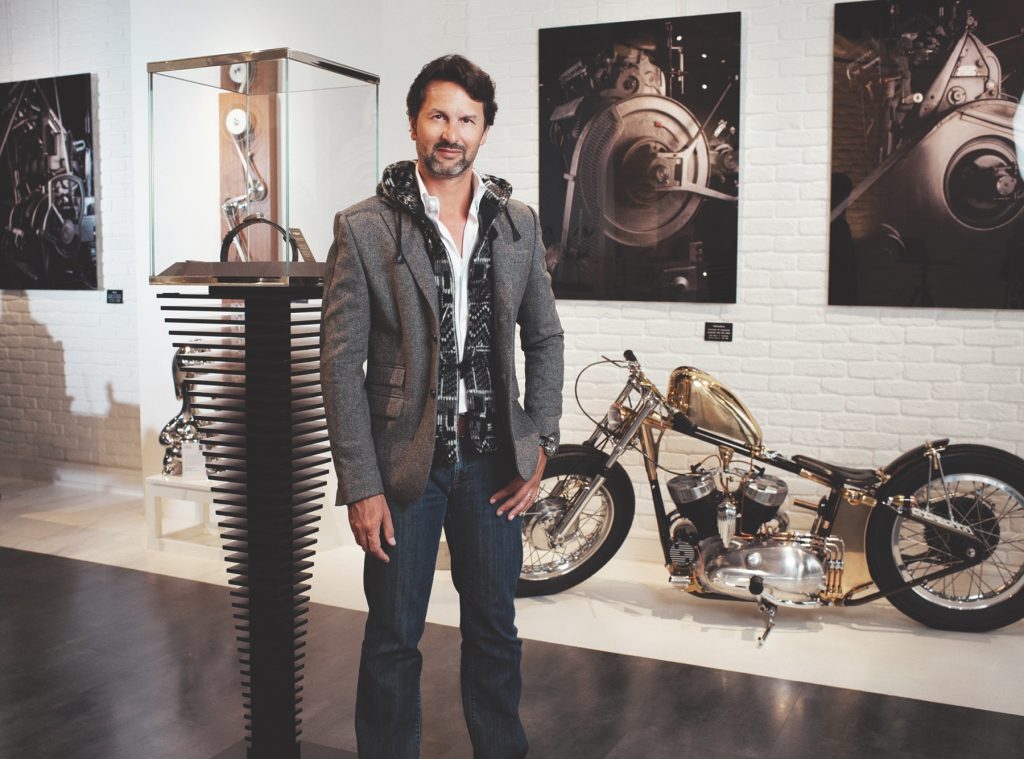 "The M.A.D. Gallery concept made complete sense with the Alserkal Avenue concept," Büsser said. "When we saw that project the first time, we said 'yes' immediately.
Visitors to the gallery usually have the same feeling I have when I discover an artist. It's awe. It's amazement. It's a big smile."
Arachnophobia
By Maximilian Büsser
This clock will have arachnophobes reaching for a rolled up magazine. Arachnophobia was inspired by a giant spider sculpture that MB&F's founder, Maximilian Büsser, had seen in Geneva and although this table-cum-wall clock is much smaller at 405mm in diameter, it is an intimidating piece of work. The high-end L'Epée movement has been reimagined as the spider's head and abdomen, with the visible moving parts adding to the overall "live" effect. While it's not for everyone, Arachnophobia's presence can't be denied.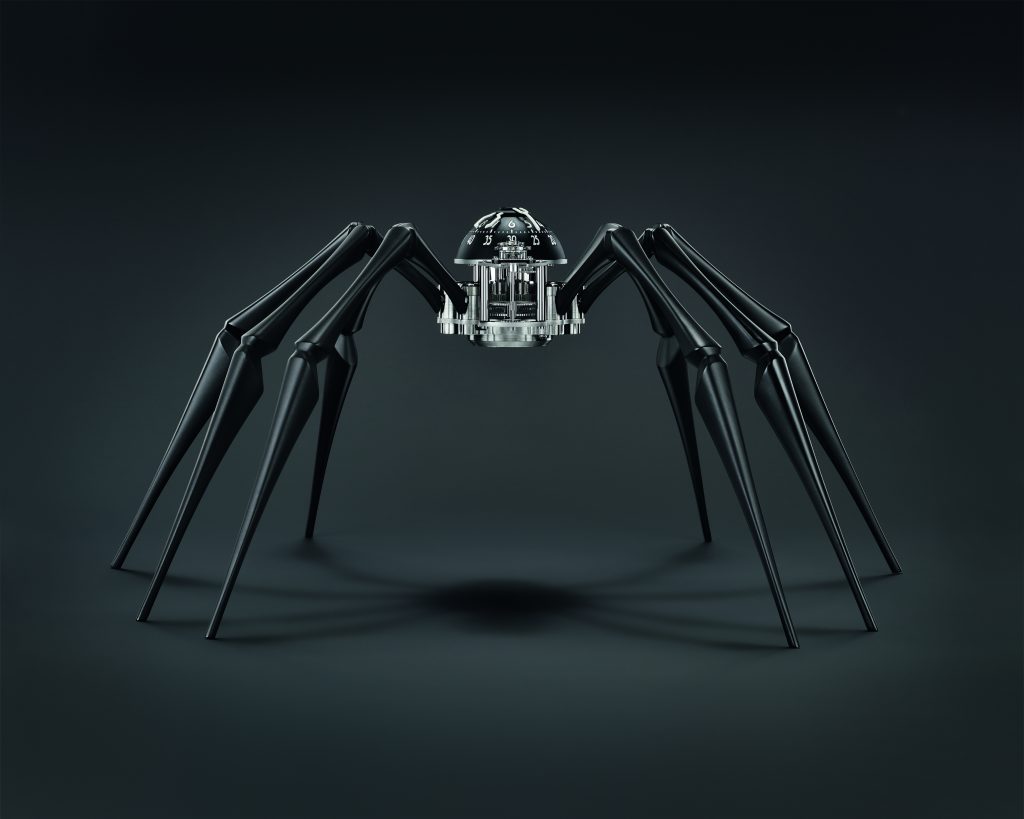 Poseidon
By Xia Hang
Inspired by the unlikely duo of cartoons and polished steel, China's Xia Hang formed what are arguably some of the M.A.D Gallery's most eye-catching sculptures. As you step through the door, Poseidon greets you, a huge stainless steel creation that is the amalgamation of two of the planet's most feared predators: the attack helicopter and the Great White shark. Watching over it is another striking piece, the 90x65x90cm Mutton Head — a sculpture of polished steel that challenges the conventions of the art of sculpting.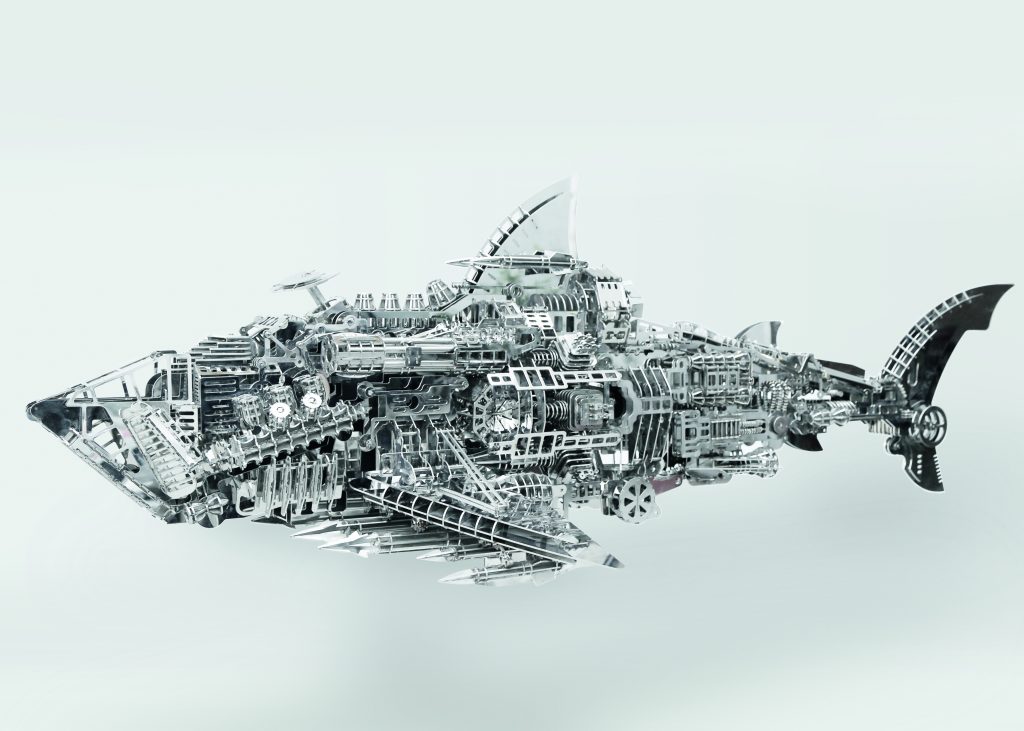 Nixie Machine II
By Frank Buchwald
Back in 1993, Berlin-based Frank Buchwald decided to turn his science fiction illustrations into working pieces of art, creating all manner of space-age sculptural lights. For the M.A.D. Gallery, he collaborated with Dalibor Farny, a passionate engineer, to create the Nixie Machine II, a clock utilizing Nixie tubes. Also known as cold cathode displays, the tubes contain numerals that glow a seductive orange and are "fed" by numerous steel tubes. Telling the time has never been so alluring.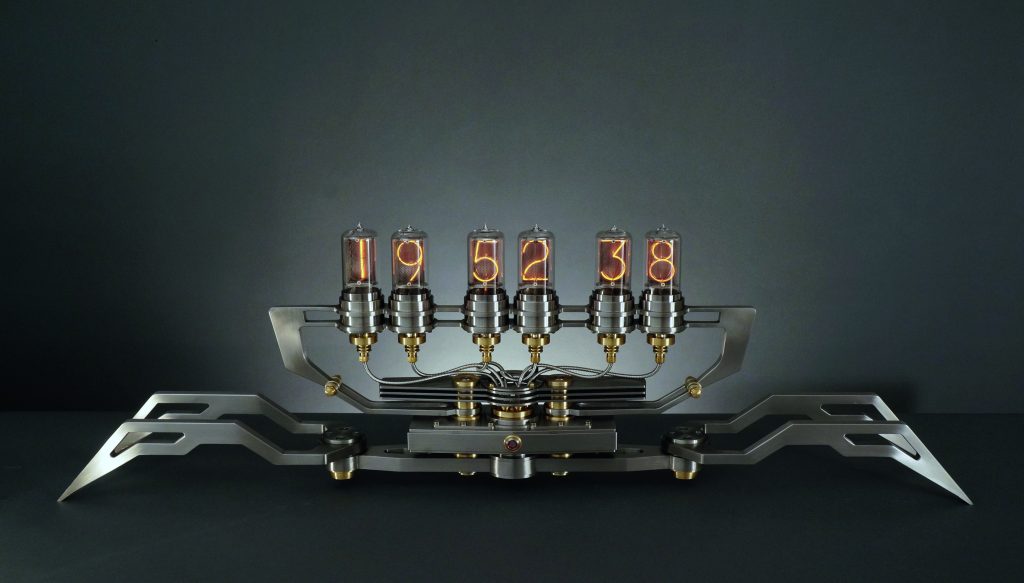 Airdrive
By Renaud Marion

On the walls of the Alserkal Avenue gallery, Renaud Marion's Airdrive project showcases nine visionary photographs of "flying" cars. Inspired by sci-fi films of the past, the French photographer created his interpretation of future transport, but with a twist: the cars are all based on classics from the 1940s through the late 1960s. To get the look, Marion photographed each car in situ in and around Paris, making sure the backdrop was as "Luc Besson" as it could be. Back in his studio, he digitally removed the wheel wells, creating the iconic "flying" look.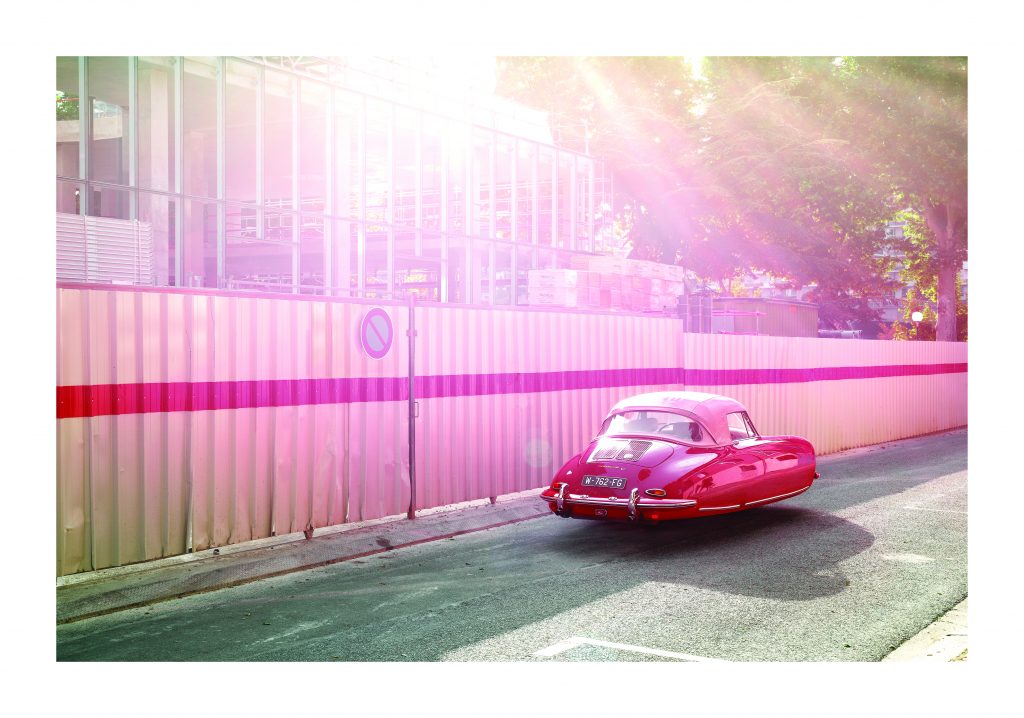 Disintegration
By Fabian Oefner

Swiss artist Fabian Oefner's Disintegration series is one of the most well-known of the M.A.D. Gallery's works, as it has been picked up by a number of automotive websites and blogs. Using iconic sports car models as a base, Oefner painstakingly takes two months to deconstruct and photograph his works, taking over 2,000 images in the process. After photographing each of the exploded components, Oefner comps the image together to create a real photograph that looks like a 3D rendering.