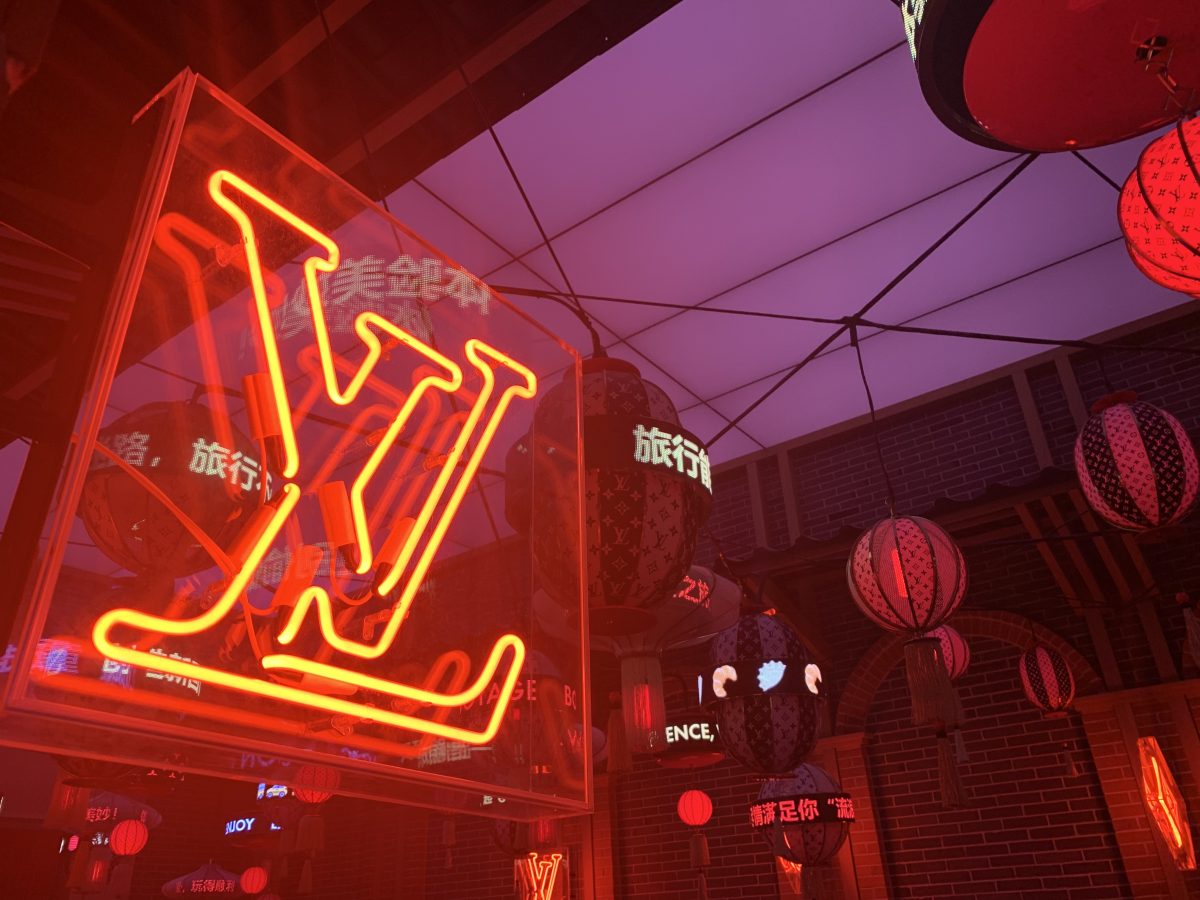 'Volez Voguez Voyagez' or 'Sail Fly Travel' is a cultural exhibit designed by Robert Carsen and curated by Olivier Saillard that retrospectively showcases the history of Louis Vuitton from 1854 to the present. The formal yet fantastical show was unveiled in Paris and then traveled to Tokyo, Seoul and New York before landing in Shanghai from November 2018 to February 2019.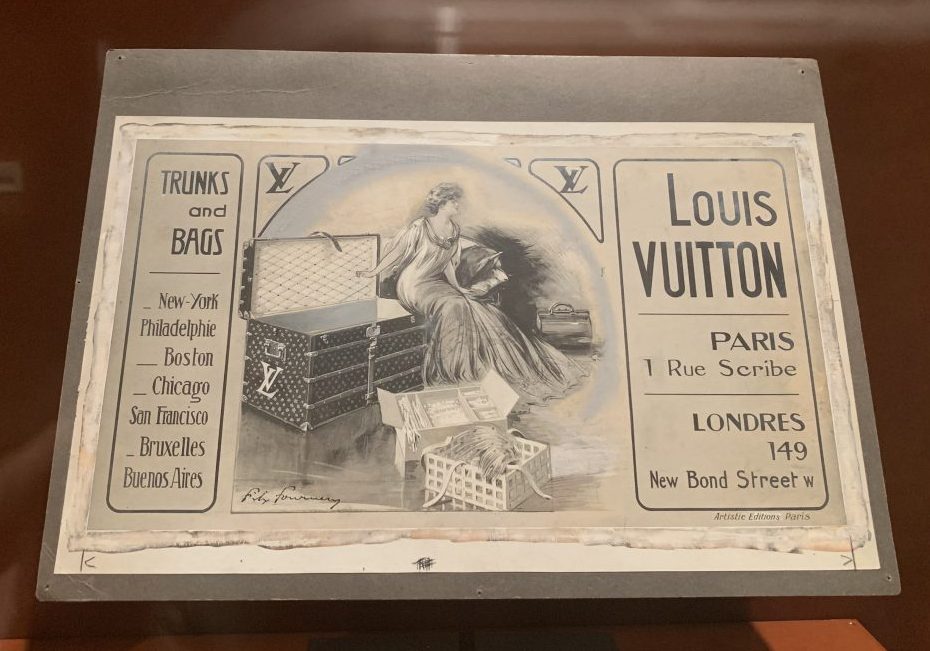 Jetset was fortunate to have toured the Shanghai exhibition which showcased Louis Vuitton's history, products, craftsmanship and savior faire as it followed "different chronologies as visitors traveled through 15 rooms, each dedicated to an emblematic chapter in the history of Louis Vuitton," said LVMH. A brief background of each room follows.
The Trunk of 1906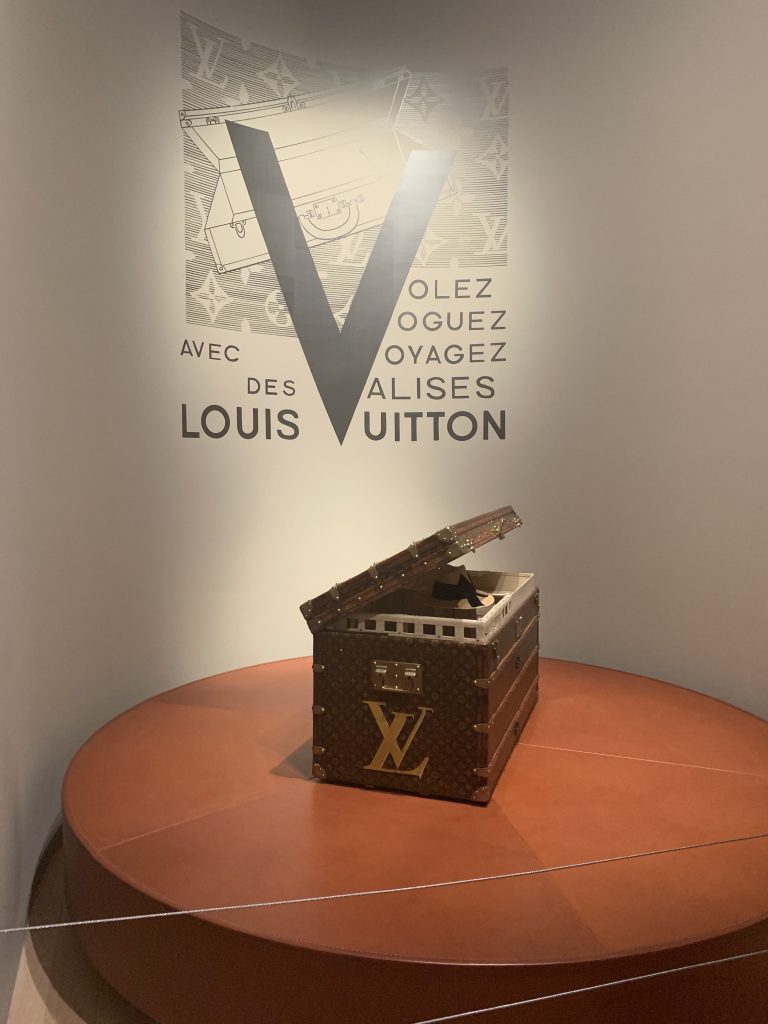 With distinctive elements like canvas motifs, locks, ribbon tufting, etc., a legend is born. The 1906 low trunk in Monogram canvas contains interlocking compartments and shows off the signature features that are still beloved today.
Wood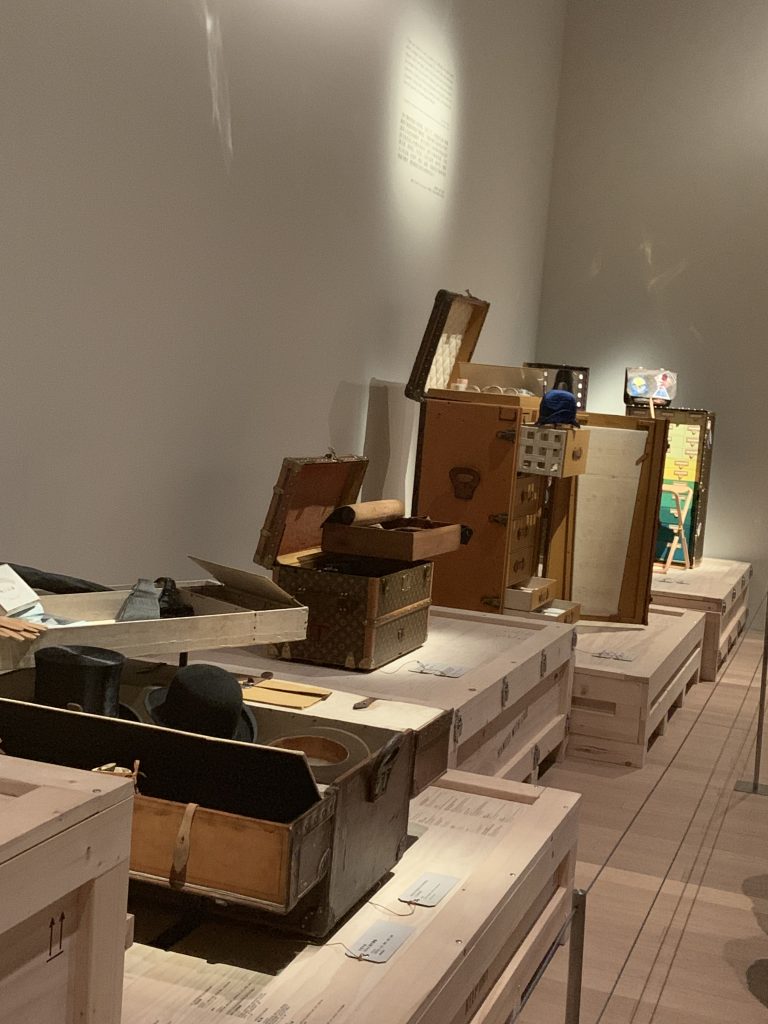 A young Louis Vuitton armed himself with the knowledge of woodworking and became a box maker in his early years. This room displayed the details of how wood is at the heart of all Louis Vuitton trunks.
Classic Trunks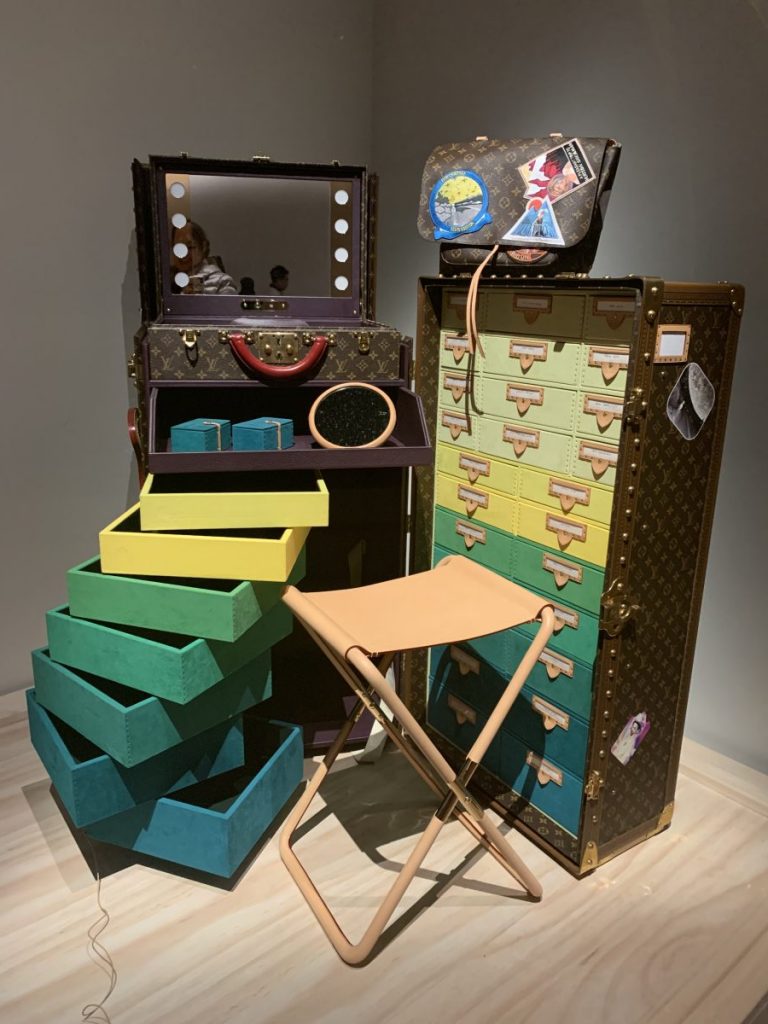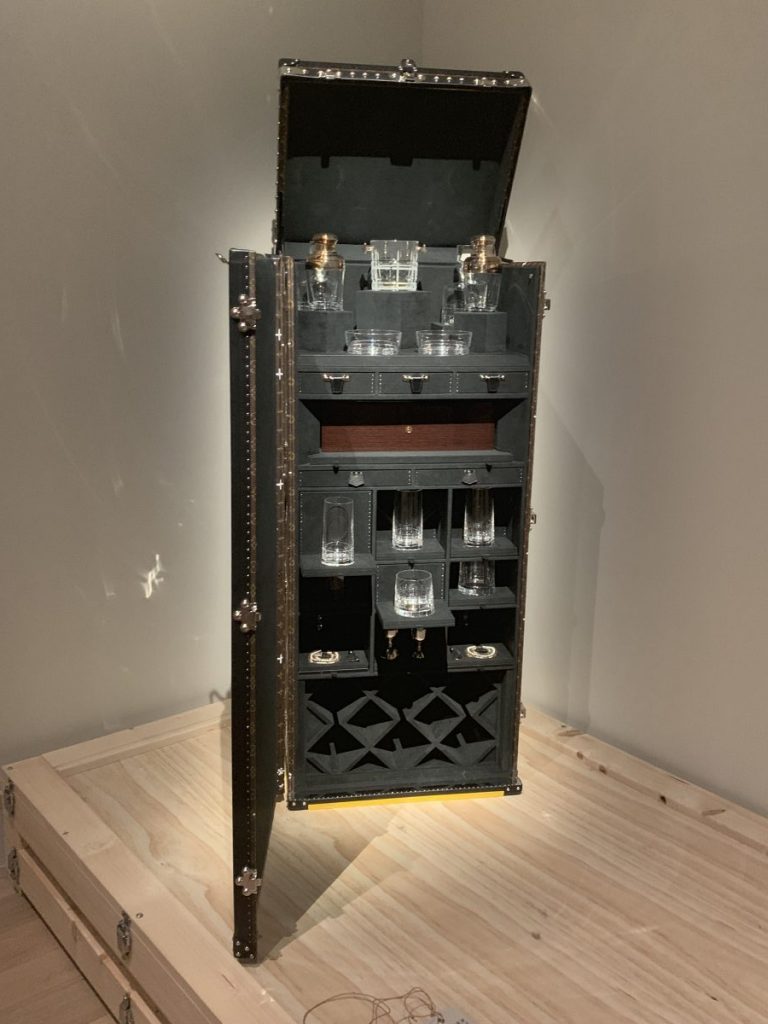 Best known for its timeless patterns and designs, Maison Louis Vuitton moved into wardrobe trunks, mail trunks, secretary trunks, hat trunks, and other designs to safely pack the most fragile objects. Interesting fact: The Damier canvas was created in 1888, preceding the iconic Monogram canvas.
Expeditions
In the 1920s, the House of Louis Vuitton went on a few anthropological and technological missions with André Citroën, who special ordered trunks suited to climate, modes of transport and practicalities of the day-to-day including toiletry kits, tea set kits and more.
The Rise of Yachting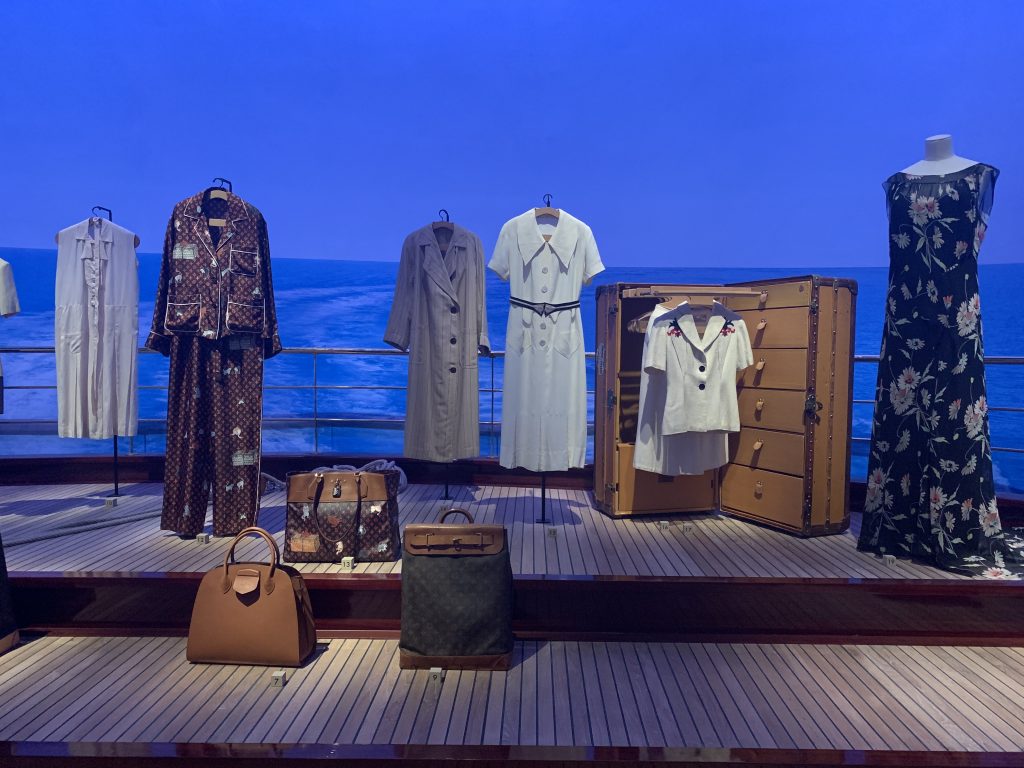 Featuring the legendary Steamer Bag crafted by Louis Vuitton, this room took visitors through the sea travel craze of the early 20th century.
The Automobile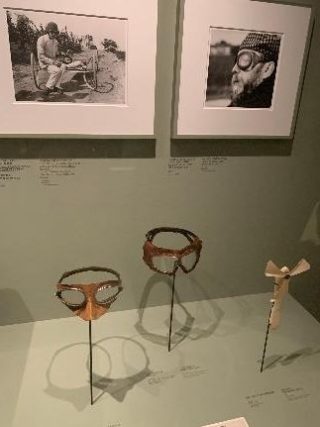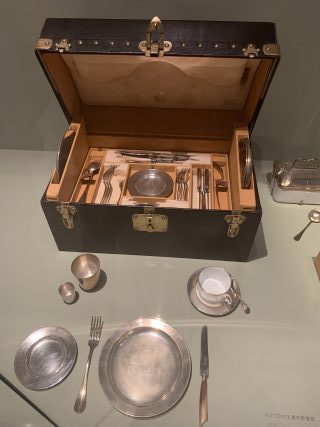 Here, visitors caught a glimpse into the first form of automobile travel where car trunks in Vuittonite or Monogram canvas were tied to the top or back of curve-hugging cars. Accessories like leather driving eyewear and leather helmets were displayed in this room as well.
Aviation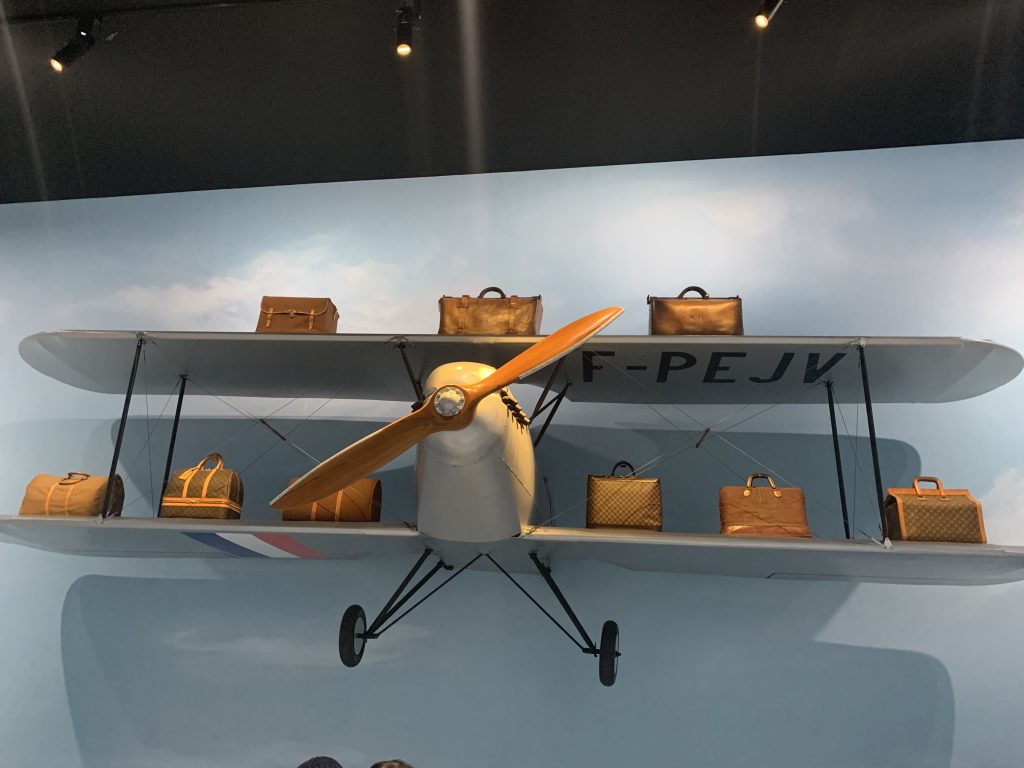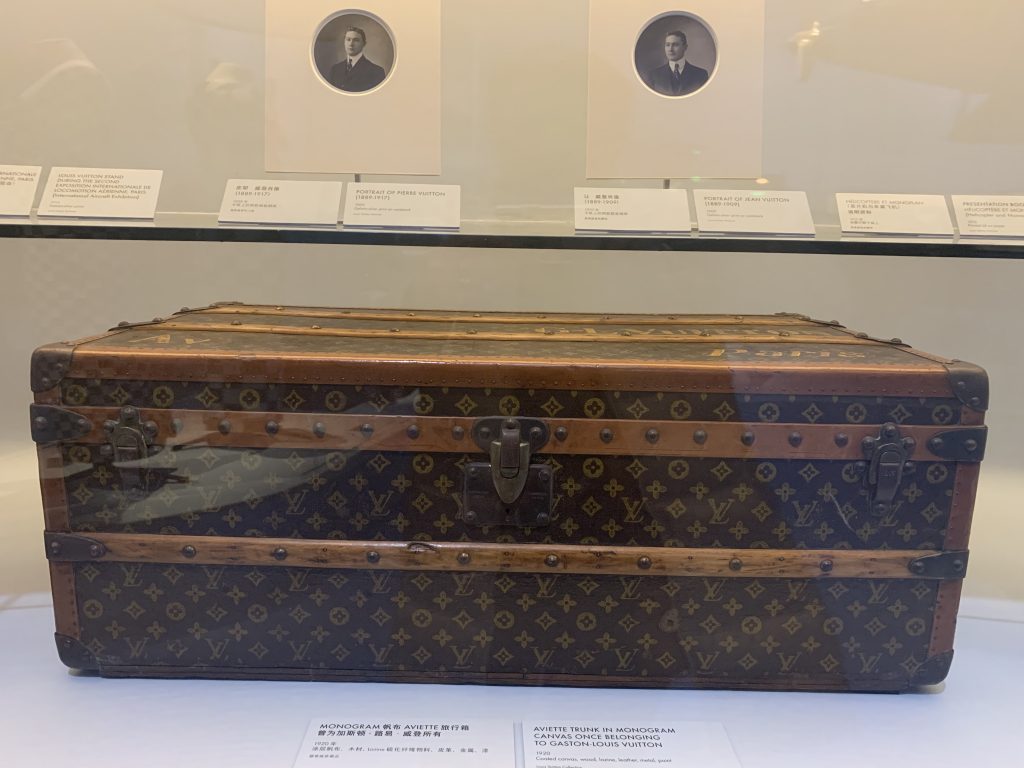 Much like Louis Vuitton himself, aviation innovators were trailblazers in the early 1900s. Aviators and passengers were equipped with the Aéro Trunk and the Aviette which weighed less than 57 pounds and could hold, "2 pieces of clothing, 1 overcoat, 10 shirts, 3 night gowns, 3 pairs of underwear, 3 waistcoats, 6 pairs of socks, 12 handkerchiefs, 1 pair of shoes, 18 detachable collars, gloves, ties and hats," as described in the exhibit guidebook.
Trains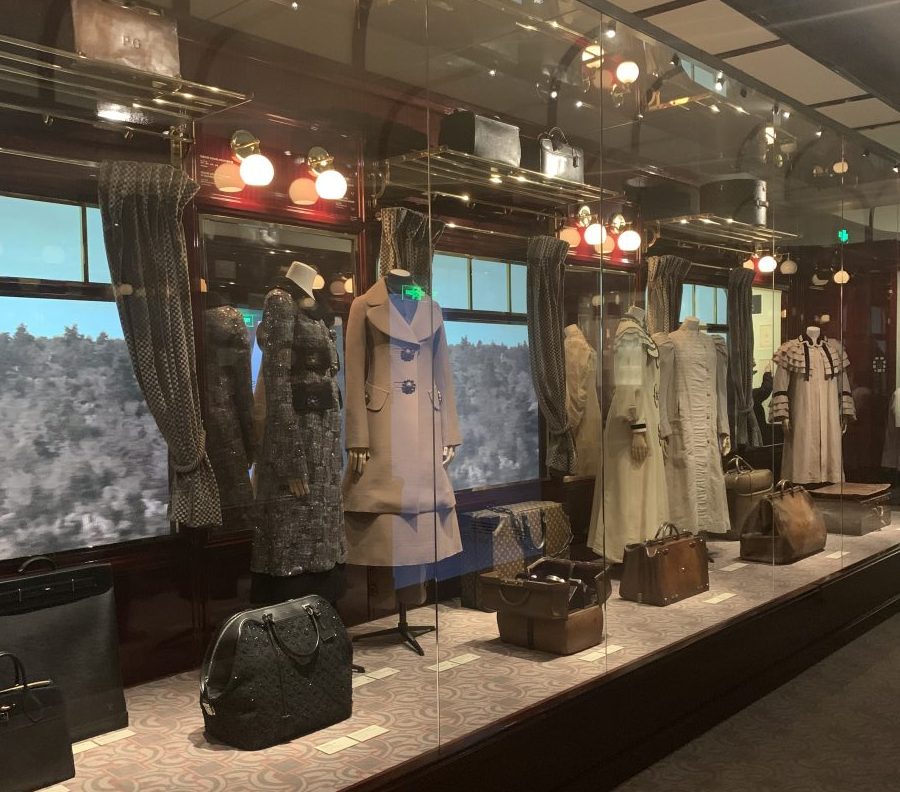 As modes of transportation evolved in the 19th and 20th centuries, technical inventions favoring the traveler's comfort became necessary. This section of the exhibit showed the fashion of the time along with fashion bags and trunks set in a train car with moving windows.
Writing & Music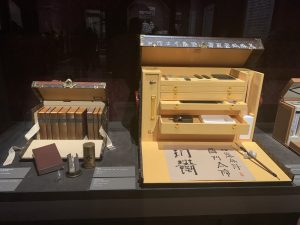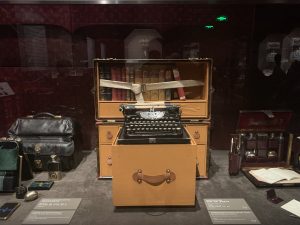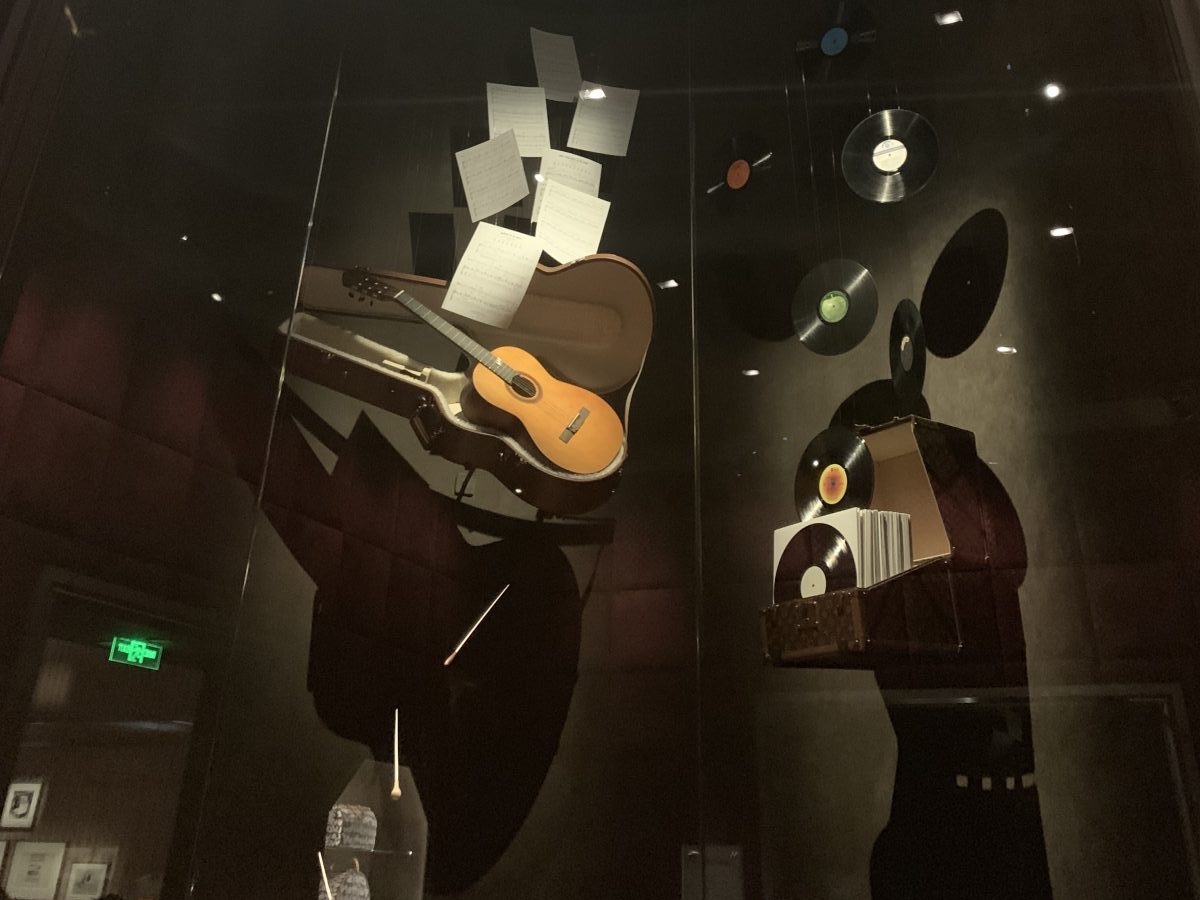 According to Louis Vuitton, there is no fantasy or extravagance that cannot be packed. Before any means of modern telecommunication existed, writing was a necessity and a pleasure to many. The House of Louis Vuitton crafted secretary trunks, library trunks, writing desks, mobile offices and Grimoire cases to suit the times. Additionally, the trunk maker expertly designed cases to safeguard fragile instruments like guitars and violins.
Sophisticated Dandies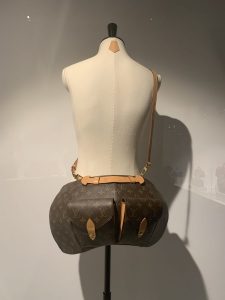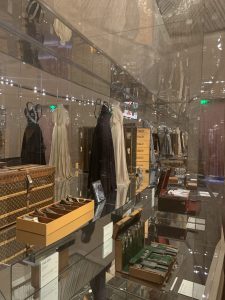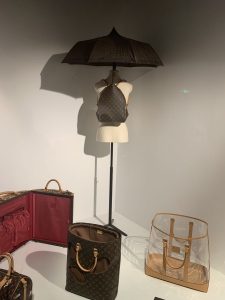 Both women men appreciated the art of impeccably crafted trunks for traveling, especially French actors, who were the first to order foot and wardrobe trunks for their many travels. From garment bags to toiletry bags, the Louis Vuitton brand became a go-to for sophisticated, well-off gentlemen of the time.
The Painting Trunk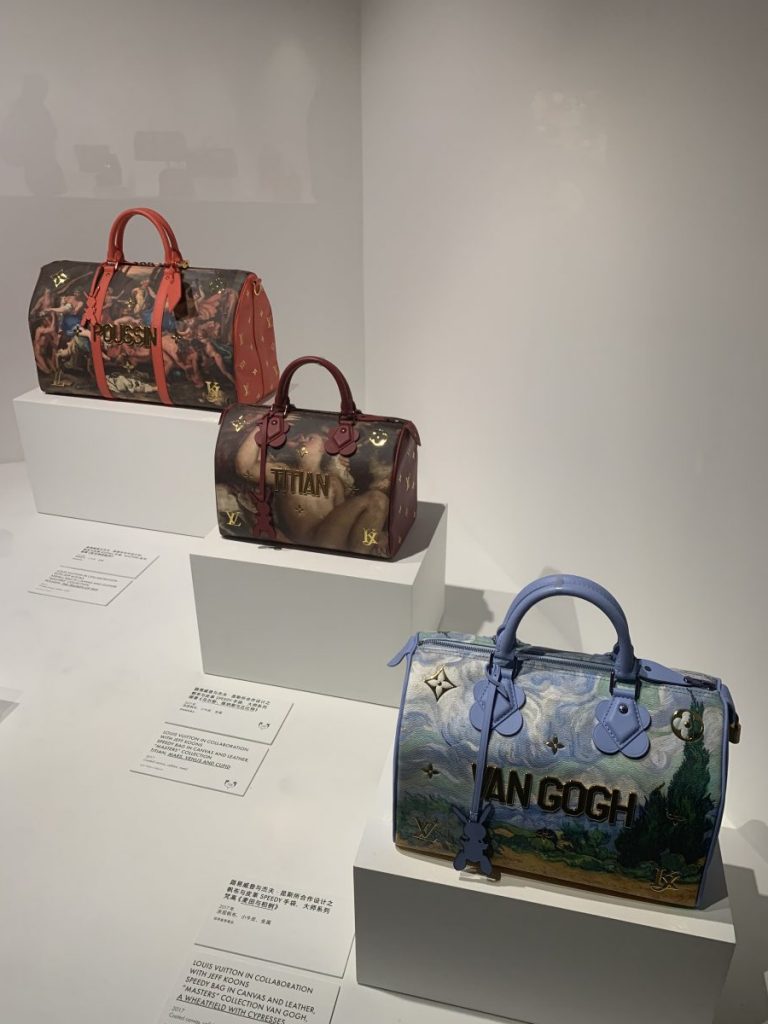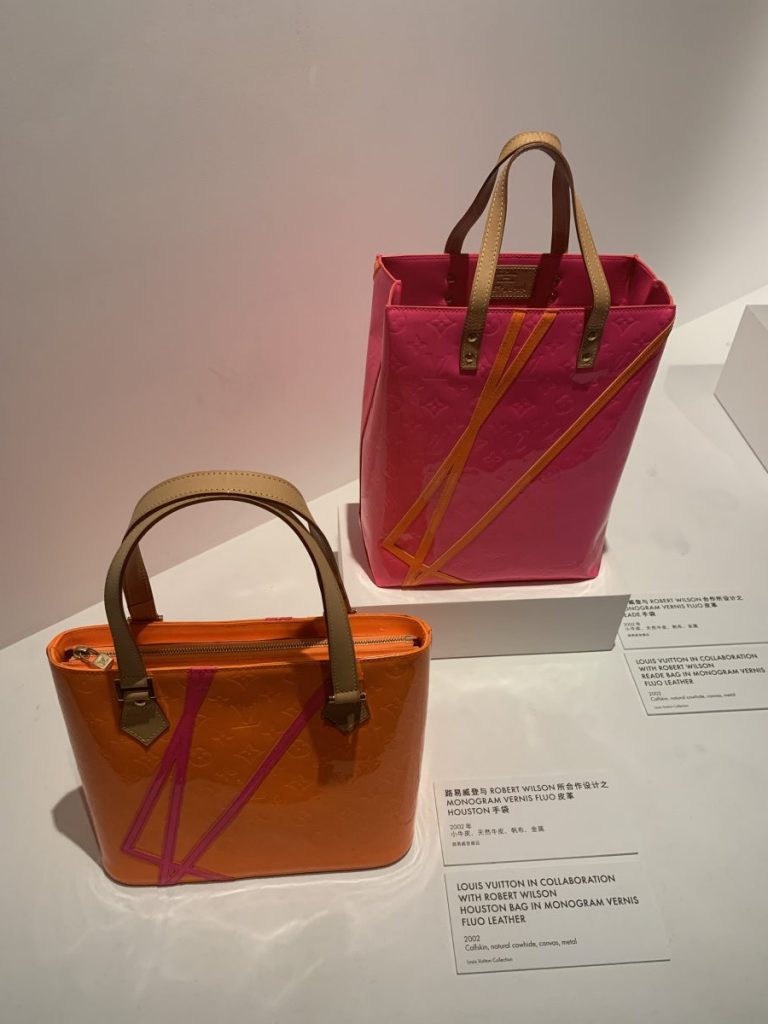 Louis Vuitton trunks were revered by famous artists and prominent art dealers, as the oversized drawers could take fragile items to great distances safely. This section showed the relationship between the House and its well-known customers like Henri Matisse and Francis Picobia. Artists such as Takashi Murakami, Richard Price and Damien Hirst reinvented patterns and fabrics as shown in this space of the exhibit.
Curio Trunks
Gaston-Louis Vuitton, grandson of Louis Vuitton who wrote the brand story for much of the 20th century, collected every trunk he could find across the globe. This chapter of the story shows his best collections devoted to trunks from different periods. "They are all very unique and they show that despite the country you come from, despite the decade you live in, you always need something to transport your life," said Saillard to Whitwall.art.
Artistic Collaborations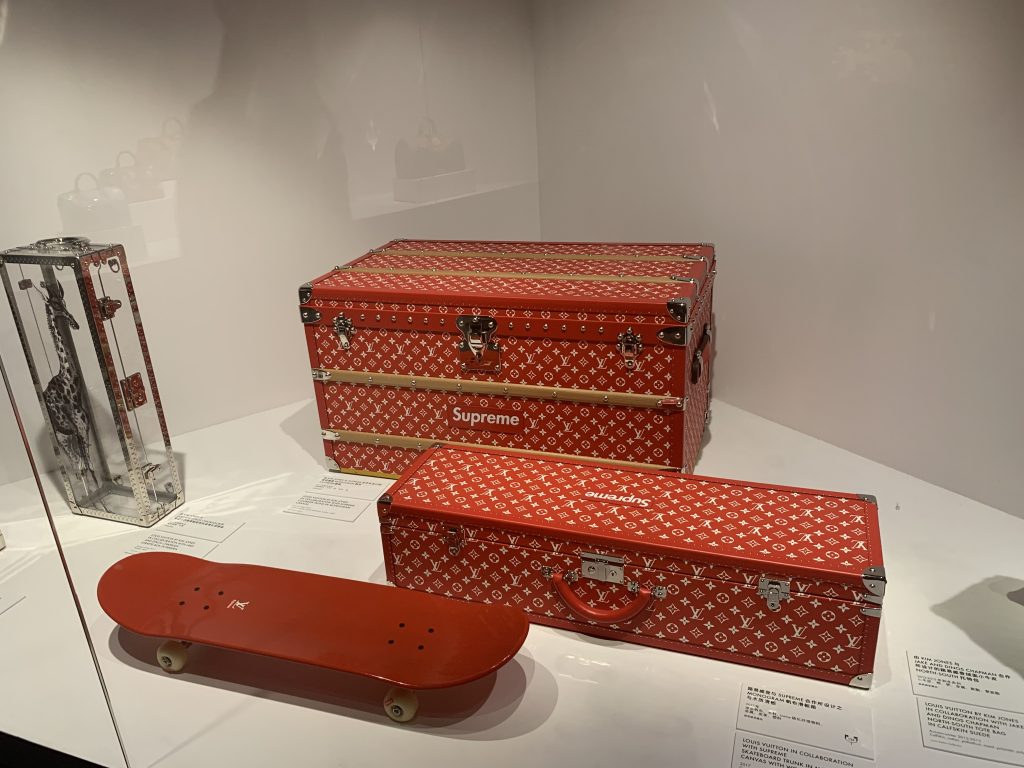 A more modern-day Louis Vuitton bag or trunk might be part of a collaboration with a beloved artist or fashion designer as shown in this room of the exhibit. Here, visitors gazed upon collaborations with fashion designers such as Manolo Blahnik, Helmut Lang, Vivienne Westwood and Marc Jacobs.
Feminine Elegance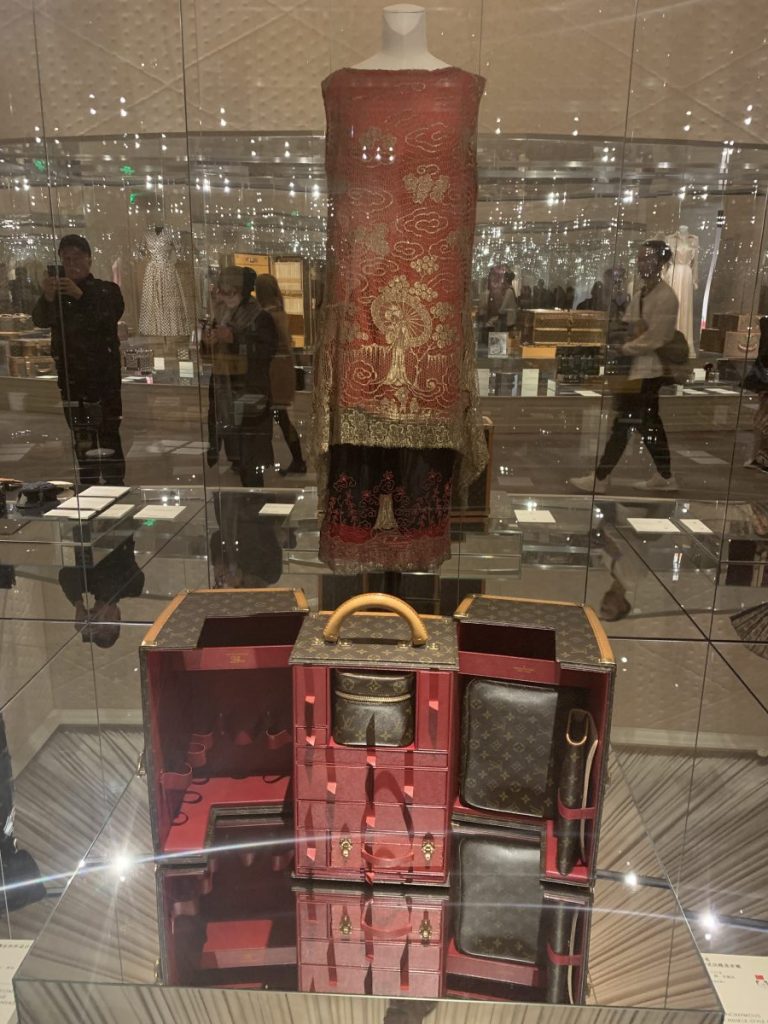 In the 1920s and 30s, trunks and suitcases took on a femininity suited to a traveling dame like a dressing table in crocodile, a bottle case with interior mirrors, and a jewelry case made with velvet lined drawers. Here, Chinese decorative arts and costumes provided numerous sources of inspiration.
Stars in Louis Vuitton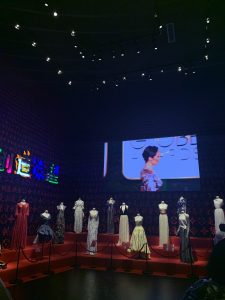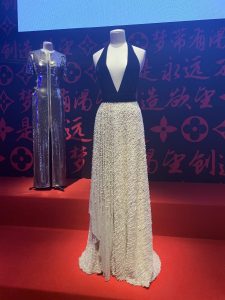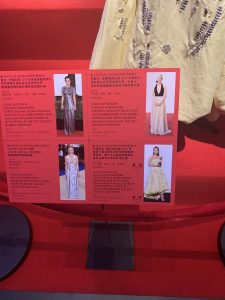 A Louis Vuitton exhibit would not be complete without display illustrating the extraordinary women's fashion journey undertaken by the luxury brand. The biggest names have chosen Louis Vuitton designs for the red carpet and everyday life as displayed in the final room of the exhibit.
"Louis Vuitton has always been at the forefront of creation and innovation, today and over a century ago. Constantly taking inspiration from our past we craft the trends of today. Olivier Saillard has immersed himself in the Louis Vuitton archives to decode its secrets. He delivers a fresh vision of our past, present and future," says Michael Burke, CEO of Louis Vuitton.