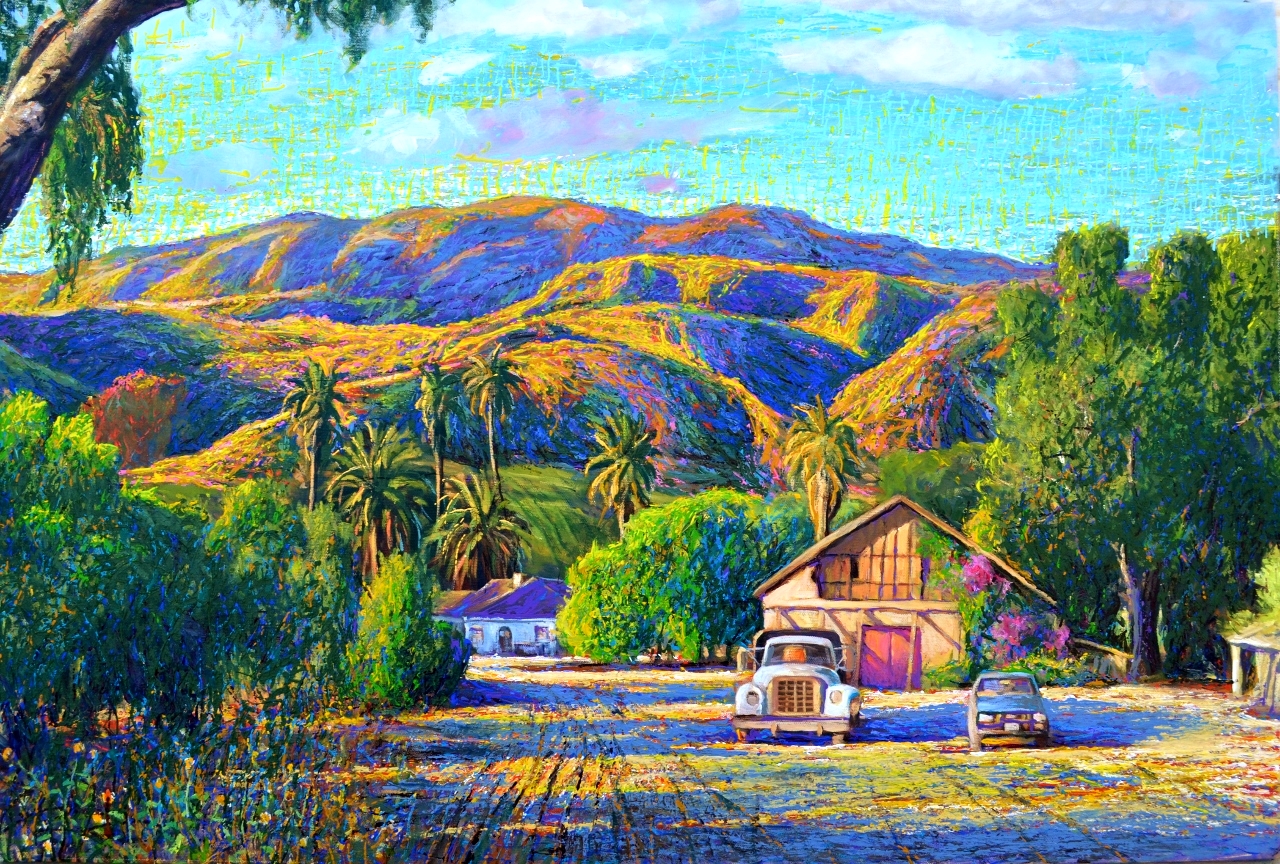 American artist, Wayne Weberbauer, has been painting fine works of art for over 40 years.
As a youth, living near the Jersey shore, he was fascinated with the local wildlife and painted many animals as a boy. Throughout his formative years, the schools he attended in Cranford NJ provided extracurricular art classes for gifted students like Wayne. Many of the paintings Wayne completed in junior and senior high school still remain on the wall of the school guidance centers and are an inspiration to all the many young artists passing through their doors.
Wayne attended the Newark school of fine art and design where he developed his painterly style creating and drawing figurative realism. After graduation, his long awaited dream to move to Carmel was realized. There he lived and worked for over 10 years. Several fine art galleries showed his work, Simic, Zantman, Village Gallery and The New Masters Gallery where he continues to exhibit his work today.
Early in 1988, Wayne and I attended a wonderful fundraiser in Palm Springs for the preservation of Big Horned Sheep, (also attended by our former president Gerald Ford) where Wayne donated a beautiful painting of four Big Horned Sheep on a desert mountain hillside, which can still be seen today in the local museum there.
In October of 1988, our first child, Kirsten was born, which sparked an amazing creative avenue for mother and baby tigers to be painted. Wayne then sold several pieces at the National Heritage Gallery on Rodeo Drive. Shortly thereafter, our family moved to Los Angeles. This allowed Wayne Weberbauer to make new art contacts and within a few months, he was proudly exhibiting his working Laguna Beach and Pasadena. During the early 90's, Wayne made large contribution to the Rainforest Action Network which auctioned off "Amazon Rainbow" a gorgeous rainforest scene still available today, as a Giclee print along with several others in our catalog. Also during that time, the Franklin Mint published a series of collectible plates, the mother/baby tiger series which sold more than 1.5 million copies. In the mid-90's, Wayne had the great opportunity to show his wildlife and landscape paintings at the famous Lassen Gallery in Caesar's Palace, Las Vegas, NV. Two years later, the Wyland Gallery Las Vegas exhibited his work at their Signature Gallery which was also a huge success.
Since then Wayne Weberbauer has done several art shows, large wall murals and private commissions which have generated referrals from private clients who continue to collect his work. A very large piece can take up to 3 months to finish and these range from 40″ by 60″ to encompassing entire wall spaces. One very large piece he did for the Health Alert Corp. in Carmel, CA was fifteen feet high by twenty-five feet wide. Wayne also painted our local elementary school Live Oak Leopard and the junior high school mascot, the Castaic Cougar, which is a massive wall mural with a huge school logo. We are very active in our 3 daughters and grandsons' lives. We support and emphasize art education and definitely have some artists in the family.
In the past year, Wayne has focused on developing the most natural skin tones for his women of the world paintings. It has been a huge success. They are beautiful and so realistic. As seen on his website, these paintings are provocative and display subdued and intense emotional expressions evoking the subtle beauty and charm of women of all walks of life. As anyone can see, Wayne Weberbauer can paint any person and place them in a scene of their choosing. Painting custom portraits are another great talent he has.
Recently, we toured the vast beauty of most of New Mexico and Wayne has been inspired to paint the southwest! Very exciting images are evolving in the studio; brilliant deserts, exotic sunsets, and wilderness escapes are in the works. With his love of skiing and hiking nature trails, I'm sure this region will be an area of interest for some time.
For Wayne, art is a communication he delivers through vibrant colorful oils on canvas, representing the life and breath of his emotional love for preserving our wonderful natural environment, land and seascapes, wildlife an his newest expressions of beautiful women of the world. Art fills a spiritual need and many of our private clients say that Wayne's art brings them great joy and adds such an aesthetic compliment to their home. To quote Wayne, "Painting a picture is like recording a slice in time, and the wonderful thing about art that it's timeless. Art and life are all about communication, so my job has always been to communicate as pleasingly and successfully as I can, with all the emotion I was feeling at the time transferred, then onto canvas as a finished work of art. Yes, words deliver messages of places seen , or new lands traveled, so I can tell of the many beautiful place I've been and say it through art. It is yet another portal through paint and canvas which I'm able to express my feelings on life and make statements to help provoke awareness on important environmental issues."
Contact:
Wayne Weberbauer
email: [email protected]
website: wayneweberbauer.com