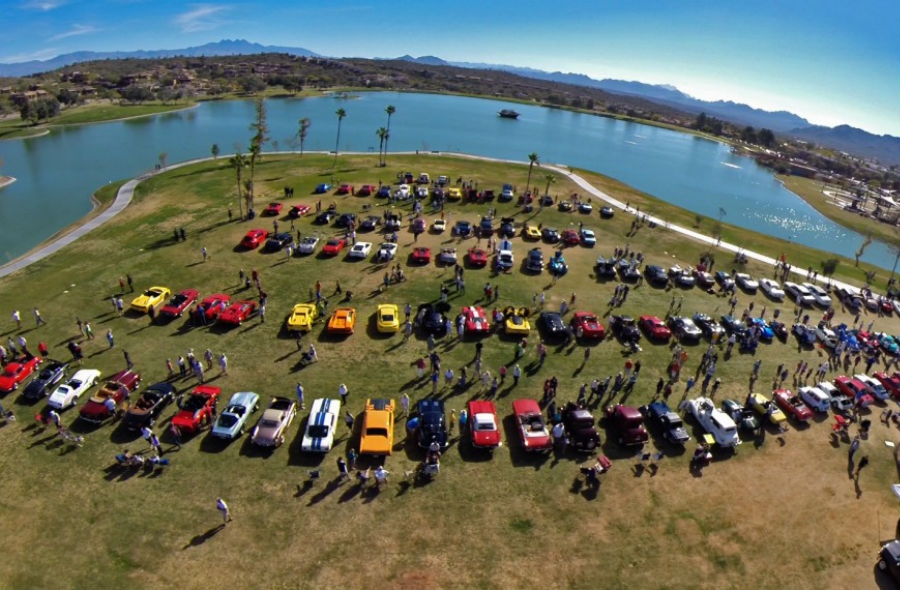 The second annual Concours in the Hills auto show is scheduled for February 7, 2015 at Fountain Park in Fountain Hills, Arizona, with a hopefully unnecessary rain date of February 14.
The inaugural 2014 Concours in the Hills raised $25,000 for the Boys & Girls Clubs of Greater Scottsdale. The upcoming 2015 event has already well surpassed this amount, with a goal of raising $50,000. All proceeds from the 2015 event will once again be donated to the Boys & Girls Clubs of Greater Scottsdale.
Concours in the Hills is not a formal "white glove" event, but rather a gathering of automobile enthusiasts in one of the most spectacular locations in the valley, on the green grass around the 560-foot fountain.
The Concours showcases a very diverse range of ultra-high performance, luxury, and classic vehicles from both imported and domestic manufacturers. These range from million dollar, 200 MPH plus cars such as Bugatti Veyron, La Ferrari, Porsche 918 and Ferrari Enzo, to American muscle cars and pre-war classics.
Over 300 exhibitors are expected to participate in the 2015 event. Once again there will be awards for best domestic, best import, best of show and people's choice. Spectator admission is free, and there will be lots of adjacent free parking.
"I am thrilled that we have already received such immense support for our 2015 event," said Peter Volny, event founder and organizer of Concours in the Hills. "All four of the 2014 sponsors are returning and we have added at least thirty more representing the leading car brands, and others. We have had enthusiastic support from the leading car clubs of Arizona representing Ferrari/Maserati, Lamborghini, Porsche, Jaguar, Mercedes-Benz, Alfa Romeo, Audi, Corvette, Viper, Ford GT, DeTomaso, DeLorean, and others."
Automobile owners can enter on line at: www.concoursinthehills.org/index.php/signup