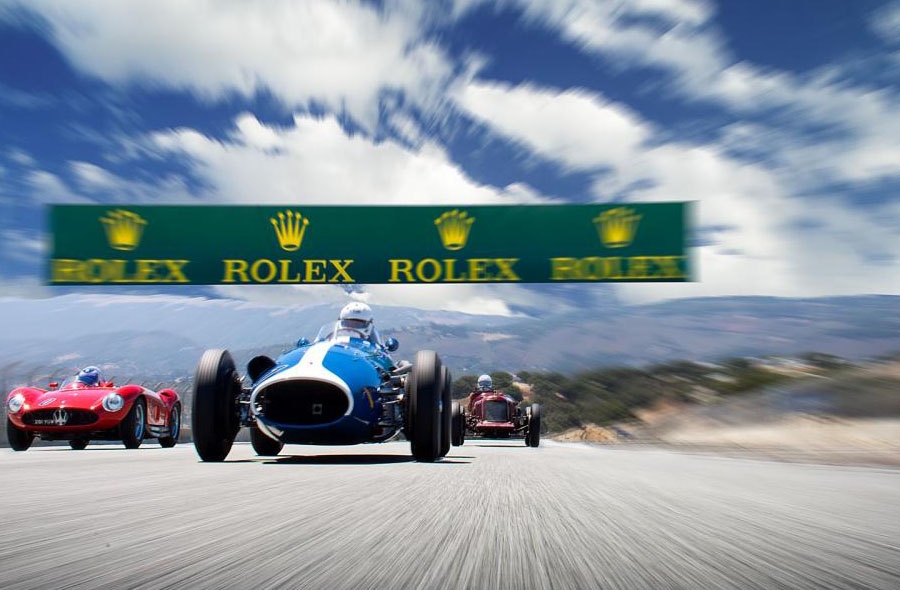 The Rolex Monterey Motorsports Reunion will celebrate the 50th anniversary of one of the most recognizable road racing cars of the '60s – the Shelby GT350 Mustang – as the 2015 featured marque August 13-16, 2015 at Mazda Raceway Laguna Seca.
The Shelby GT350 Mustang came onto the scene just one year after the Ford Mustang debuted. Ford Motor Company, already having success with Carroll Shelby in the Cobra program, enlisted Shelby to make the new Mustang competitive. And together they did, winning three consecutive SCCA national championships in its maiden years.
Surpassing previous years' flurry of entry requests before the deadline strikes, the Rolex Monterey Motorsports Reunion's Governing Committee today began the arduous task of reviewing each entry to reduce the total car count to a maximum of 550. The process is time-consuming, but ensures that each car is authentic and historically accurate when they arrive at Mazda Raceway Laguna Seca August 13-16.
Several race groups in particular are attracting special interest and a high caliber list of entrants. "To honor this year's featured marque, there is a dedicated Shelby Mustang class that will provide a fitting salute to the Shelby GT350 Mustang's heritage on its 50th anniversary," said Gill Campbell, CEO and general manager of Mazda Raceway Laguna Seca.
For Trans-Am enthusiasts, the ever-popular class returns to flex its all-American muscle. These are the very same cars made famous by the likes of Parnelli Jones, George Follmer, Mark Donohue, Dan Gurney, Sam Posey and so many more between 1966 and 1972.
From the rumble of American metal, comes the high-revving frenetic pace of historic Formula 1 cars. Nearly 30 F1 cars that spanned the racing era of 1967 to 1984 will be on track in their original livery bearing such names as Jacky Ickx, Mario Andretti, Niki Lauda and James Hunt. The pinnacle of motor racing, there will be representation from Ferrari, Lola, Williams, Lotus and McLaren, among other constructors that competed.
For the first time in the 41-year history of historic racing in Monterey will be a group of Formula 5000 cars. And what a group it will be: 50 cars have requested entry and all are period correct and a stunning example of open-wheel racing that was held between 1968 and 1976. Notably, it is anticipated to be the largest collection of Formula 5000 cars to ever race at once. The international field includes former world champion cars like the ex-Mario Andretti 1974 Lola, a 1969 Gurney Eagle that hasn't been seen since 1970, and Tony Adamowicz's 1969 Gurney Eagle that Adamwicz will once again drive.
"This is an astounding collection of important race cars," Campbell added. "The pedigree of cars that are being entered for the Rolex Monterey Motorsports Reunion continues to rise, making it a must see event."
Visitors may see these groups and hundreds of historic cars August 13-16 at Mazda Raceway Laguna Seca. Advance tickets for the Rolex Monterey Motorsports Reunion are on sale and range from $50 for a Friday ticket to $160 for a four-day ticket. VIP hospitality packages and car corral passes are also available. For information, call 831-242-8200 or visit www.MazdaRaceway.com.