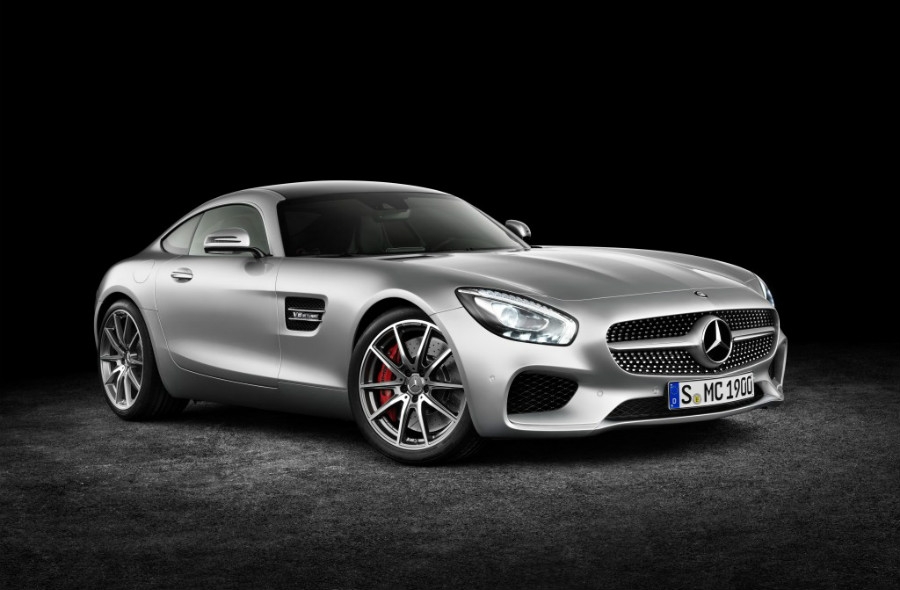 The first Mercedes was a racing car and its most recent successor carries this heritage forward. With the new Mercedes-AMG GT, the Mercedes-AMG sports car brand is moving into a new sports car segment.
The GT is the second sports car developed entirely in-house by Mercedes-AMG. Its front mid-engine design with a rear transaxle and use of intelligent aluminum lightweight construction form the basis for a highly dynamic driving experience. Its newly developed AMG 4.0-liter V8 biturbo engine underscores the hallmark of AMG driving performance. The first sports car engine from AMG with internally mounted turbochargers ('hot inside V') and dry sump lubrication is configured in two output ratings: as a GT with 456 hp (340 kW) and as a GT S with 503 hp (375 kW). The new GT combines driving dynamics and first-class racetrack performance with superb everyday practicality and efficiency that sets new standards in the segment.
It has everything you would expect from an authentic Mercedes-AMG sports car – from the characteristic styling, thoroughbred motorsport technology to the optimum weight distribution. The drive system tailored to consistently delivering driving dynamics perfectly complements this set-up. The centerpiece of the Mercedes-AMG GT is thethe new 4.0-liter V8 biturbo, which responds instantly with extreme power at low revs and delivers outstanding performance. Top figures such as 3.7 seconds from 0-60 mph (preliminary) and a top speed of 193 mph (310 km/h), combined with the outstanding driving dynamics will undoubtedly translate into extremely fast laps on the racetrack.
At the same time, this two-seater is a comfortable and reliable companion for everyday motoring thanks to its practical decklid, easily accessible luggage compartment, and high level of comfort on long journeys. It also features an extensive list of Mercedes-Benz Intelligent Drive assistance systems which ensure the high level of safety expected from Mercedes-AMG.
"With the new Mercedes-AMG GT, we are venturing out into a challenging sports car segment with its top-class competitive field. This is an incentive and motivation for us at the same time to prove to sports car enthusiasts around the world the kind of performance that AMG is capable of", says Prof Dr Thomas Weber, Member of the Board of Management of Daimler AG, responsible for Group Research & Mercedes-Benz Cars Development.
"With the new GT we are positioning Mercedes-AMG even more aggressively than to date as a dynamic sports car brand", says Tobias Moers, CEO of Mercedes-AMG GmbH. "With its technological substance, the Mercedes-AMG GT fulfils our high aspirations with regard to driving dynamics, agility and sportiness. The new GT is the second sports car developed fully independently by Mercedes-AMG. The car is manufactured according to the motto 'Handcrafted By Racers' – which perfectly encapsulates our heritage and our spirit."
The US will launch first with the 2016 AMG GT S in the spring of 2015. The AMG GT will launch in the following year.