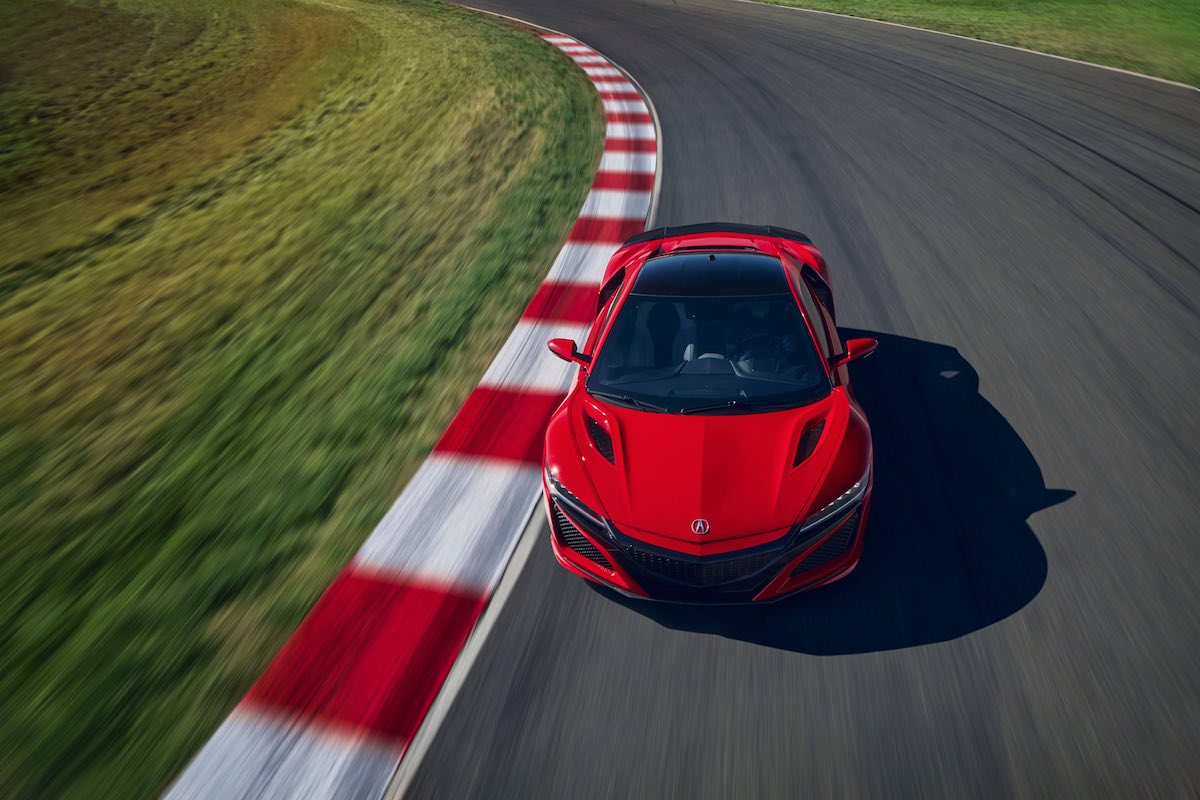 It's been three decades since Acura first unveiled its pièce de résistance to the world. The initial launch of the Acura NSX (badged as a Honda outside of the U.S.) took the sports car industry by storm, earning effusive praise from many of the world's most accomplished drivers. With roots dating back to the mid 1980's as a then concept car developed through a partnership with the legendary Italian design house at Pininfarina, the original approach to the vehicle (dubbed "HP-X") was so well received that Honda set out to bring a new model to life in hopes of competing with the likes of Ferrari and its highly successful V8 platform – albeit at a fraction of the Italian automaker's typical asking price. Later renamed the NSX (short for "New", "Sportscar" "Unknown (X) World") before entering production, the first-generation model went on to receive final development feedback from none other than Formula One World Champion Ayrton Senna before making its way onto showroom floors in 1990.
The original NSX set new benchmarks for the automotive industry with the introduction of the world's first mass production car to use an all-aluminum body. Powered by Honda's 3.0L V6 VTEC engine, the NSX quickly earned the admiration of many avid auto enthusiasts – including Mr. Gordon Murray, designer of the legendary McLaren F1. Murray was so impressed with the sports car's handling and chassis design that he approached Honda about developing an even more powerful engine for the NSX. His offer was turned down, yet he still credits his passion for the NSX as a major inspiration behind the conceptualization of the world's most coveted McLaren (which was ultimately developed with a BMW engine). The first generation NSX saw a few revisions between its introduction and 2005, when it was completely phased out of the Japanese automaker's lineup.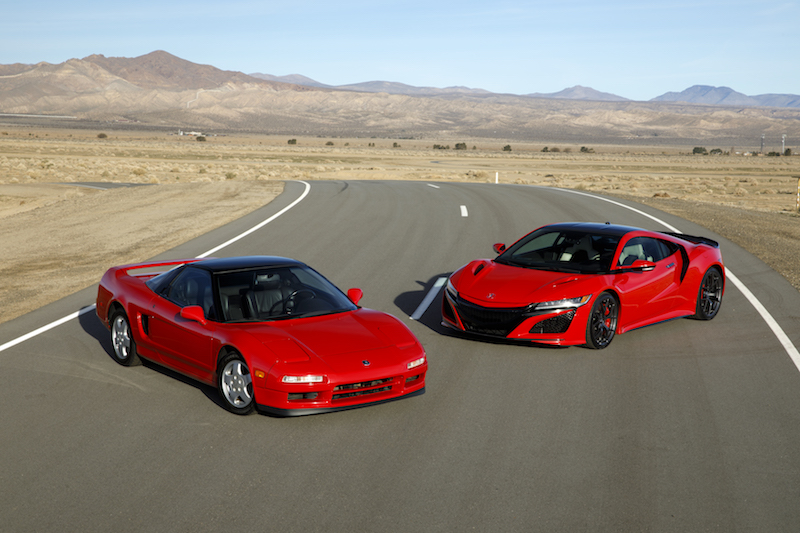 You only need fast forward a few years before a seismic shift in the auto industry began to take shape as consumer demand for supercar performance reached fever pitch. Sports car manufacturers across the globe kicked development of their halo products into full gear, each vying for superiority and market share. Acura was no exception but knew, of course, that meeting the moment would require a completely new design. The result of that effort was unveiled in 2012 at the North American International Auto Show before entering final production a few years later in early 2016.
The redesigned NSX (now considered an acronym for "New Sports eXperience") ushered in an entirely new era in production for the Honda/Acura brand, with all hand-built NSX vehicles being designed and engineered at the company's US-based Ohio manufacturing plant. Power comes via a new twin-turbocharged DOHC 3.5L V6 engine and 3 electric motors, one at the rear and a pair up front. With an independent electric motor propelling each of the front wheels, the NSX is essentially an all-wheel drive vehicle with some impressive torque vectoring capabilities. A total power output for the innovative new hybrid setup of 573hp and 476 lb-ft of torque means the new model produces serious performance numbers (estimates clock in at 0-60mph in 2.7 seconds and a top speed of 191 mph).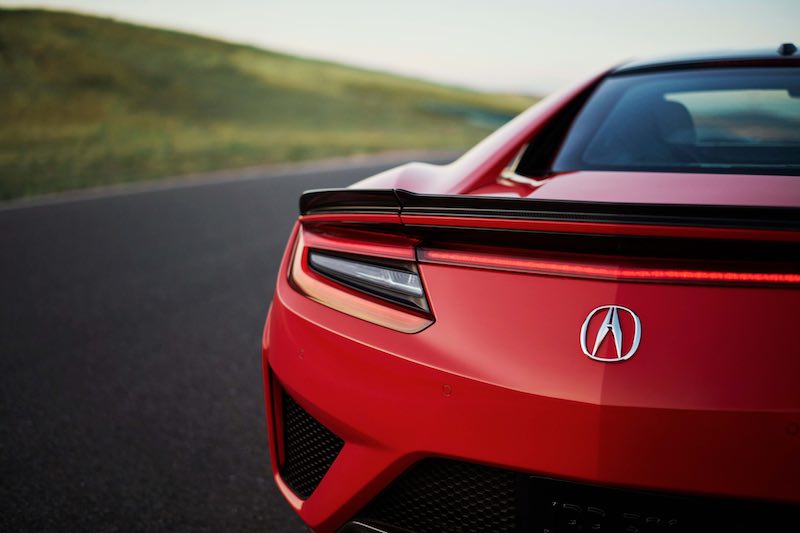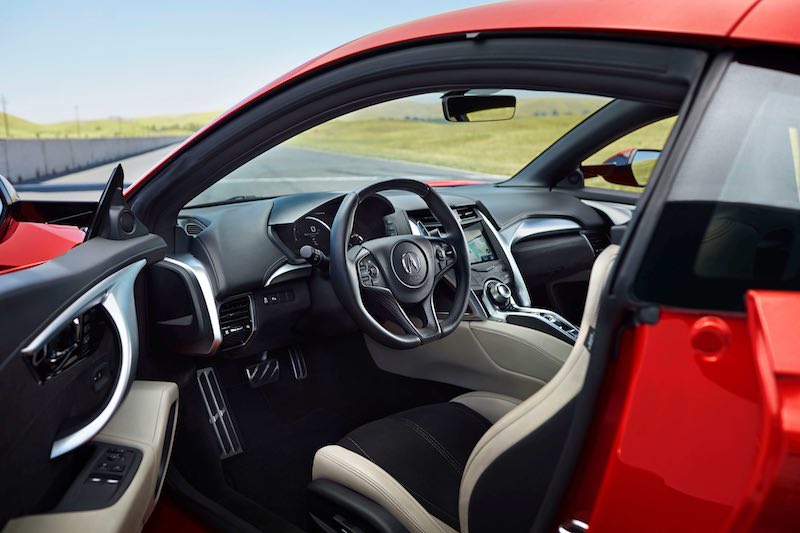 The lengthy list of benefits of the NSX's hybrid powertrain includes the ability to run off full electric power on demand by way of the vehicle's "Quiet" mode. Highway fuel efficiency, however, was certainly not a concern in the design of the new NSX, with an EPA estimated 21 city/22 highway MPG. Utilizing a regenerative charging system, the NSX is not a plug-in hybrid like many of the other electrified sports cars making their way to market. However, the end result is a lightning-fast throttle response and one of the most intuitive launch control functions we've ever experienced. From a standstill, launches in the NSX can only be compared to the feeling found in a fully electric performance vehicle such as the Tesla P100D or Porsche Taycan Turbo S (we're talking whiplash-inducing takeoff).
Of course, all of that power needs an equally qualified set of brakes to bring the screamingly quick supercar to a stop, and the optional carbon ceramic brakes provide the perfect solution. Four distinct driving modes (the aforementioned Quiet mode, Sport, Sport+, and Track) each offer their own unique set of performance parameters that help the NSX operate as either a smooth and surprisingly comfortable daily driver or as a track-inspired hybrid racer with some very impressive cornering capabilities.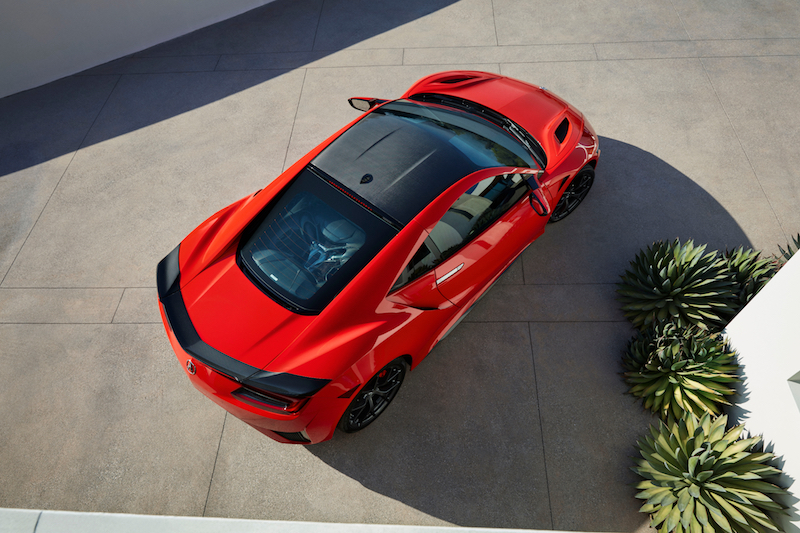 With notable revisions in 2019, the new NSX has been even further enhanced to deliver improved track performance and better overall handling when driving at the limit. Featuring new Continental SportContact 6 tires, a stiffer rear hub, stiffer front and rear stabilizer bars, and optimized rear toe link bushings for a subtle but substantially improved handling experience, the recent updates helped the NSX shave almost a full two seconds off of its previous lap time at the brand's Suzuka Circuit testing grounds.
Exterior paint finishes are available in a variety of colors, with the optional carbon fiber roof, engine cover, and various trim upgrades enabling additional weight reduction while also adding to the aerodynamics and visual appeal of the exotic Japanese supercar. Each vehicle includes a one-of-a-kind series production number plate located at the base of the rear window along with NSX badging on the rear quarter windows and brake calipers. Flying buttresses and the model's streamlined body design provide improved aerodynamics and downforce, with air flowing to the vehicle's front and side-mounted intakes for maximum cooling of its various engine components.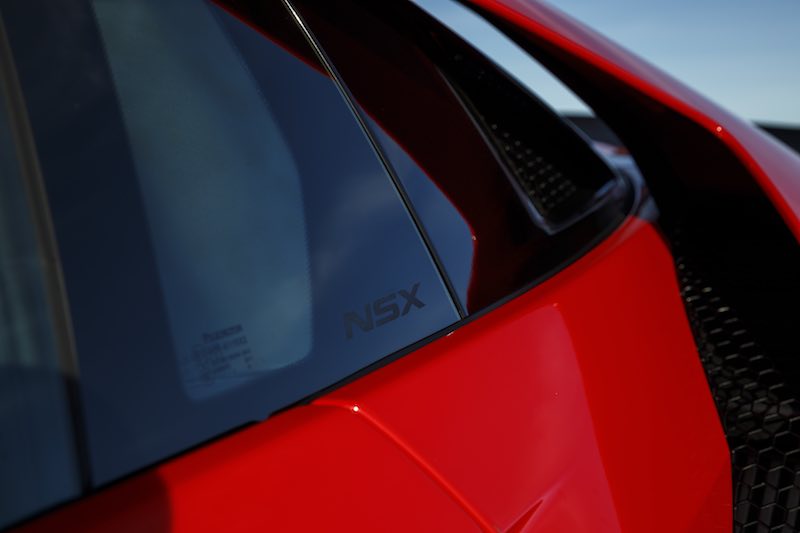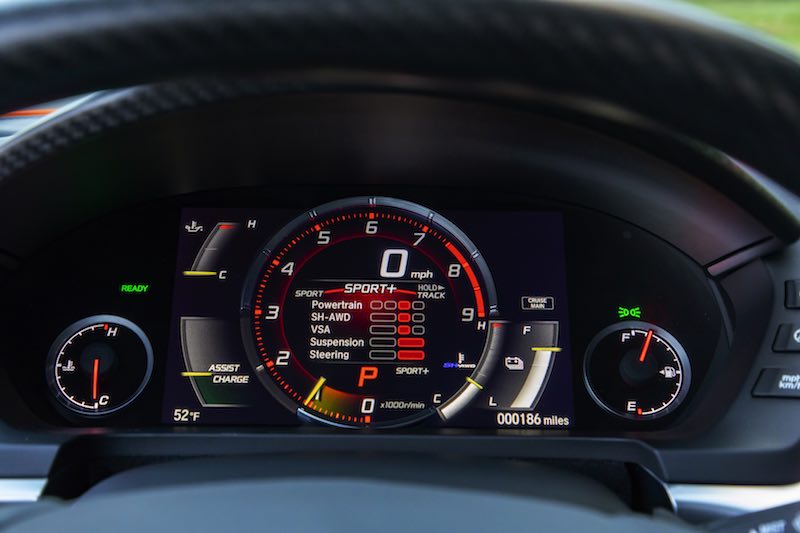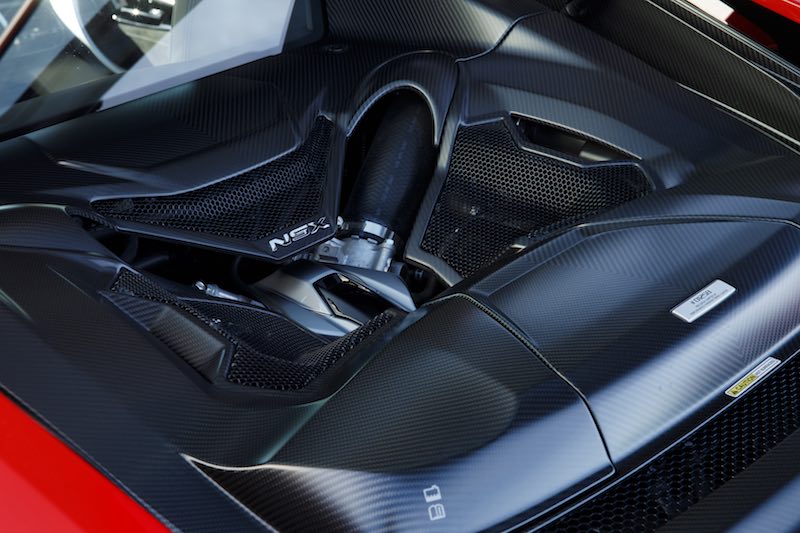 Inside the cabin, Acura's signature style is evident in even the smallest details. As with the exterior, color options abound and include combinations of carbon fiber, leather, and Alcantara®. A race-inspired dry carbon steering wheel wrapped in leather with hidden stitching and the brand's clever "finger holds" work seamlessly with the integrated paddle shifters for ultra-quick gear changes of the NSX's 9-speed dual clutch transmission. Intended to be minimalist by design, the cockpit of the hybrid supercar yields a spacious interior with strategically bolstered bucket seats capable of providing comfort even on road trips and long waits in rush hour traffic.
The new NSX also features Acura's Technology Package as standard equipment, with satellite navigation, an ELS Studio premium audio system, front and rear proximity sensors, and power adjustable heated seats. A touchscreen infotainment system provides a portal to the vehicle's various system controls but can be a bit tricky to use during vehicle operation. We found the learning curve fairly steep but not entirely unmanageable. Other less-than-optimal design choices include the dearth of interior storage and the somewhat unusable trunk space where heating from the engine bay could lead to more than a few spoiled items on the return drive from the supermarket. Personally, I would have liked to see power folding mirrors (given the NSX's 76" wide body) and an included front lip lift (ground clearance can be an issue). Yet even with these limitations, we're convinced there isn't another hybrid sports car in the sector that can meet the performance and overall comfort found in the modern day NSX. Plus, at a starting price of $157,500 and with an 8-year 100,000 warranty on the vehicle's hybrid components, this could very well be the world's first high mileage supercar. Only time will tell.