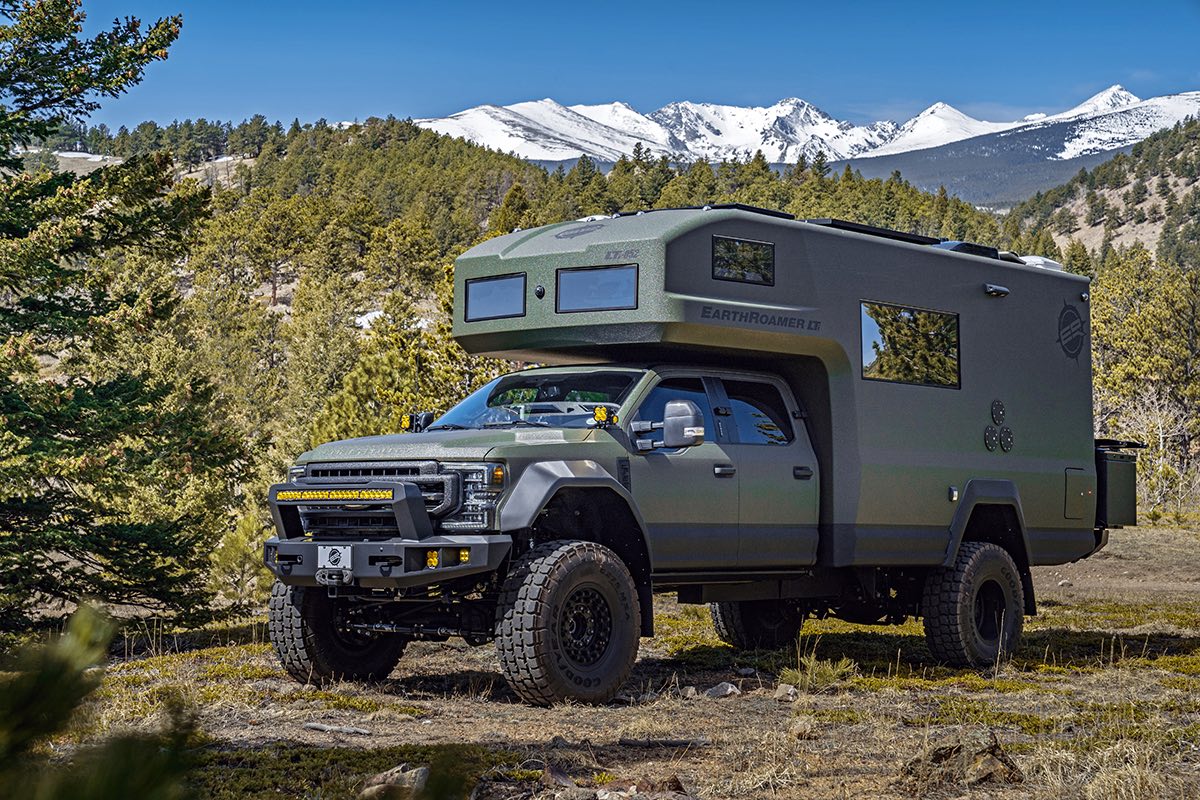 The 2023 EarthRoamer LTi – combining upgraded 43-inch Goodyear tires and an elevated interior – is now the fastest and most luxurious EarthRoamer ever produced. With a 19% increase in speed rating, it is ready to hit the highway at 81 MPH while still maintaining its exceptional off-road capabilities. Built on a Ford F-550 chassis, the new LTi underwent a complete suspension and shock system redesign to accommodate the robust tires and increased load rating. With a massive 750 lb-ft of torque coupled with a ten-speed automatic transmission featuring manual shift override and tow/haul mode, the 2023 EarthRoamer LTi has impressive acceleration and power.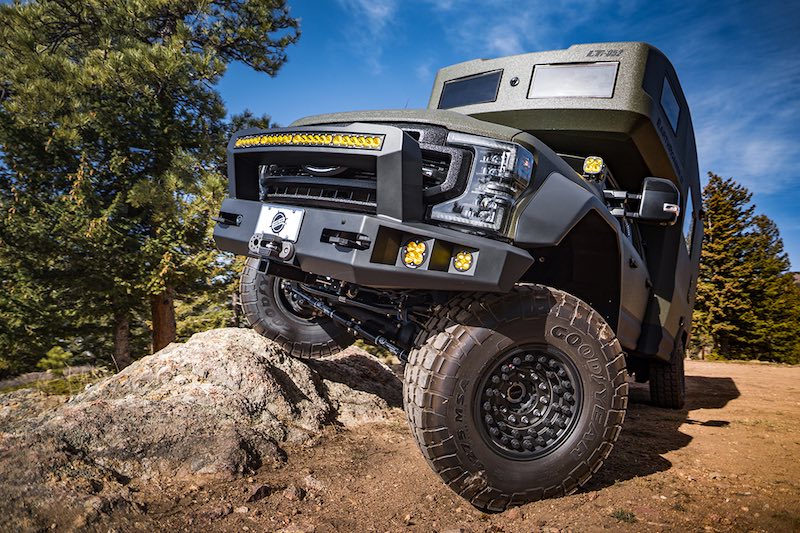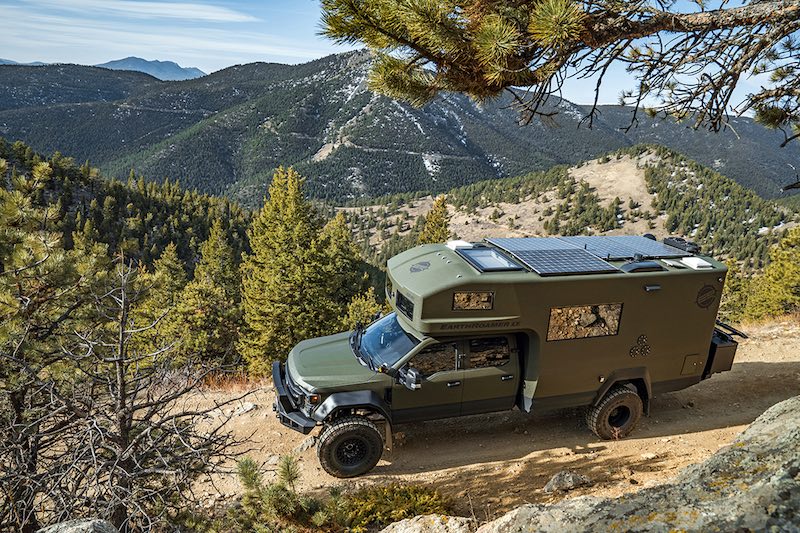 Hand built in Colorado by a team of over 100 skilled craftspeople, EarthRoamer has come a long way since its humble beginnings. In 1998, our late founder Bill Swails set out to build something that would comfortably and capably take him to the most remote places on Earth so he could pursue his passion of wildlife photography. Now over twenty years later, the company has over 300 vehicles on the road and is producing one LTi every five days.
Thanks to a lineup of additional new features including increased battery capacity, enhanced interior finishes, and an optional off-road light package, the LTi exudes performance and demands attention. But it's the vacuum infused carbon fiber body that puts it in a class of its own in the luxury overlanding market. Weighing in at 990 pounds, the camper shell integrates a structural foam core that allows for strength without added weight. Furthermore, the 2023 LTi still highlights all the features we know and love:
Electrical
Four solar panels totaling 1,320 watts provide electrical power to the two 12,000-watt Mastervolt lithium-ion battery bank. Alternatively, the LTi can be charged by either the 6.7L turbo diesel engine or through shore power with a standard 20amp AC wall outlet both at 2,280 watts. AC powered appliances like the convection microwave, coffee maker, air conditioner, induction cooktop and AC outlets are all powered by the battery bank through the 3,000-watt pure sine wave inverter. In typical use with reasonable electrical power conservation plenty of power is available indefinitely. If solar output is low or electrical power demands are high the dual inverter charger will automatically kick on.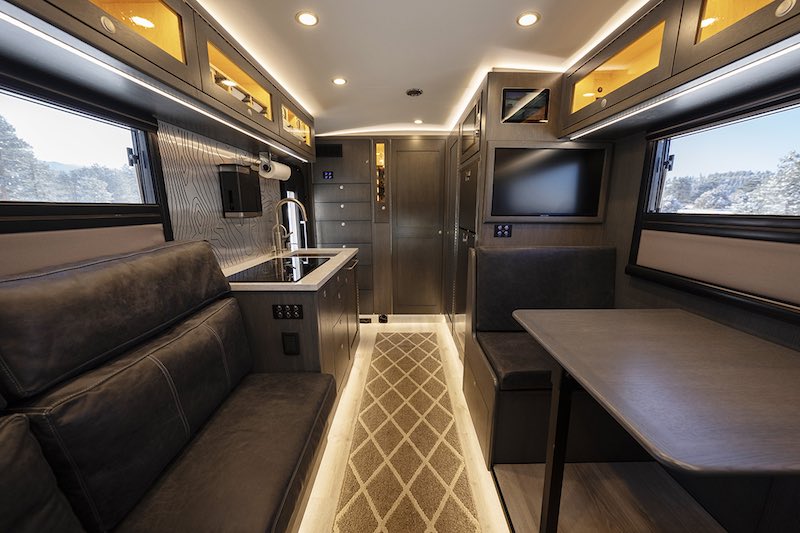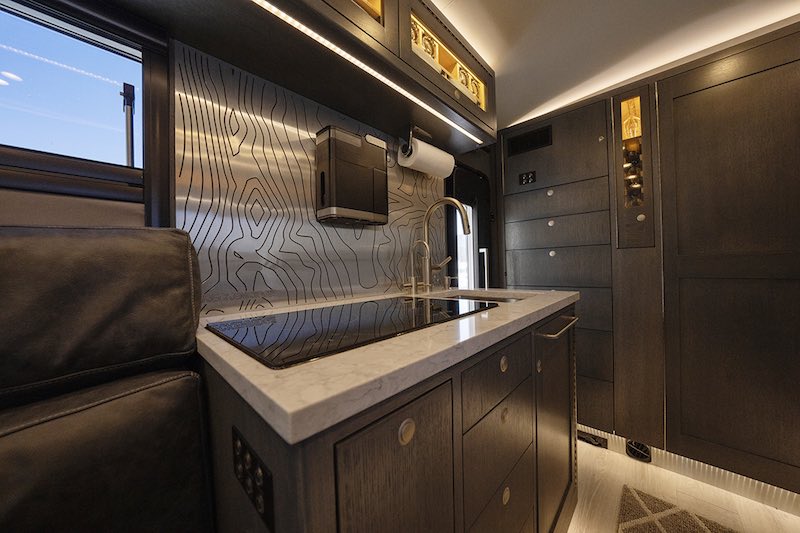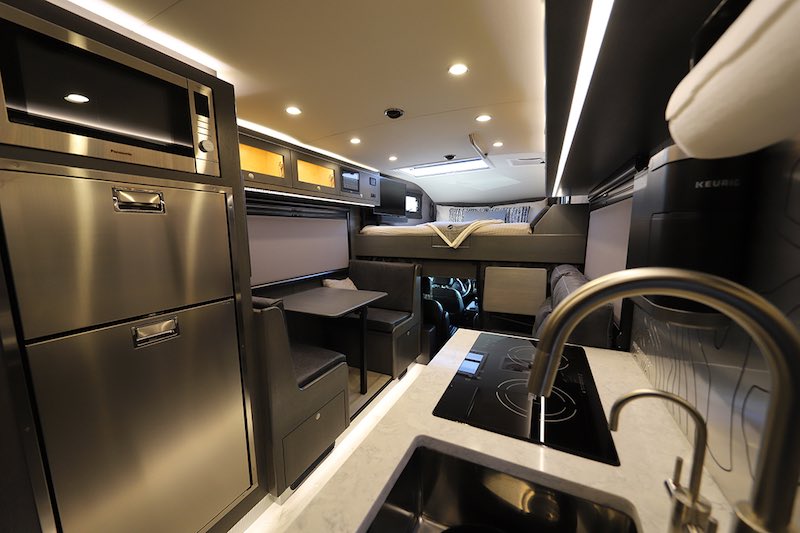 Water
The large 100-gallon freshwater tank on the LTi is located on the passenger side of the vehicle and extends through the floor. The bottom half of the tank is insulated and located inside a Carbon Fiber fairing; the top half of the tank extends into the inside of the camper. If the camper interior is kept heated, some of this heat is transferred to the water tank to prevent freezing. A thermostatically controlled heater is located on the bottom of the water tank to further protect against freezing in extremely cold conditions. Water from the kitchen sink, bathroom sink, and shower all drain into a heated 40-gallon gray water tank. An electric operated dump valve allows easy dumping from inside.
Fuel
In addition to Ford's stock 40-gallon tank, EarthRoamer installs a 55-gallon auxiliary tank with an automatic transfer flow, totaling 95 gallons of diesel fuel. With an average of 9-12 mpg, the 2023 LTi has a driving range of up to 1,000 miles.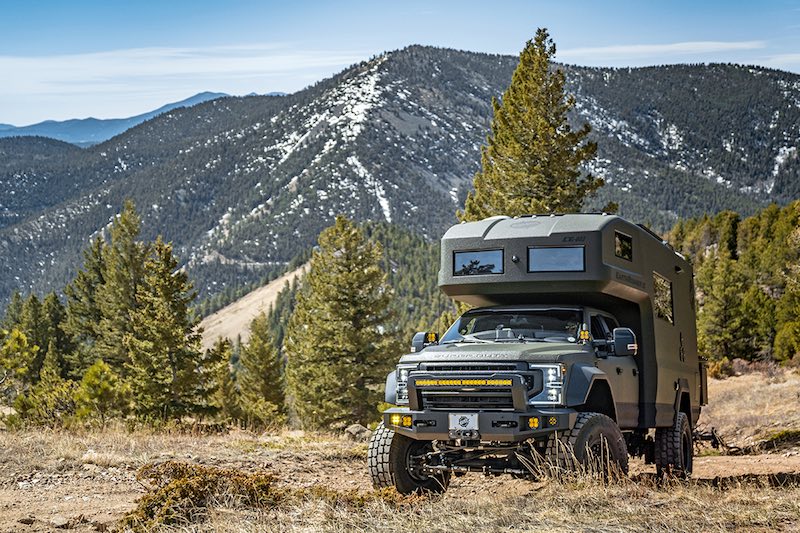 HVAC
The LTi is equipped with two built-in electric ventilation fans, located in the bunk and the bathroom, which have variable speeds, a reversible airflow switch, and rain sensor. A 20,000 BTU high efficiency air conditioner removes humidity and provides cool air while a compact, safe, and efficient diesel fueled heater keeps the interior temperature comfortable down to temperatures well below -20 degrees F.
Bathroom
The bathroom in the 2023 LTi is upgraded with teak accents and new amenity storage. Heated with generous stand-up heights, a cassette toilet, hot/cold shower, and a compact sink, the molded gel-coated fiberglass wet-bath features easy to clean surfaces with radiused corners and gapless seam construction that prevents mold and mildew build-up.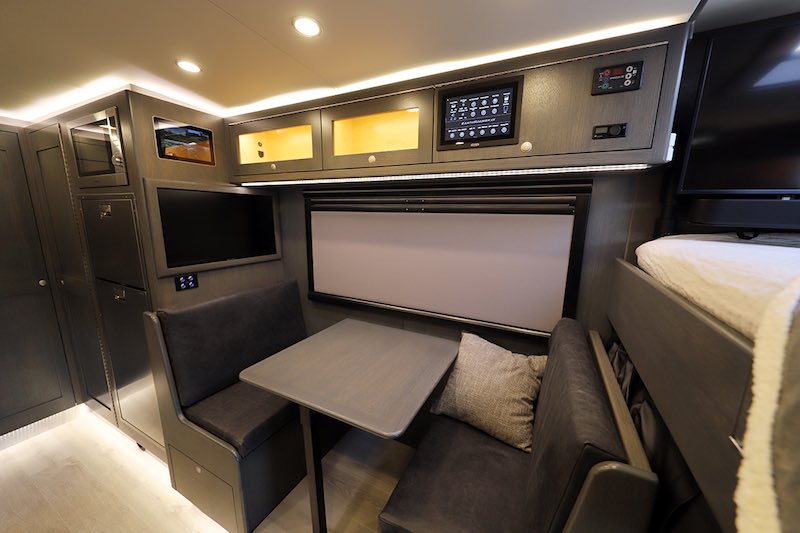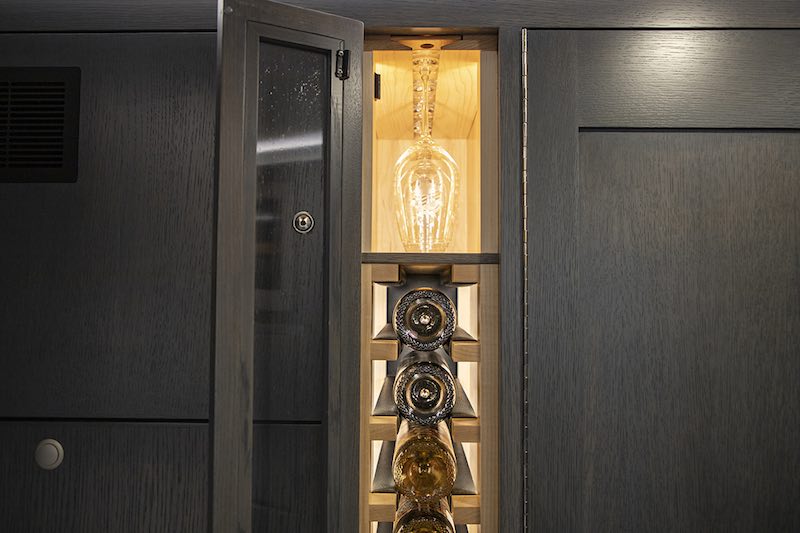 At 29' long and 11'6" high, where can one take this beast of a luxury overlanding vehicle? The short answer: Anywhere. EarthRoamer offers exclusive guided tours to their owners through amazing locations such as Moab, Alaska, and Flaming Gorge. "We have a wide variety of clientele," says Director of Sales, Ashley Wykoff. "They are taking it off-road, off-grid, full time. They are homeschooling their kids, living, and working in it. We also have our weekend getters who hit the trails, camp for the weekend, and then return to their 9-5." With interior options such as a built-in wine rack, 32" HDTV with Sonos sound bar, central vacuum system, and quiet ride dish storage, it's no wonder why owners are converting to full-time living: the 2023 LTi really is luxury in the fast lane.