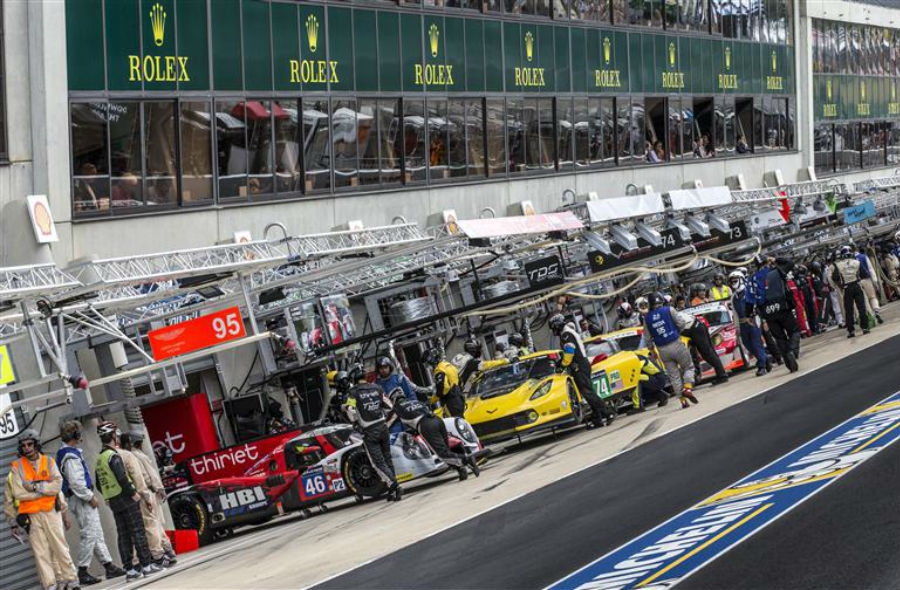 Following the completion of qualification Thursday evening, 54 cars and 162 drivers were ready to take the start of the 82nd edition of the 24 Heures du Mans (24 Hours of Le Mans).
Excitement is building in sunny Le Mans. An epic edition of the race is forecast, particularly the battle for supremacy in LM P1. Three manufacturers – Audi, Porsche and Toyota – have a realistic chance of claiming the 2014 title, each in a different state of mind and form.
One of Audi's three starting R18 e-tron quattros – the #1 vehicle driven by defending champions Loïc Duval and Rolex Testimonee Tom Kristensen, in addition to newcomer Lucas Di Grassi, – risked not making the start grid at all. During Wednesday's free practice session, with Duval at the wheel, #1 spun off violently in the Porsche corner. The car was destroyed, Duval was ruled out of the race but fortunately sustained no serious injuries. Overnight between Wednesday and Thursday, the Audi engineers worked effortlessly and successfully to rebuild the car from scratch. "Our mechanics did a fantastic job. It's flat-out work and complicated because the engineers had to use a spare monocoque from the test car," explained Kristensen.
The 24 Heures du Mans's most successful driver, with nine victories to his name from 17 appearances, remains typically positive. "You have to reflect on your situation and get on with it. I know at Le Mans, always expect the unexpected, you always have to be alert. We are not back at zero, we can still see the goal, but maybe from a different angle or further away." Duval, who holds the lap record at the event, will be replaced by reserve driver Marc Gené of Spain, no stranger to the circuit having competed eight times. "I couldn't have better co-drivers. I've known Lucas since last year and with Tom I've done two tests in 2014," he revealed. In qualifying, Audi's three entries finished behind Porsche and Toyota's two cars, in fifth (car #3), sixth (#2) and seventh place (#1).
Toyota are many experts tip for a first LM P1 title, having dominated the 2014 FIA World Endurance Championship (WEC) to date. Swiss Sébastien Buemi, driver in their #8 car – third in qualifying – admits they start off with an advantage but urges some caution. "If you look at the facts we look like the favourites because you cannot win the last two races and arrive here and say you are not. However, this race is still out of the 'normal championship' because it's a 24-hour race and what you need here is different to a six-hour competition. In terms of speed we are there." So it proved during qualifying with Toyota claiming pole and third. The fastest lap on the 13.629km Circuit de la Sarthe was set in 3:21.789 by Kazuki Nakajima in Toyota Racing #7. He becomes the first Japanese driver to secure pole at the world's most renowned endurance race. "The quality of cars is impressive, the gap between the teams is very close and it's going to be one of the best Le Mans," explained the 29-year old shortly before qualifying.
Porsche's return to Le Mans has brought great fanfare. Its two entries registered impressive times in qualifying, recording second (#14) and fourth (#20) position. "Anything can happen, you have to be on your game, there is never a dull moment in Le Mans," explained New Zealander Brendon Hartley, driving Porsche #20 alongside former Formula 1 driver Mark Webber. "You never know who's in the car in front, there's often tired, less experienced drivers. Reading the traffic, learning from the previous lap, learning about the car, being patient is key."
In LM P2 the fastest time was set by #46 Thiriet by TDS Racing in 3:37.609 while the AF Corse teams #51 and 81 were fastest in GTE Pro and GTE Am respectively. Only #99 Aston Martin Racing Vantage was unable to qualify for Saturday's start due to a heavy crash during the first qualifying session. All teams are working hard to be ready to peak for tomorrow's iconic race start as the Rolex clock flicks to 15:00.
The 54 car driver line up includes a rich array of talent, both amateur and professional, ranging from 16-year old American debutant Matt McMurry, poised to break the longstanding record held since 1959 by then 17-year old Pedro Rodriguez, to 64-year old Howard Blank. The average age of the drivers, hailing from almost 30 countries, is 34.
As Brazil celebrates its opening match victory at the 2014 FIFA World Cup, the 24 Heures du Mans is welcoming a debutant who has lifted football's most iconic and treasured trophy: Fabien Barthez, goalkeeper when France won the trophy in 1998. 42-year old Barthez is racing car #58, Ferrari 458 Italia in GTE AM. "All of the drivers tell me that it's a unique circuit, an incomparable atmosphere," he said. "I'm making the most of it. And I'm a little bit the curiosity, the footballer who drives…"
The 24 Heures du Mans is organized by the Automobile Club de l'Ouest. Rolex has been the Official Timepiece since 2001.