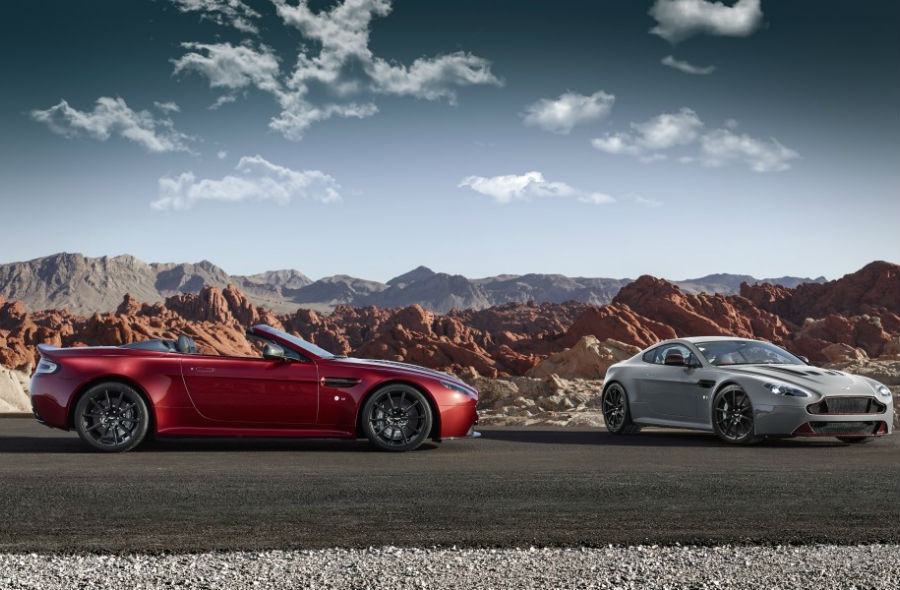 Aston Martin's new 2015 V12 Vantage S Roadster will make its global debut as part of the marque's presence at the Pebble Beach Automotive Week from 14 August, joined by the new Design Prototype 100 (DP-100), which makes a North American debut.
Providing the most visceral yet engaging open-top experience in Aston Martin's current range, the new V12 Vantage S Roadster delivers characteristic sporting agility underpinned by an enviable sports 'soundtrack' generated by its naturally aspirated V12 engine and expertly-tuned sports exhaust.
Equipped with the latest 565 bhp Aston Martin AM28 6.0-litre V12 engine, featuring state-of-the-art Bosch engine management, the car is capable of reaching 201 mph and sprinting from rest to 60 mph in only 3.9 seconds.
When it arrives in markets around the world later this year the new sports car will become the luxury British marque's most potent, fastest and fastest-accelerating series production roadster to date and follows in the broad tyre tracks of the V12 Vantage S Coupe that was launched to worldwide acclaim in 2013.
Developed in-house by the Design team at Aston Martin, DP-100 Vision Gran Turismo is a new, virtual-only GT racer that is available for Gran Turismo®6 (GT6™) owners to download and will be shown as a full-size hand-crafted model at Monterey this month.
Starting with nothing but a blank sheet of paper the design team and design engineers worked for six months to create the new addition to the Vision Gran Turismo stable of race cars. Clearly pushing the boundaries of what an Aston Martin could be, DP-100 not only looks beautiful but also boasts a high degree of engineering integrity. A twin-turbo V12 mid-engined racer, DP-100 offers up to 800bhp, endowing it with blistering performance fully in keeping with the high octane nature of the game.
Created utilizing many of the same techniques as applied in the development of Aston Martin production sports cars – hand sketches and 3D modelling, followed by full realization in the virtual world – DP-100 provides an exceptional level of detail with a fully functioning suspension system and state-of-the-art electronics.
The DP-100 will be exclusively available for viewings to customers and invited guests at the Aston Martin Estate (14-16 August) where it will be joined by the V12 Vantage S Roadster which will also lead the marque's presence at Quail: A Motorsports Gathering (15 August).
Following a hugely successful 2013 Pebble Beach week, where Aston Martin was celebrated at a number of events as part of its centenary year, the British marque will again host guests at the exclusive Aston Martin Estate. This exquisite private venue, situated high above Carmel with panoramic views across the Monterey Bay, provides the ideal backdrop for showcasing Aston Martin's latest sports car range to customers and friends of the brand.
This grand estate will also serve as the location for a myriad of exclusive events including private viewings of new Aston Martins with Design Director Marek Reichman and test drives of the marque's current line-up of handcrafted high performance sports cars. Motorsport partners TRG-AMR will be presenting the Vantage GT4 race car which is currently spearheading the first Aston Martin one-make race series in North America.
Supported by Louis Roederer, Timothy Oulton, McIntosh, Davidoff, William Grant & Sons, Ghurka and Merrill Lynch, more than 1,000 customers are expected to visit during the week.