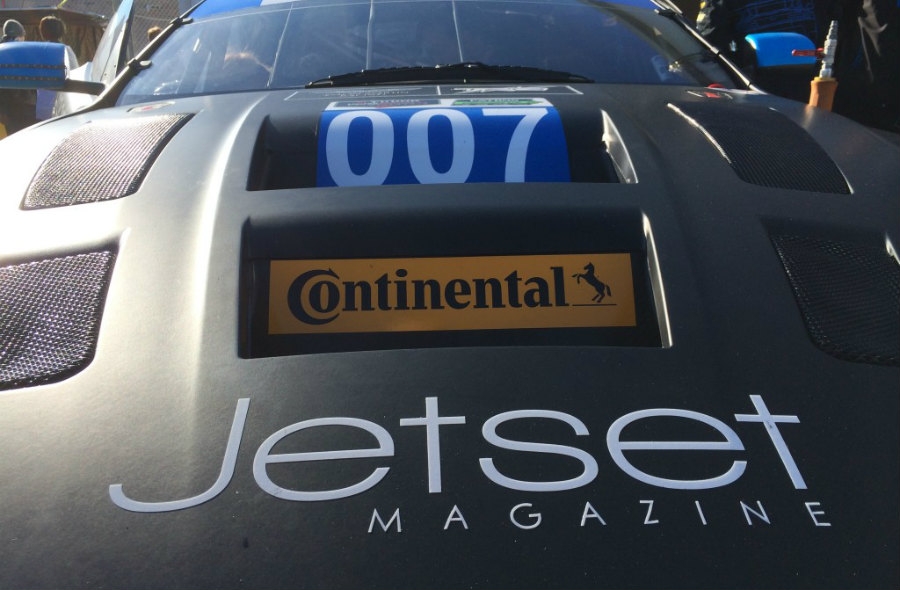 Mazda Raceway Laguna Seca track recently hosted the inaugural Aston Martin Motorsports Festival presented by PassTime USA, a celebration of all things Aston Martin, hosted and operated by TRG-Aston Martin Racing.
The event included a plethora of fun activities ranging from the opening gala to exclusive winemaker dinners, the 17-Mile Drive Aston-only rally, as well as the chance to ride or drive in both Aston Martin street and race cars and featured IndyCar legend Danny Sullivan as the Grand Marshall.
The festival weekend also included the latest rounds of the 2014 GT4 Challenge of North America, TRG-AMR's Aston-only racing series that is also in its inaugural season, as well as advanced testing for both the V12 GT3 and V8 GT4 platforms, and the presence of Aston Martin's entire lineup of streetcars available for racetrack or street test drives.
Day one of the Festival began with the sounds of the first GT4 Challenge practice session, as the GT4 Challenge drivers took to learning the track in their V8 Vantage GT4s with over 4 hours of track time on the first day alone. Shortly thereafter, the right-seat ride alongs began with VIPs and registered team and corporate guests getting the rides of their lives alongside one of the team professional drivers as they drove at race speed around the scenic Laguna Seca circuit. Also thrown in the mix were the Aston Martin streetcar test rides which was comprised of a professional Aston Martin racing driver taking interested Aston Martin owners around the track at speed in one of the various Aston Martin models. This left more than a few guests with irremovable smiles on their faces.
With 12 TRG-AMR team/professional drivers in attendance, finding someone to drive one of the nine racecars on track was never an issue during the Festival weekend. In attendance were Eliseo Salazar, Fred Schrader, Brandon Davis, Derek DeBoer, Jeff Huber, Christina Nielsen, Fernando Rees, David Block, Kenneth Greenberg, Greg Milzcik, and even Team Owner/CEO Kevin Buckler and Grand Marshall/IndyCar Legend Danny Sullivan were on hand to turn some laps in both the GT3 and GT4 cars. This allowed for great fan and guest interaction with our drivers when they weren't in the cockpit, and treated some very lucky guests to rides with their childhood heroes, Le Mans and Daytona 24 winners, former F1 drivers, and Pirelli World Challenge Champions.
Following the first-day of on-track events, guests were invited up to the Red Bull Energy Center for the opening Gala Festival dinner party. Greeted with Jacquart champagne and an impressive array of Aston Martin street and racecars, guests were invited to take pictures in front of the sponsor photo wall, as well as talking to Aston Martin product specialists. Once inside, there was an impressive array of amenities ranging from the Dunkirk Spirits Martini bar complete with a beautiful ice carving and drink luges, to the Alec Bradley cigar booth, Martini glass themed food arrangements, and Adobe Road wine bar.
Both Kevin Buckler and Julian Jenkins (President, Aston Martin the Americas) gave talks surrounding the Festival happenings, and renowned motorsport artist Bill Patterson painted live paintings from the days on-track happenings. Singer/Songwriter Al Stewart performed a live set while guests enjoyed the sunset over the track, the great food and drink, and all the new friends everyone had made throughout the day.
Said Julian Jenkins, President, Aston Martin The Americas: "Congratulations to TRG-AMR for their incredible undertaking in staging this first, of what we hope will become an annual Aston Martin Motorsports Festival. As Aston Martin The Americas we were delighted to be involved and to have the opportunity to showcase our current model range, including offering on track and on road drives, to those attending. With Aston Martin GT4 and GT3 race cars on track, both derived from our road going versions of Vantage GT and V12 Vantage S respectively, the correlation between road and race cars was immediately apparent and very much in evidence when seen together. Featuring nearly 100 Aston Martins – including rare and desirable models from our 101-year heritage such as the iconic DB5 – it was fantastic to see owners and spectators enthuse about the Aston Martin brand and share stories. This unique and appealing aspect to Aston Martin remains a key differentiator warmly regarded by customers and enthusiasts alike. With Kevin and the TRG-AMR team we look forward to developing the program with the aim of making this an annual celebration in tandem with a growing Aston Martin motorsport presence in North America."
Saturday was the first "official" day of the Festival, including VIP Hospitality, Corporate and Sponsor groups, gift bags, and Aston Martin car corral parking which held over 100 Aston Martin models spread over 101 years of lineage during both days of the Festival. In the VIP lounge was a display of team garage hardware from ShowTrax, Dunkirk Spirits bar, and some of TRG-AMR's video footage being played on flat screens in the leather couch appointed lounge area. After a full day of GT4 Challenge driving, arrive and drive corporate sessions, and GT3 advanced testing, Saturday evening was capped by the ultra-exclusive Winemakers' Dinner at the nearby picturesque Pasadera Country Club. This Spanish villa hosted the event in true style, which saw winemakers Fred Schrader (Schrader Cellars), Michael Browne (CIRQ.), and Kevin Buckler (Adobe Road Winery) share the evening of incredible food and company with their even more impressive collection of wines.
Sunday began with the sound of over 40 Aston Martin streetcars firing up their engines at the Spanish Bay resort, the start of the 17-Mile Drive Aston-only rally, organized by TRG-AMR and headed by Aston Elite founder Obie Silverwood. The convoy of Astons snaked through Carmel, Pebble Beach, and up the Laureles Grade before descending onto Laguna Seca for parade laps and a champagne welcome back in the paddock. Sunday continued with more GT4 Challenge racing, ride-alongs, and GT3 testing – including some driven by Festival Grand Marshal and IndyCar legend Danny Sullivan. The Festival ended in grand fashion on Sunday afternoon, with everyone in attendance left smiling and happy, most already asking for dates for next year's Festival.