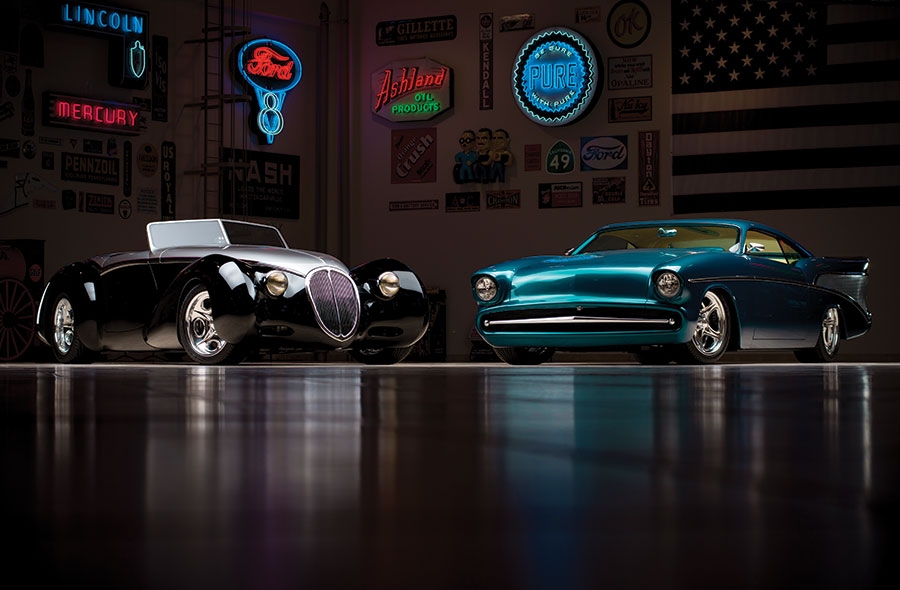 Few individuals have had the rare privilege of walking the aisles of the Ron Pratte Collection when it was immaculately housed in a two-story hangar in the heart of Chandler, Arizona. Those who did would understand the collection's power to dazzle even the most untrained eyes unaware of the difference between a bonnet and a tonneau cover.
Walk in one direction and you'd come across the "real deal" Super Snake… a concours-quality Buick pedal car… the incomparable Futurliner… an iconic Harley-Davidson neon dealership sign… the striking emerald green Bonneville Special Motorama concept car.
A bit further on and you'd discover a rare 1923 Wayne 490 "Roman Column" gas pump… a Pontiac Club de Mer 3/8-scale model… Carroll Shelby's first race car… one of Carroll Shelby's last race cars… Carroll Shelby's personal 1969 GT500.
There were Boyd Coddington cars everywhere: the famous Chezoom, the unique Alumatub, Boyd's last cherry red pickup truck and more. Then there were the turn-of-the-century Gulf Oil two-horse tank fuel/oil delivery wagon… Howard Hughes' Buick Roadmaster… a couple of very desirable HEMIs. Oh, and the stunning Blastolene — just because the collection would not be complete without a 20-foot-long custom roadster sporting a crystal grille.
The vehicles and automobilia in the collection have a nearly indescribable appeal. Row after row, engine after engine, this collection is magic — truly unforgettable. As Barrett-Jackson Chairman and CEO Craig Jackson said, "It is the history of the American automobile come to life."
The car collection started with a 1955 Chevy — not a multi-million-dollar car purchase — just something that reminded Pratte of his youth. Then he added the famous 1938 Lincoln Zephyr Street Rod straight from the Barrett-Jackson block in 2004. But the Chevy was the car that poured fuel on a fire Pratte had been stoking for a few years. His extraordinary assemblage actually began with a few automobilia items, which have multiplied over the past 20 years or so into nearly 1,600 elite collectibles and more than 140 vehicles. When the electrical contractor reviewed the power required to showcase and light the astounding collection, a new standard was set for schematics and engineering. All of the automobilia items and vehicles were meticulously placed and arranged by Pratte himself, and the end result was nothing short of breathtaking.
Perhaps the most important element of his collection is the 1950 General Motors Futurliner Parade of Progress Tour Bus. Not only because it is highly collectible — but because all proceeds from its sale will benefit the Armed Forces Foundation. Pratte, a U.S. Army veteran who served in Vietnam, has donated millions of dollars to charities that support the military via charitable vehicle sales on the Barrett-Jackson auction block. He firmly believes that military veterans, and especially those wounded in combat, deserve support and appreciation.
"Over the past century, America really hit its stride. As a nation, we channeled our thirst for innovation and ambition for progress to build a better, far more exciting world. I constructed my collection with that same philosophy. The vehicles that are celebrated represent that hunger for opportunity and achievement. It's the pursuit of freedom and opportunity represented by wheeled transportation that fascinates me."
As a successful businessman, selling the contents of his museum is not something Pratte has to do. In his mind, he has simply completed the collection and is ready to move on to other interests. It is worth noting that the collection contains not only the best of the best muscle cars, Resto-Mods, sports cars and hot rods, but also a diverse collection of everyday, solid collectibles. Pratte collected what appealed to him, what he loved and what gave him pleasure — not necessarily what the market dictated as traditional blue-chip automobiles.
As Barrett-Jackson readies the auction block to offer the esteemed Ron Pratte Collection to the world, this astounding assemblage will undoubtedly give many others pleasure, as well.