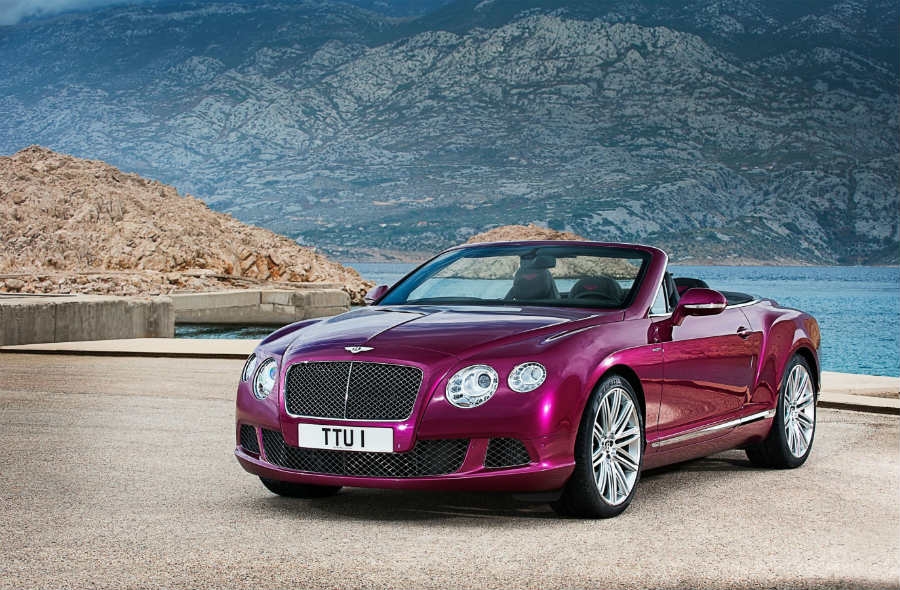 The Bentley Continental GT Speed convertible, Bentley's new open-top performance flagship, made its international debut at the North American International Auto Show in Detroit.
The new GT Speed convertible combines the sensory pleasures of roof-down luxury touring with the shattering performance of a 625 PS (616 bhp) twin-turbocharged 6.0 litre W12, while delivering a fifteen percent improvement in fuel efficiency.
Taking its place at the pinnacle of the Bentley Continental range, the new GT Speed convertible has a top speed of 202 mph, and in true Bentley style, no compromises have been made in craftsmanship, luxury or refinement to deliver this unrivalled performance.
Subtle sporting design cues include exclusive 21-inch alloy wheels, dark-tint grilles and "rifled" exhaust tail pipes. Inside its handcrafted cabin, the GT Speed convertible features the Mulliner Driving Specification as standard, blending contemporary luxury with a distinctly sporting character.
The Bentley Continental GT Speed convertible shares its powertrain specification with its Bentley stable mate, the GT Speed coupé. The 625 PS (616 bhp) twin-turbocharged, 48-valve, W12 engine powers the new convertible to 60 mph in 4.1 seconds and on to a top speed of 202 mph. Peak torque – an impressive 800 Nm (590 lb.ft) – is reached at just 2000 revs/min and maintains that level through to 5000 revs/min for effortless, refined performance at all times.
From the outside, the Bentley Continental GT Speed convertible is distinguished by a matrix radiator grille and bumper air intakes in a dark-tint chrome finish. The 21? Speed alloy wheels are unique to this model, and are available in silver or an optional dark tint. Large, elliptical exhaust tailpipes feature a rifled interior, while a further, subtle design touch is revealed when the bonnet is opened – the black inlet manifold is unique to the Continental Speed models. As with the GT Speed coupé, the winged "B" badge which crowns the radiator shell is set upon a black enamel background.
Inside, exclusive treadplates featuring the "Speed" legend welcome you to a four-seat cabin that features the handcraftsmanship of the Mulliner Driving Specification with its distinctive diamond-quilted hide upholstery. For the Continental GT Speed models, Bentley offers an exclusive Dark Tint Aluminum "engine spin" finish, inspired by the dashboards of the Le Mans-winning Bentleys of the 1920s. Its understated shade is the perfect complement to the exterior's dark tint chrome radiator and bumper grilles. Other optional finishes include the full range of fine wood veneers and a satin-finish carbon fiber option for fascia and centre console.
The infotainment system features Bentley's latest software upgrades, which vary from region to region but include refinements such as point-of-interest mapping, optional satellite landscape imagery, live traffic data and, where the infrastructure supports it, digital radio. The system features 15 gigabytes of available music space, as well as the facility to play music via an iPod, MP3 player, the car's own six-disc CD changer or and SD card.
The new Bentley Continental GT Speed Convertible offers the luxury and refinement of a coupé yet transforms into a head-turning open tourer at the touch of a button. The four-layer hood ensures high levels of refinement and acoustic insulation. Exhaustively tested in all conditions from -30°C to +50°C or more, it resists even monsoon-force rain and maintains comfortable, draft-free warmth even on the coldest days.
[iframe width="472″ height="277″ src="//www.youtube.com/embed/TLIUxwcEbgc" frameborder="0″ allowfullscreen ]