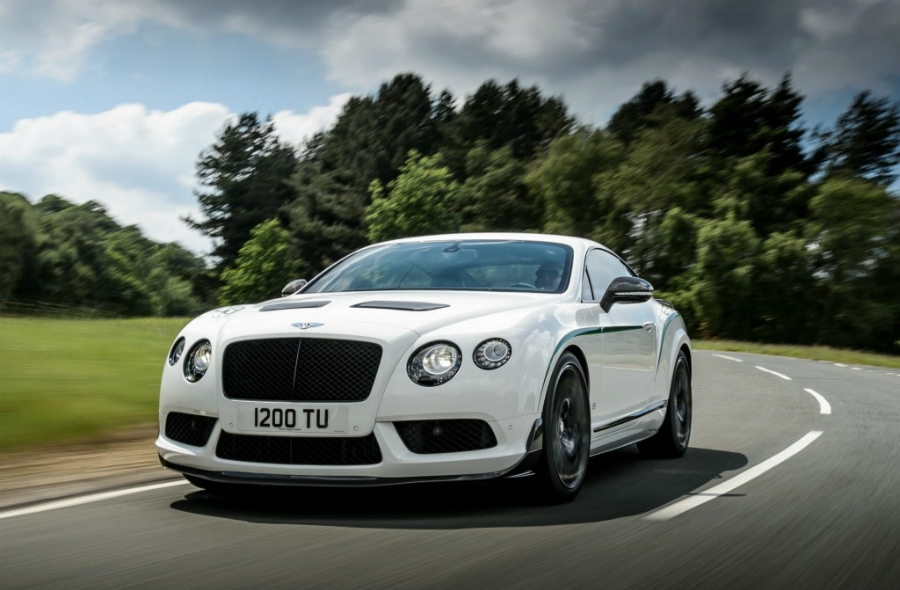 Bentley announces the rarest and most dynamic member of the esteemed Continental family of Grand Tourers with the arrival of the new Continental GT3-R.
It is inspired by the new Continental GT3 race car that stormed to victory at the second round of the Blancpain Endurance Series at Silverstone, the first UK race for Bentley for 84 years. Blending proven track and road credentials, the Continental GT3-R is a highly exclusive and unique interpretation of performance-focused luxury, limited to just 300 examples.
Bentley engineers have developed a retuned version of Bentley's race-proven, high performance 4.0-litre twin-turbo V8 for this new two-seater GT. Developing 580 PS (572 bhp / 426 kW) and 700 Nm of torque, together with a 100 kg weight reduction and shorter gearing, the Continental GT3-R is the fastest-accelerating Bentley ever. Capable of reaching 60 mph from a standstill in just 3.6 seconds, the GT3-R is a Grand Tourer with the performance of a racer.
Complementing the revised powertrain is a further development of Bentley's renowned all-wheel drive system, which now features torque vectoring for the first time. Together with modified Electronic Stability Control (ESC) and a chassis tune optimized for outright cornering ability, the Continental GT3‑R is the most dynamic, responsive and involving Bentley road car ever.
For the GT3-R, Bentley's powertrain division set about developing a special combination of engine, driveline and exhaust to create an evocative, powerful yet efficient system. Bentley's popular and widely acclaimed 4.0-litre twin‑turbo V8 engine, now race proven by the Continental GT3, has been fitted with precision-honed high-boost turbochargers and developed with new engine control software to liberate 580 PS at 6,000 rpm and 700 Nm of torque from 1,700 rpm.
This increased power is fed through the Continental's eight-speed ZF automatic gearbox, now with shorter output gearing to enhance acceleration, to Bentley's renowned all-wheel drive system. For the first time for a Bentley, the drivetrain has the ability to control the torque at each of the rear wheels through the use of torque vectoring. Recalibrated control software means that Drive and Sport modes are moved further apart, each with different characteristics and with Sport mode designed for more spirited driving. Maximum driver control is provided by completely recalibrated paddle shift functionality.
A soundtrack appropriate to the new levels of performance is provided by an all-new titanium exhaust, which not only provides a weight saving of 7 kg but also has allowed Bentley's acoustic engineers to give the GT3-R a unique baritone roar.
To provide a dynamic capability unmatched in the Grand Touring sector, the GT3-R receives a chassis system focused on performance whilst retaining a cossetting level of refinement for everyday use. Air springs and dampers use a development of the sports-tuned setup from the Continental V8 S, already recognized as the best-handling Bentley ever, while lightweight forged 21" wheels and high-grip Pirelli tires deploy the torque-vectored power output of the engine.
This combination, together with a sport-focused Electronic Stability Control program, offers a Continental with a new level of handling dynamics and turn-in agility, while both the chassis and powertrain respond immediately to throttle inputs.
Deceleration is via Bentley's record-holding Carbon Silicon Carbide (CSiC) braking system. 420 mm front discs are slowed by 8-piston calipers finished in eye-catching green paint, while 356 mm discs are fitted to the rear axle. With the ability to absorb up to 10 megajoules of energy (enough to power a family home for six hours) in a single stop yet remain fade resistant, Bentley's CSiC brakes are an engineering masterpiece in their own right.
All Bentleys are a combination of luxury and performance, and the Continental GT3-R is no exception. Featuring a unique two-seat cabin handcrafted from carbon fiber, Alcantara® and the finest leather, the GT3-R is as breathtaking in its approach to interior design as to its dynamic ability.
The two-seat configuration includes a pair of new bespoke sporting seats with additional side support through deeper bolsters, including newly designed foam layers for comfort and finished in Beluga black leather with diamond-quilted Alcantara®. This exquisite material is also hand-trimmed to the steering wheel and gear shifter, while the centre console and fascia panels are handcrafted in carbon fiber. Carbon fibre is also used to create beautifully sculpted door casings that also include diamond-quilted Alcantara® inner panels. In place of the rear seats is a new uniquely trimmed rear cabin, complete with a carbon fiber surround and finished in leather and Alcantara®.
Contrasting the Beluga leather and motorsport-inspired materials is a vivid accent green, used as a hide color on the seats, instrument panel and door panels and in contrast stitching throughout the seats and diamond-quilted areas. GT3-R badging adorns the centre console, passenger-side fascia panel and sill treadplates, while the seats receive GT3-R stitching to the headrests in contrast-green thread.
For the exterior of the GT3-R, Bentley's Design team was tasked with creating a more purposeful stance than ever before. A new front splitter provides an assertive look to the front of the car, balanced by a new fixed rear wing fitted to the boot lid – both finished in exquisite carbon fiber. The bonnet incorporates two vents to improve the cooling capacity of the powertrain system for repeated accelerations while also invoking the shape of the Continental GT3 racer in a styling element where form follows function.
The gloss carbon fiber contrasts with the Glacier White paint that all 300 cars will be finished in, and the inspiration of the Continental GT3 race car is highlighted by the use of two-tone green graphics that trace the two power lines to the side profile of the car – one leading backwards from the front wheel, the other tracing the shape of the Continental GT's iconic rear haunch.
The visual appeal of the Continental GT3-R is completed by an all-new lightweight 21" wheel, machine-forged from high-strength alloy and finished in gloss black.
Purchase of the car also includes free standard servicing for four years (at the 10,000, 20,000 and 30,000 mile marks). Order books for the Continental GT3-R are open now, with deliveries to start late in 2014.