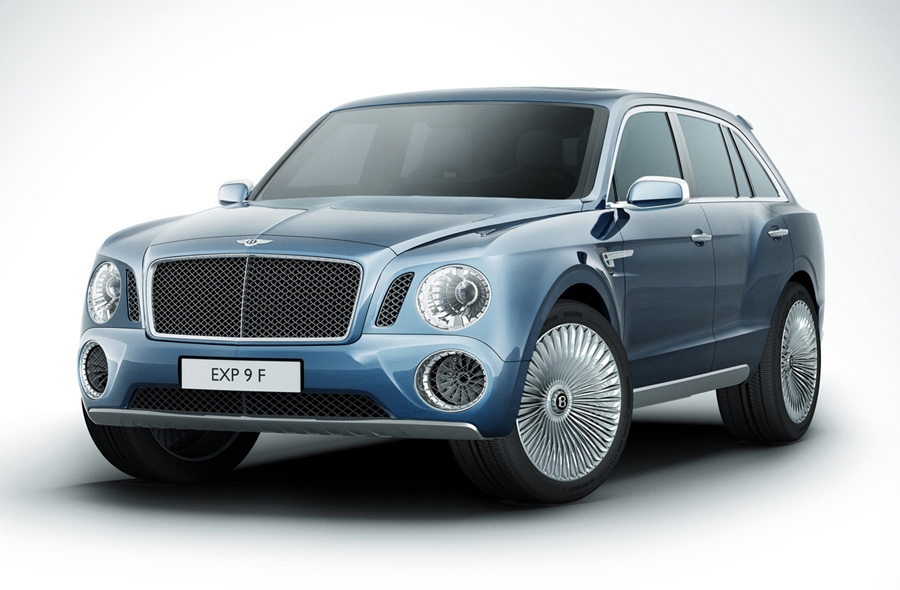 Bentley recently unveiled a dramatic new Sport Utility Vehicle concept, the EXP 9 F.
The company's designers and engineers have created a compelling new take on the Grand Touring Bentley — a vehicle that feels equally at home at an opera gala performance, on the sand dunes and in the overtaking lane of the autobahn.
The designers were inspired not only by the more functional nature of the EXP 9 F, but by the 'visible engineering' of the famous Blower Bentleys. The turbine theme continues with the stunning 23-inch alloy wheels, the design of which complements the sculptured coachwork. The multiple spokes are reminiscent of the shape of turbine fan blades, while the centrally mounted wheel nut is a visual reference, both to Bentley's Le Mans racers of the 1920s with centre-lock spinners, and to the single nut found on the modern-day Speed 8's high-tech racing alloys.
Bentley is renowned for its fusion of extremes — technology and craftsmanship, luxury and performance —and the interior of the EXP 9 F expresses the resolution of apparent opposites in its use of materials, techniques and technology.
Although the EXP 9 F concept is based around the Bentley 6.0 litre, twin-turbocharged W12 engine with an 8-speed transmission, the W12 6.0 litre powertrain, for example, could develop 600bhp with key performance indicators like top speed and 0-60mph sprint time, setting new benchmarks for the SUV sector.