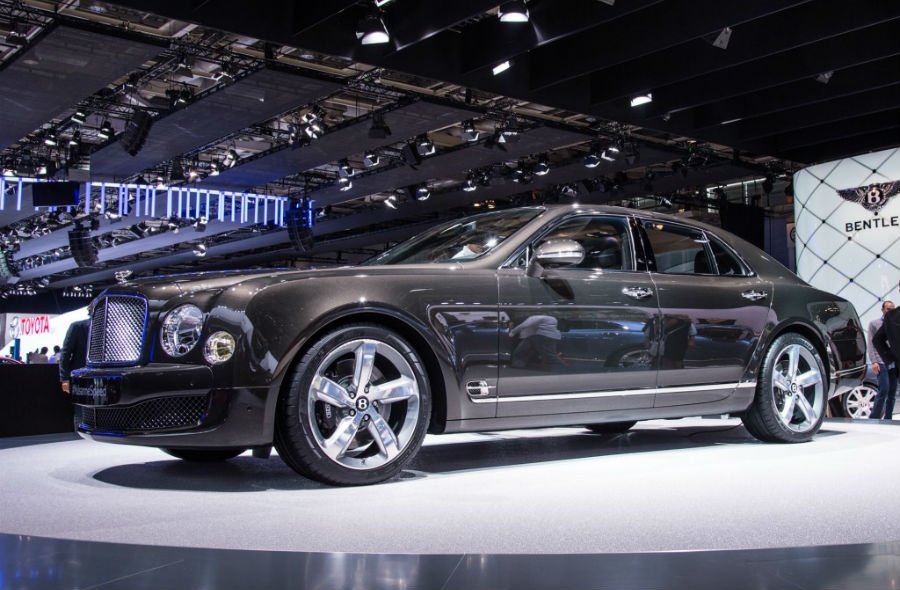 Bentley unveiled a new flagship model at the Paris Motor Show today, positioned at the very pinnacle of automotive luxury and performance.
The new Mulsanne Speed is the fastest ultra-luxury driving experience in the world.
Joining the Mulsanne Speed at the Show is Bentley's powerful four-door sedan – the Flying Spur – and two dynamic Grand Tourers, the Continental GT V8 S and the GT Speed. Completing Bentley's presence in Paris is the signature Mulsanne model, also enhanced for 2015.
During the press conference, Wolfgang Dürheimer, Chairman and CEO of Bentley Motors, commented: "We listen carefully to the needs and preferences of our customers and it is this approach that has made Bentley the most sought after luxury car brand in the world. We are the choice of many high achievers, independent thinkers, world leaders and Royal Families around the world."
The Mulsanne Speed is tailored for the driver, with 537 PS (530 bhp / 395 kW), 1,100 Nm (811 lb.ft) and selectable sports suspension and steering on demand. The reengineered powertrain, featuring Bentley's mighty 6¾-litre twin-turbo V8, propels the Mulsanne Speed to 60 mph in 4.8 seconds and on to a top speed of 190 mph. In modern Bentley tradition, the extra performance is matched by markedly improved efficiency; a 13% gain means a range extended by 50 miles.
New and contemporary styling features define the Mulsanne Speed as a statement in quintessential British luxury. Dark tint accents to exterior detailing hint to the Speed's powerful character, while on-board technology and connectivity are discreetly integrated beneath the finest materials, created with unrivalled craftsmanship and exquisite handcrafted details.
The signature Mulsanne ultra-luxury sedan has been updated for 2015, to complement the launch of the performance-focused Mulsanne Speed. The Mulsanne receives the same efficiency upgrade through new engine hardware, with its 512 PS (505 bhp / 377 kW), 1,020 Nm (752 lb.ft) 6¾-litre twin-turbo V8 engine now 13% more efficient. Changes have also been made to the gearbox calibration of the Mulsanne, focusing on smoother, relaxed gear changes that promote a comfortable and refined driving experience. New paint colors, hide and veneers options are also available across the Mulsanne family.
With its unrivalled blend of effortless driveability, exquisite luxury and craftsmanship, sculpted design and state-of-the-art technology, the success of the Flying Spur continues.
Behind the athletic exterior design and immaculate interior application of luxurious leather and wood lie a host of advanced acoustic and electronic technologies. A bespoke hand-held Touch Screen Remote allows rear-cabin occupants to control an extensive range of features from the comfort of their seat. With an optional Rear Seat Entertainment suite including two 10" LCD screens, DVD players, wireless headphones and an on-board hard-drive jukebox, plus the options of full Wi-Fi connectivity and an 1100W Naim for Bentley premium sound system, the Flying Spur is the perfect place for work or relaxation on the move.
Powered by Bentley's renowned 6.0-litre, twin turbo W12 engine, the Flying Spur features 625 PS (616 bhp / 459 kW) and 800 Nm (590 lb.ft) of torque. A 14% improvement in the power-to-weight ratio over the previous generation Flying Spur ensures a remarkable 0-60 mph time of 4.3 seconds and a top-speed of 200 mph.
Building on the success of the acclaimed Continental GT V8, the new V8 S models feature a more powerful version of Bentley's 4-litre, twin-turbo V8 engine developing 521 bhp (528 PS / 389 KW) and an immense peak torque of 680 Nm (502 lb.ft) at a mere 1,700 rev/min. An 8-speed ZF automatic transmission and Bentley all-wheel drive system with 40:60 rear-biased torque split ensures effortless delivery of the increased power, providing exhilarating yet smooth performance.
The GT V8 S coupe sprints from 0-60 mph in just 4.3 seconds and onto a top speed of 192 mph. The performance of the GT V8 S convertible is equally impressive, reaching 60 mph from a standing start in 4.5 seconds and a top speed of 191mph. This increased performance is not at the cost of the efficient engine's fuel economy capabilities, with both coupe and convertible able to cover over 500 miles on a single tank of fuel.
The capabilities of Bentley's flagship grand tourer, the Continental GT Speed are dramatically underlined in 2014 with enhancements to its unique combination of supercar performance and unrivaled refinement.
Bentley's iconic 6.0-litre twin-turbo W12 engine is now even more potent and develops 635 PS (626 bhp / 467 kW) and a record 820 Nm (605 lb.ft) of torque. The ultimate new Continental GT Speed coupe reaches a top speed of 206 mph – the fastest production Bentley ever – while the convertible reaches 203 mph (327 km/h).
The enhanced dynamic performance to the Continental flagship model is accompanied by an even more distinctive road presence. The sharp front splitter, discreet side skirts and elegant rear diffuser of the Mulliner Styling Specification are finished to match the exterior paint color and a dark tint finish applied to the 21" Speed wheel design, headlamps and tail lamps. The new appearance is further complemented by red-painted brake calipers and a stylish chrome "Speed" badge fitted to the front fenders and inside the luxurious cabin there is a completely new color split reserved exclusively for the Speed models.