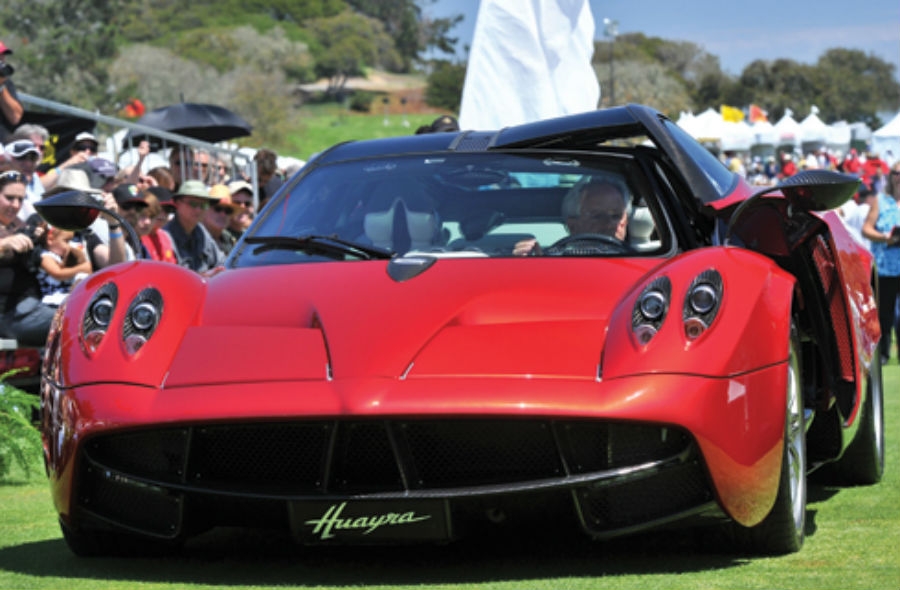 The morning fog that covers most of the Monterey Peninsula each summer morning cast an ethereal spell over the roaring Italian exotic automobiles on display at Laguna Seca Golf Ranch.
However, on this day, the day of Concorso Italiano, the sun pierced through almost on cue and melted the fog away. The full luster of the Ferraris, Lamborghinis, and other Italian exotica unfolded before our eyes.
And what a treat it was. Sprawling over five fairways were over 1,000 Italian cars. We saw the sea of red Ferraris, a palette of Lamborghinis (even one in chrome and another in pink), a leading edge Pagani Huayra, Alfa Romeos, vintage Lancias, Panteras, Maseratis, and yes, the diminutive Fiats. This was a celebration of Italian style.
The feature at Concorso Italiano this year was the 100th Anniversary of Bertone Design. This venerable Italian automobile designer created some of the most iconic designs and has always pushed the envelope when it comes to automotive design standards. Bertone treated the enthusiasts to the North American debut of its latest one-off, the Nuccio. Named after the son of the founder, the orange-topped Nuccio takes on a reptilian look that's almost sinister. Hearing Bertone Design Director, Mike Robinson, describe the design theory and evolution of the car was a clinic unto itself. In addition to the Nuccio, there was a sensational display of several of the rarely seen Bertone concept cars, and amazing production designs.
Fiat unveiled the new 500T, which is a turbo version of the new 500. This is lightning in a bottle. Just a few feet away was the new Pagani Huayra which will be available in North America next June. This astounding supercar was designed and engineered based on aeronautical technology, and every surface and feature of the car screams "extreme."
It was cars, cars, cars. And if your head didn't swivel enough from all of the beautiful and rare automobiles, there was so much more to capture your attention. The noontime fashion show was standing room only, and the food and wine made all of us epicureans. All you would have to do is close your eyes, soak in the wondrous sound of the strolling musicians, and you could imagine yourself strolling the Piazza Grande in medieval Modena. But you would have closed your eyes at your peril because you would have missed such tantalizing sights. Be sure to put Concorso Italiano on your list of "must see" events for next August.