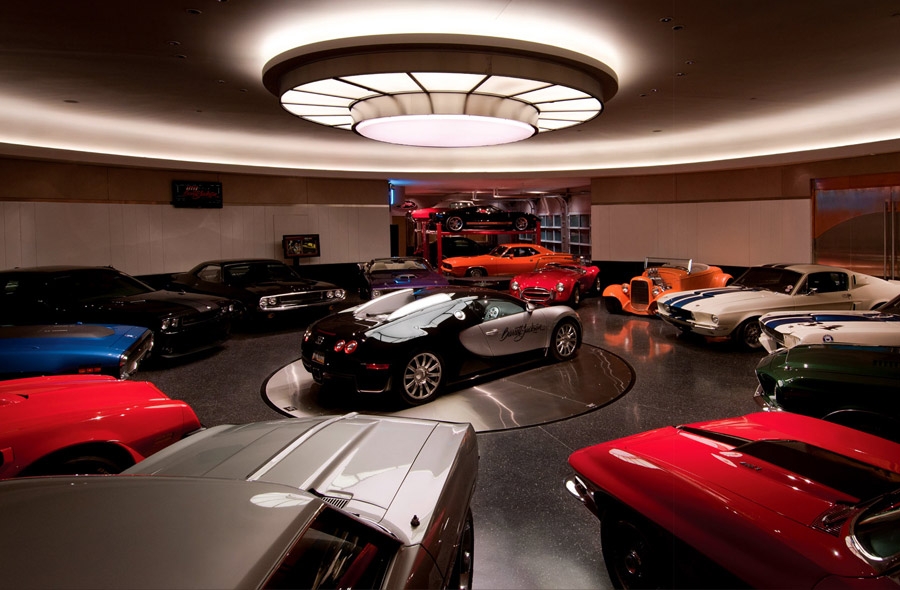 It's fitting that Craig Jackson, the dynamic, hard-charging, and charismatic Chairman and CEO of the Barrett-Jackson Auction Company, has built an empire in an industry surrounded by some of the most spectacular, rare and valuable automobiles in the world.
That's because when you strip away the high-profile sex appeal and excitement of their world-renowned auction shows (held in Scottsdale, Arizona, Las Vegas, Palm Beach and Orange County and televised for avid fans around the world on Speed TV), and cut right to the core, Craig Jackson is two things at heart. He's an entrepreneur, (he's started and built numerous successful businesses outside of Barrett-Jackson, including a restaurant delivery business he founded when he was a bachelor and didn't want to cook) and a car guy. As he eventually learned.
"When I grew up, I got a degree in automotive technology, but in high school, I took two years of construction and actually wanted to be a home builder. Whenever I do any remodels or additions I usually subcontract it or contract it myself. So, I thought that beating on fenders just didn't seem to be my lifelong dream," he tells Jetset.
It was the tragic circumstances of the passing of his father and brother that led him to the top job at Barrett-Jackson. "I ran a body shop for years, restoring cars and did most of the work myself, and it was only through my father dying and my brother dying so suddenly that I ended up running the company because I always figured my brother would." It turned out that the combination of entrepreneurial skill and a love of cars was the perfect combo of skills that have helped take Barrett-Jackson into a new stratosphere. "This business, I just knew it from both sides," Jackson explains to us. "Tom Barrett was very flamboyant, a very gregarious, confident sales person and my father was more of a button-down business person. But to run Barrett-Jackson you have to have a little bit of both in you."
He certainly has that. The company has been in the family since its founding in 1971, and since he took the reigns of the entire operation in 1997, Jackson has gripped them firmly, growing and expanding the business into what it is now: the world's leading collector car auction, automotive lifestyle event and pop culture phenomena. The fact that Barrett-Jackson is so recognizable and a tremendously valuable worldwide brand keeps the pressure on Craig all year to constantly keep everything evolving and make things more exciting and dynamic every year. At the same time, he makes sure he and his team are taking care of the core audience of clientele that helped build the business to its current levels.
"Car trends change and we try to change along with them. Pendulums swing back and forth, and when we started, we were all pure classics, and then we changed when the Baby Boomers got their money and moved into muscle cars and hot rods. Then there was this resurgence of classics, people really seeing them as works of art, even though the guys collecting them nowadays didn't grow up with them. And then we started coming back to our roots of selling those types of cars. So you have to be flexible and adaptable. I hate it when people put us in a box, thinking we only sell a certain type of car. No, we sell everything."
Jackson takes no shortcuts when it comes to his business. Those around him talk of his impeccable attention to detail and the management style he's crafted is one that's very hands-on.
"I'm very much involved. I know everything that's happening because I've worked in every aspect of the company. My Dad started me running the trash crew, the drivers. I started the whole desktop publishing and computerizing of the company. I'm still very much involved in IT as we deal with social media and the web. When I explain to somebody what I want, sometimes I have to actually sit at their computer with them and tell them what I expect. Some people really flourish in that environment and I give them leeway. I give them direction and then let them run. Some of them run, and the ones that don't won't last in our company."
The industry is literally in his blood, and that passion, excitement and incredible knowledge are the intangibles that jump through the TV screen for fans of the event watching in all corners of the globe. He's a businessman that has garnered a slice of visibility through his business and it has given him a certain level of fame in the industry. That 'business first' ferociousness is what drives him, even though some people would find it easy to lay back and enjoy the level of celebrity that comes with the territory. When Jackson gets recognized in public around the country in out-of-the-way places, it still surprises him.
"I can tell you one story that I thought was rather unique," Jackson explains to Jetset. "I was sitting in New York at a restaurant talking to a reporter from The Wall Street Journal who'd never seen our broadcast. He asked me what kinds of people watch the broadcast. Literally, like it was on cue, at the table next to us sat two sophisticated-looking women. We were at the Oak Bar, at The Plaza, and right then one of the ladies who overheard our conversation leans over and said, 'We watch it every year.' The reporter had to be thinking we set this up, but the lady continued to tell him that her, and her friend's husbands, love cars, and they get together as a group, open a bottle of wine and sit down and watch the show each year and try to guess what the car prices are going to bring. I've found that people from all walks of life love watching it because it's really an organic version of reality TV that we've been showing long before all the reality shows took over."
The show and the business continue to grow. There are thousands of people that plan part of their social and travel schedule each year around it, which means Jackson's life continues to move at a frenetic pace. His philanthropic endeavors are legendary, and Craig and Barrett-Jackson are personally responsible for millions of dollars being raised for numerous causes and making valuable differences in people's lives. To keep up the pace, it's imperative that Jackson fly private when it makes sense.
"Flying private for me helps with productivity. For me it's about time. When I can't fly commercially directly to a major airport, I fly private because you can't buy time, and life is just too short, anyway."
With beautiful and expansive homes located throughout the country, Jackson is constantly on the go, recharging when he can at one of them. He has no problem enjoying the spoils of his success when he can, but pressing Barrett-Jackson business seems to always be close by, needing his attention and focus. Which is okay if you're a car lover and admirer of what Barrett-Jackson has done and become over the years, because he's taken a lot of people with him on an incredible ride.