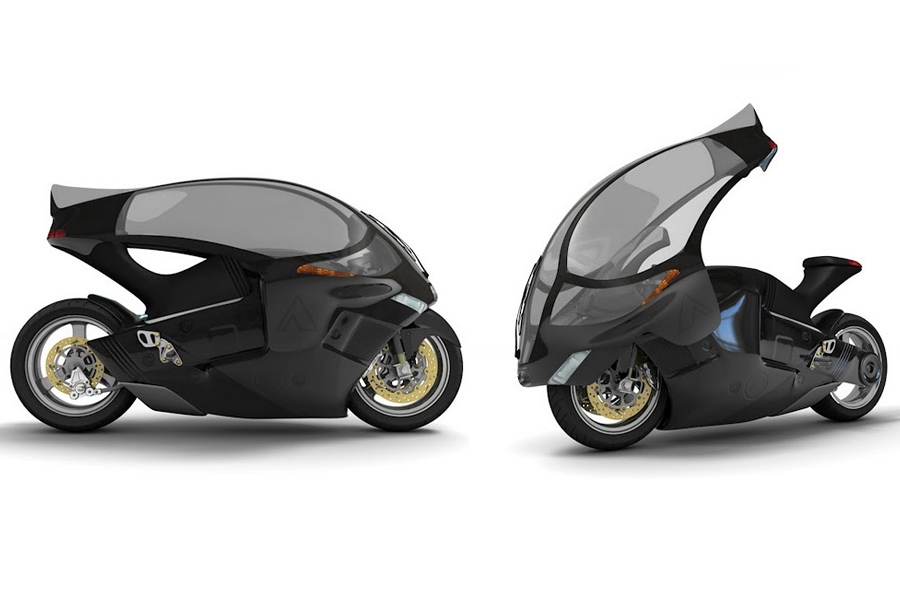 If this canopy motorbike cover ever comes to market, helmet haters everywhere are sure to rejoice.
Shown here in a design based on Suzuki's Nuda concept bike, the Crossbow Canopy shields the rider from the wind, rain, dust, blistering heat and other natural elements that can make riding a tad unpleasant at times. And the fact that the canopy forms a protective shell around the rider means that they can ditch their helmet for good. This concept motorbike enhancement is the brainchild of the British design and innovation consulting firm Phil Pauley.
Not only does the Crossbow Canopy protect the rider from the weather, it actually makes the ride more comfortable, as well, thanks to its built-in heating system. The canopy even includes a windshield wiper. They seem to have thought of everything.
But all of that functionality would mean nothing without performance. The automatic canopy has been carefully styled to support the riding position, allowing the rider's legs to maintain stability and full control at low speeds while maximizing the aerodynamics needed for high-speed performance. The canopy even comes in different designs that are ideal for the hitting the racetrack, cruising down country roads or skillfully negotiating urban environments.
Let's not forget about style. The Crossbow Canopy's futuristic design is undeniably cool. In fact, it's a head-turning kind of cool. And that's hard to beat. Helmet haters everywhere, rejoice.