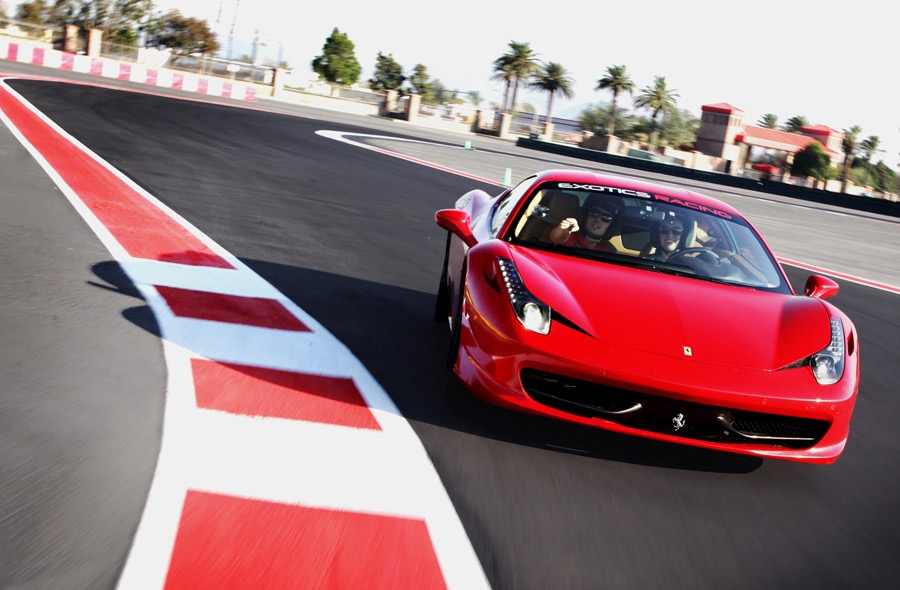 Located 20 min from the Las Vegas Strip at the Las Vegas Motor Speedway, Exotics Racing brings you the original supercar track driving experience with the world's largest fleet of exotic cars.
Exotics Racing is the first racing school to offer customers a chance to choose from a wide variety of exotic cars including Ferraris, Lamborghinis and Porsches, and drive them the way they were meant to be driven… on a racetrack!
The car of your dreams is waiting for you. Choose your favorite supercar from names like Ferrari, Lamborghini, Aston Martin, Porsche, Audi, and Nissan, and our team of professional racing instructors are ready to give you an experience you'll be bragging about for years to come. All cars are equipped with paddle shifters, meaning knowledge of manual shifting is not required, so this is something accessible to drivers of all skill levels. You'll receive one-on-one coaching from your professional racing instructor, who will be seated next to you as they encourage you to push these amazing cars to their limits. This is one time in your life where you're expected to give in to peer pressure.
Our driving experience integrates classroom education, familiarization laps and on-track one-on-one coaching from a racing instructor into one comprehensive, safe and exciting driving experience. Unlike other supercar experience companies, Exotics Racing's Driving Experience Packages include insurance, and no security deposits are required. Packages start at $199 for 5 track laps. High Speed Ride-Along packages are also available, in which guests experience the track as a passenger with a professional racing driver at the wheel.
Over 100,000 guests have participated in the Exotics Racing Driving Experience since the company launched in 2009. Exotics Racing's private track and adjacent reception facility is located in the Las Vegas Motor Speedway complex and is visible from the I-15 freeway. The track is open to the public 7 days a week and is available for group and private events. Corporate events can be available for groups of 15 – 400 guests per day.
[iframe width="472″ height="266″ src="//www.youtube.com/embed/q_Zr7qx1D6c" frameborder="0″ allowfullscreen ]