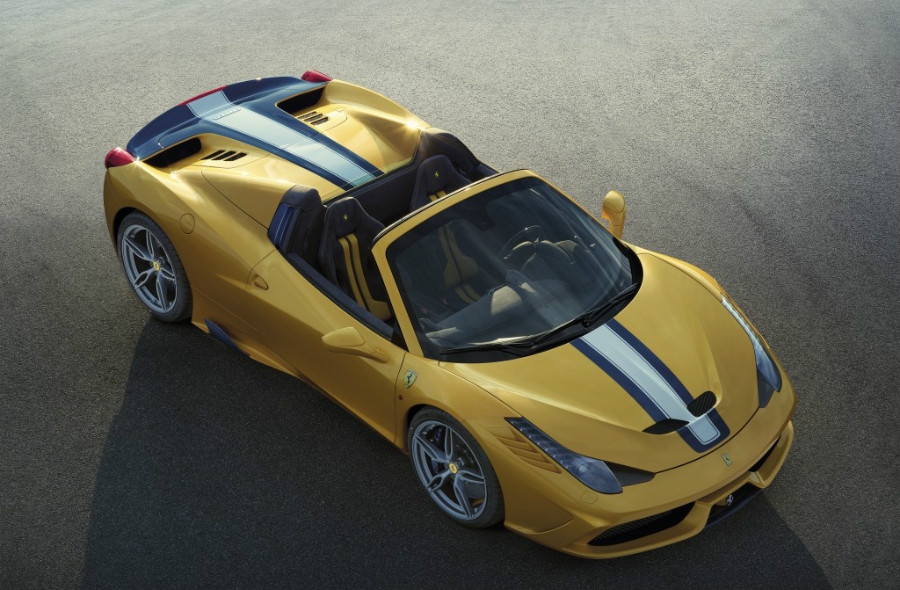 The 458 Speciale A made its world debut at the 2014 Mondial de l'Automobile in Paris.
A limited edition special series of just 499 cars, the new model enhances the sublime pleasure of Ferrari drop top driving with the blistering performance of the company's most powerful naturally-aspirated V8 engine ever.
This latest spider is a celebration of the 458, a model which, in its various incarnations, has won a plethora of international motoring plaudits, not least three Best Performance Engine awards, as well as delivering many track victories, including a WEC title and wins in the legendary 24 Hours of Le Mans and Daytona.
The 458 Speciale A (the A stands, of course, for Aperta) is powered by a V8 engine that delivers a maximum of 605 cv and a record specific power output of 135 cv/l. Torque stands at 540 Nm at 6,000 rpm. This adds up to a car capable of extraordinary performance (0 to 100 km/h in 3 seconds flat) with very low CO2 emissions of just 275 g/km.
Engine aside, another pivotal factor in the benchmark performance delivered by the 458 Speciale A is its active aerodynamics. Thanks to a Ferrari patented mechanism, two vertical flaps at the front of the car and one on the underbody open at high speeds to lower drag. At the rear, an original set-up centering around a mobile diffuser augments downforce as required too. The result is that the 458 Spider A is the most efficient Ferrari spider ever built.
Also fundamental are the aerospace-derived materials and technologies adopted in the chassis which is made from 10 aluminum alloys to combine lightness and rigidity, and the retractable hard top (RHT) which deploys or retracts in just 14 seconds. The Speciale A employs latest-generation electronics, specifically Side Slip Angle Control system (SSC) which allows even less expert drivers to exit corners on the limit, delivering a uniquely exhilarating driving experience underscored by the signature uncompromising and seductive Ferrari soundtrack.