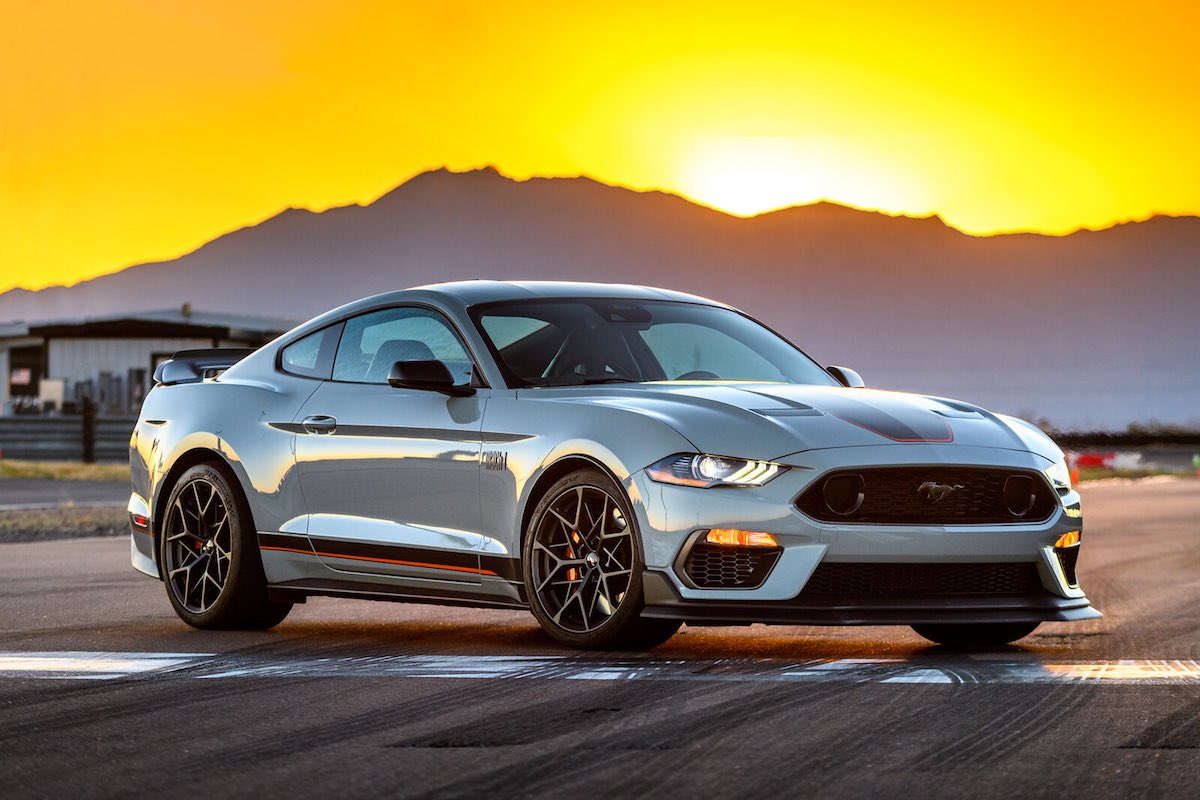 When I began covering the automotive sector for Jetset Magazine back in 2016, I had no idea how quickly the industry would begin to transform. Significant advances in technology have helped propel the development of modern vehicles at breakneck speeds. Looking back over the past six years, I can't help but recall my first writing assignment for Ford Performance at the launch of its groundbreaking Shelby GT350 muscle car. Fast forward to 2022 and the beloved American automaker has once again embarked on a mission to produce the fastest Ford Mustang ever to hit the streets.
I recently had the opportunity to take the brand's latest Ford Performance vehicles for a test drive during its North American Track Tour, and the experience most certainly left me yearning for more. The nationwide tour seeks out the country's best racing courses to host these unique events aimed at giving passionate brand fans and the media a chance to get up close and personal with the company's latest vehicles. The event I attended was held at Radford Racing School in Chandler, AZ (formerly known as Bondurant), whose rich history with the former Ford racing driver made the school an ideal location for carrying on the Shelby and Ford Performance legacy. On the docket for this year's Track Tour were both the jaw-dropping Shelby GT500 and Ford's latest Mustang incarnation, the new Mach 1.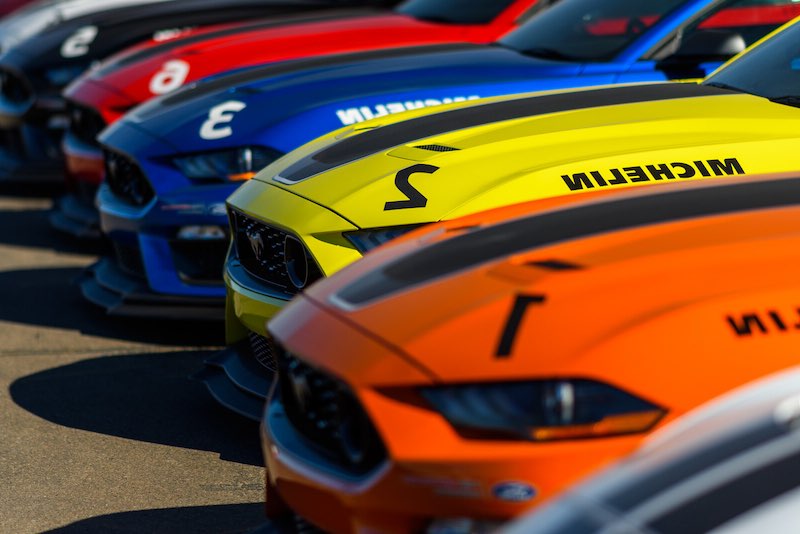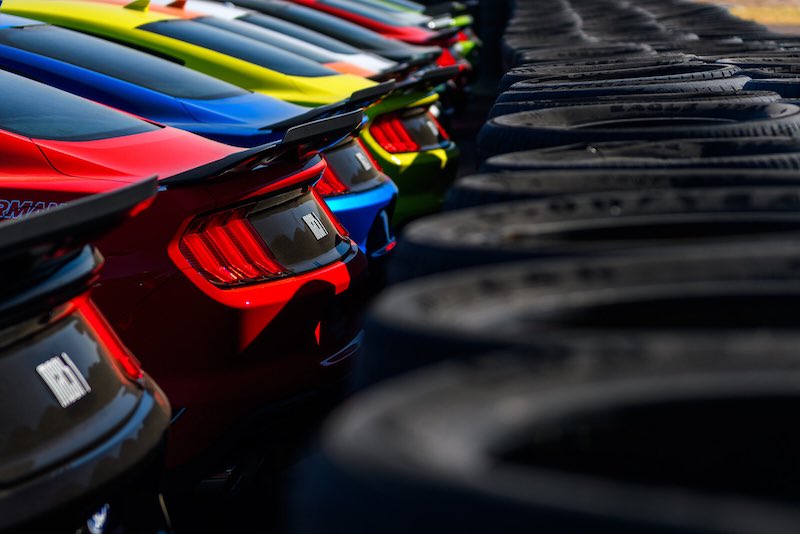 The opportunity to drive both vehicles on a bonafide racetrack offers more than just a quick thrill, as each of these vehicles has been specially designed for track performance. While the new Ford Mustang Mach 1 is a moderately priced successor to the brand's previous track-centric model and incorporates a number of improvements from the Shelby GT350, it's the brand's high-powered Shelby GT500 that truly piqued our interest and shines among today's modern muscle car lineup. With more than 750 horsepower at the ready and a 7-speed dual-clutch TREMEC® transmission capable of shifting gears in a mere 80 milliseconds, the Shelby GT500 convincingly exemplifies the true capabilities of Ford Performance.
After a short introduction and quick safety brief, attendees were split into multiple groups before heading out to the track to tackle sessions in the Mach 1 and Shelby GT500. My group's first assignment took place on the property's drag strip and included a demonstration of the Shelby GT500's line lock feature (with an impressive display of tire smoke) before taking turns at a zero-to-100-to-zero drag strip challenge. Capable of accomplishing this task on the deck of a US aircraft carrier (and in under 10.6 seconds), the GT500 perfectly exhibited its performance prowess and stopping power as even the most novice drivers proved up to the challenge.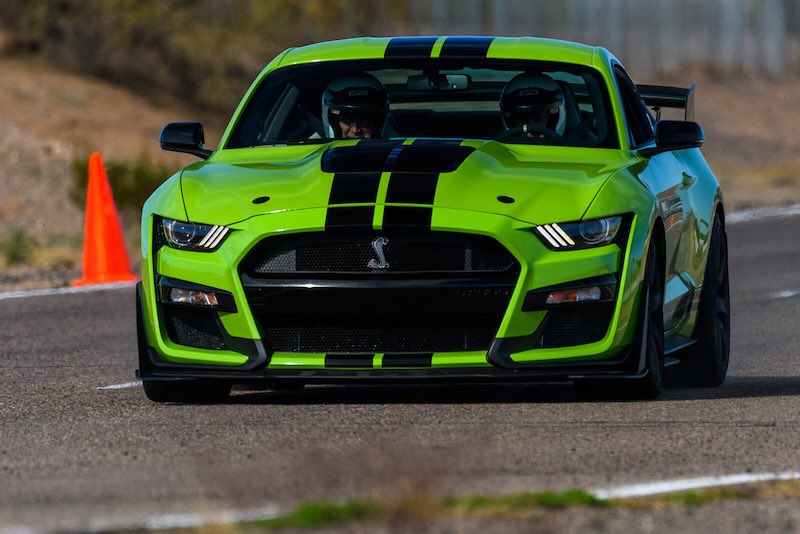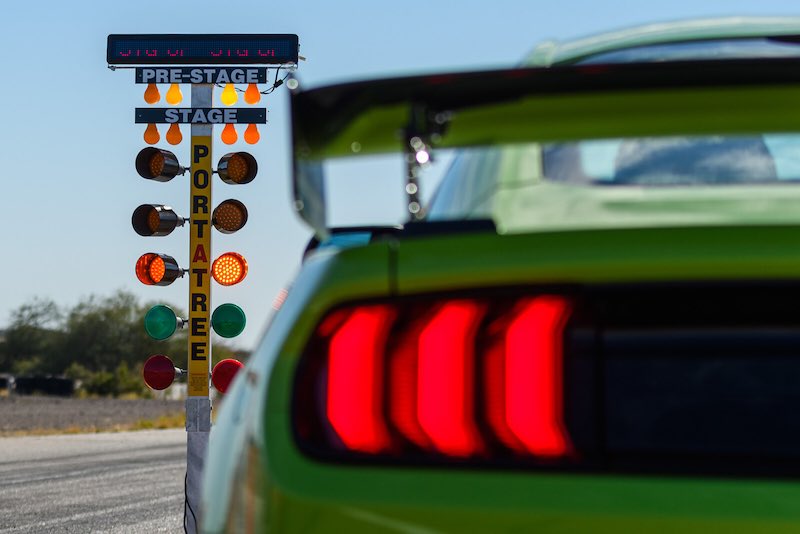 The wow factor of the GT500's stunning exterior cannot be overstated. An enlarged grill and significantly enhanced aerodynamics help improve airflow, while the upgraded Brembo brakes deliver more than enough stopping power to help keep the vehicle under control on track. Optional leather-trimmed racing seats from RECARO® provide a comfortable ride, while offering world-class driving ergonomics and plenty of support when cornering at high speeds. Hood vents, a rear diffuser, and an optional GT4 track-focused rear spoiler made of exposed carbon fiber afford additional handling improvements and head-turning styling cues.
Underneath the hood, Ford's 5.2L cross plank V8 has been paired with a 2.65L Eaton supercharger that produces 12 psi of boost. The result is a class-leading quarter-mile time and the ability to move from a standstill to 62mph in an impressive 3.5 seconds. Offering a staggering 760hp and 625 lb-ft of torque, the gorgeous GT500 can be further optimized with the addition of the model's Shelby GT500 Carbon Fiber Track Pack. Supplementing the stock rims for 20" exposed carbon fiber wheels weighing only 17 pounds each, along with upgraded Michelin Pilot Cup Sport 2 tires and removal of the rear seat, the optional package provides significant weight reduction and much stickier tires for even faster on-track performance.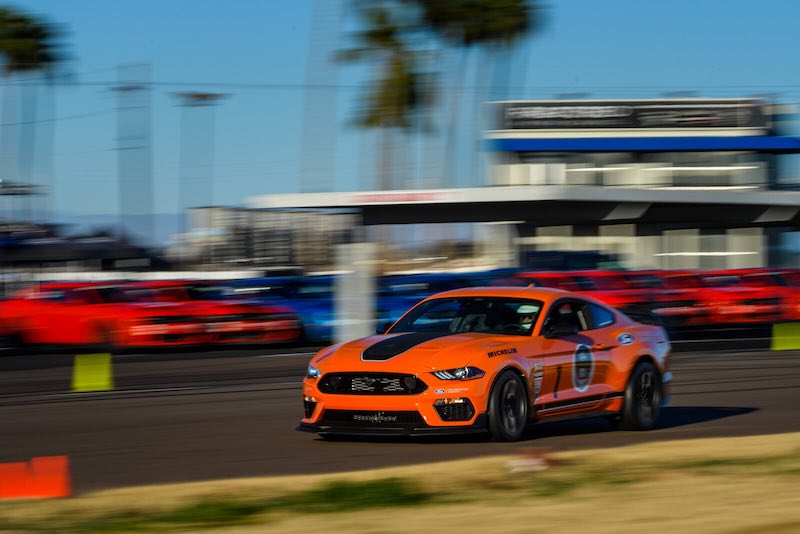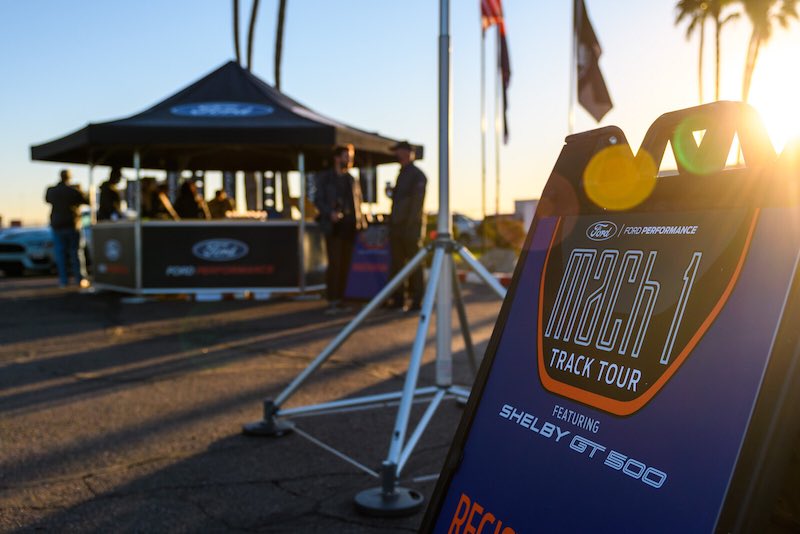 After spending some time with the GT500, we headed over to the road course for seat time in the new Mustang Mach 1. While not as mighty as the powerful Shelby model, the Mach 1 certainly earned its stripes with noticeable improvements in handling over the standard Mustang GT, a car which I've become very familiar with both on and off the track. As lead-follow laps quickly increased in speed, the Mach 1's impressive acceleration and cornering abilities provided an easy-to-handle solution for aspiring racing enthusiasts with novice track skills.
Also on display were a handful of other Ford Performance vehicles, both past and present. From the brand's all-electric Mustang Mach-E GT and Shelby Mustang Mach-E concept, to special edition Mustang models such as the Ice White and Bullitt versions, the 2022 Track Tour presented valuable information about the future of the company's passion for performance. Aaron Shelby, grandson of iconic racer Carroll Shelby, and Gary Patterson, President of Shelby American, were on site to discuss the history of the Ford/Shelby partnership and how these new models pay tribute to the hallowed American race car driver. Ford's head of performance vehicle marketing, Jim Owens, gave additional insight into the brand's future-forward design processes.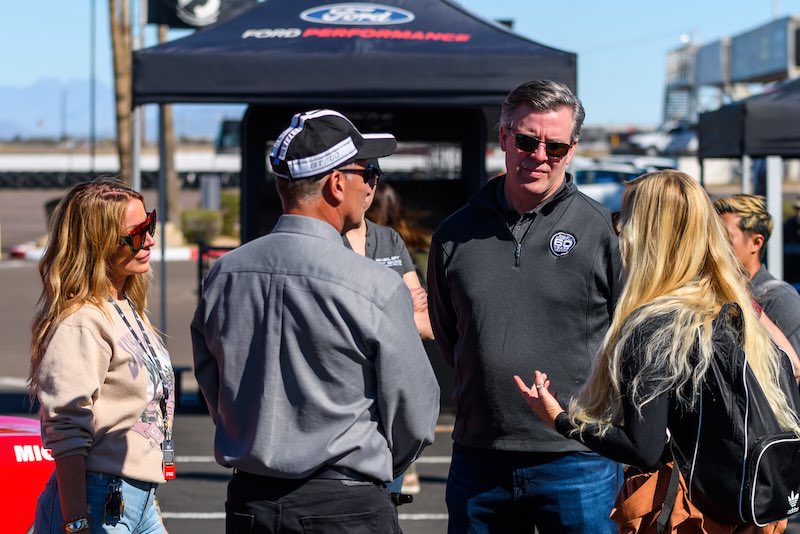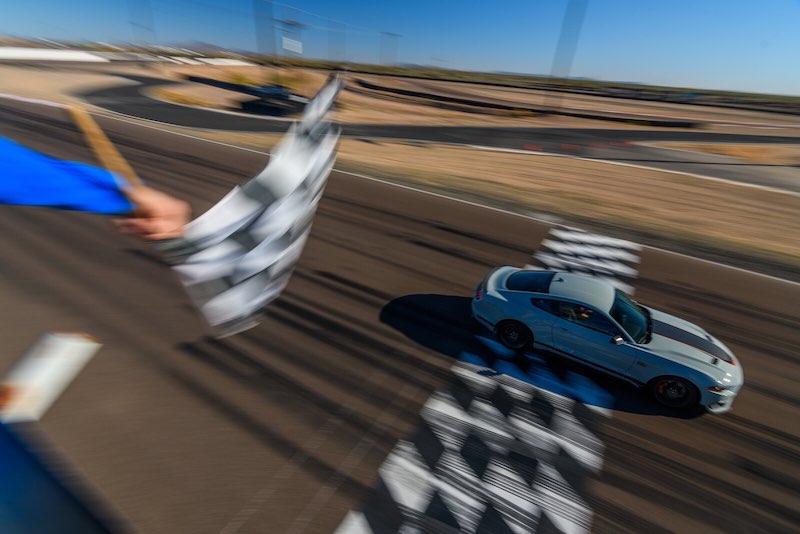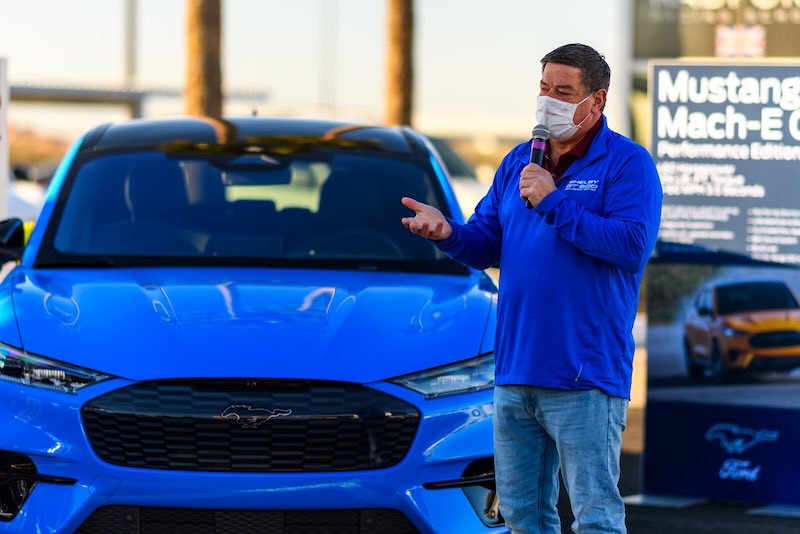 When the event came to a close and it was time to depart, it was clear that all in attendance were left with quite an impression of both vehicles. Whether you fancy a whiplash-inducing drag car or a track-optimized daily driver, we found both the Shelby GT500 and Mustang Mach 1 to be more than worthy contenders for a spot on your shopping list.