It's seen internationally at prominent venues, under the rarest and most prestigious collector cars and alongside some of the world's strongest brands.
Swiss engineered. Made in America. That's the premise of Swisstrax, the manufacturer and distributor of the "World's Finest Modular Flooring". Using a proprietary interlocking system, Swisstrax technology combines high strength durability with an ultra-elegant floor covering that is unrivaled.
With nearly $109 million in gross sales at Barrett-Jackson Scottsdale this year, it was Swisstrax flooring that was underneath the cars on display and at the staging lanes. As the official supplier to "The World's Greatest Collector Car Auctions and Events" since 2006, Swisstrax was on display wherever you went at the season opener this year with 75,000 square feet of flooring laid throughout the WestWorld of Scottsdale venue.
Automotive. Motorsports. Aviation. Recreation. With strength that can withstand up to 70,000 pounds in rollover weight, Swisstrax floors have rarely found a setting it couldn't conquer. Versatility. Durability. It's the Swisstrax team that is led by visionary and President Randy Nelson that continues to push the envelope in ingenuity. A California-native, Nelson's adventure began at 19-years-old when he headed overseas to Switzerland to direct the development of Swisstrax products for the next 20 years before returning to the United States to manufacture in Riverside, California and to set-up headquarters in Indio.
Swisstrax stands on a solid reputation that has been earned and reinforced over time. There's a reason why the company is partnered with Ford, Hendrick Motorsports, the SPEED Channel, the SEMA Show and even installed in car collector extraordinaire Jay Leno's Big Dog Garage. Swisstrax is licensed with Shelby Automobiles and Petty's Garage, the performance company founded by legendary racer Richard Petty. Swisstrax floors are used as much for showcasing as it is for practicality. At the upcoming NASCAR race in Las Vegas, Swisstrax will be the flooring at the Winner's Circle and throughout the grounds of the Las Vegas Motor Speedway.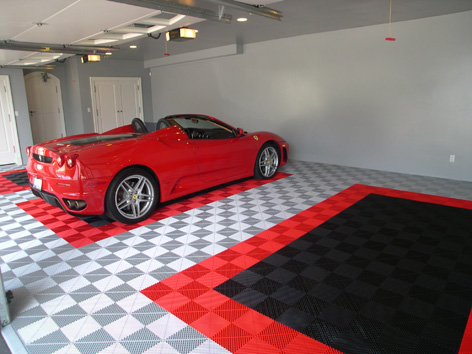 Available in six different styles and 20 colors with both solid and open-surface designs, the Diamondtrax solid surface tile, the Ribtrax open surface tile and Rubbertrax, a tile made from 100% recycled tire rubber continues to be the most popular among the Swisstrax collection. Using the Swisstrax developed custom "Floor Designer" program on its site, floor designs can be created and ordered with ease and simplicity. "Achieving the desired look shouldn't be a difficult process," said Nelson. "The Floor Designer on our site allows you to experiment with creating designs until you find the one that you want. With a quick calculation, we'll already know exactly what you need to make that floor design a reality."
Swisstrax tiles are non-slip when wet, easy to install and clean, and hold up in even the most extreme conditions. "The reason our product is so strong is because we started in the commercial market and crossed over to the residential market. We have developed our product to perform under strenuous conditions," said Nelson. To date, over 20 million square feet of Swisstrax flooring has been installed worldwide.
Backed by a 15 year warranty, Swisstrax doesn't shy away from demonstrating and proving why they have the best product on the market. "We're willing to put our tiles to the test against any other company," said Nelson. "We've put our products through rigorous testing and have proven statistics."
In just over nine years after returning to the United States, Nelson has brought Swisstrax products to the forefront of the market and continues to lead through quality, innovation and service. Indoor, Outdoor, Showrooms, Gyms, Hangars, Patios, Workshops, Dance and sports events, Garages, If you ask Nelson, it doesn't matter, He's got you covered.