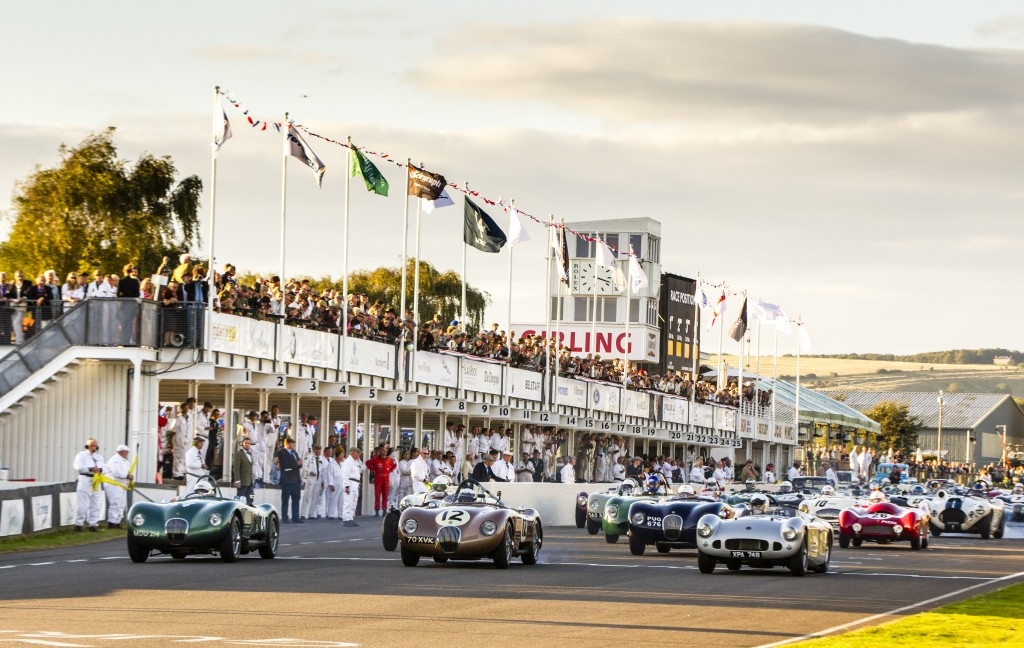 The 2014 Goodwood Revival is just a few days away; this year promises to be a yet another unparalleled opportunity for classic car enthusiasts and those simply passionate about a by-gone era to indulge in some nostalgia over a long weekend.
Over the weekend of 12 – 14 September, around 150,000 spectators dressed in vintage clothing will grace the Goodwood Motor Circuit, located in the pastoral idyll of southern England. There is plenty of racing in store to heighten tension; music from the 1940s, 50s and 60s will add to the atmosphere; tableau performances by acting groups will bring the past back to life. In short, there will be something for everyone.
For Formula 1® legend Sir Jackie Stewart, a Rolex Testimonee since 1968, this year's Goodwood Revival will prove extra special, with the organizers staging a tribute to celebrate the 50th anniversary of his 'discovery' at the track in 1964. On all three days there will be a parade of cars that marked out the career of one of Britain's best-known, and one of the world's most revered, motor sport heroes.
One of the vehicles appearing among the 24 gathered is the Cooper BMC-T72 that Sir Jackie drove during the 1964 test. An emotional reunion is in store: "I was asked to come to Goodwood to test a Formula 3 car for Ken Tyrrell. I had never driven a single-seater car in my life, and had really just started to motor race in a very amateur way. Ken invited me down and suddenly my life was changed in one day, from one test drive."
"The Goodwood Revival is a special place, Lord March puts it together in a remarkable way. It is certainly the best event of its kind in the world and I'm very proud to be honoured in this way. I first went to Goodwood as a small boy with my big brother who raced and won there. I saw all the stars of the day race, and got all the great autographs, and here we are now celebrating fifty years since I first drove there," reflects the gifted Scotsman.
Sir Jackie is understandably looking forward to the occasion, and the opportunity to reacquaint himself with cars that helped shape his career: "It would be difficult to pick out any one car that I am looking forward to seeing, but really anything I drove for Ken Tyrrell. He had such an effect on my life, and my whole family's life." Stewart's wish will be granted. Among the featured cars with which he is to be reunited are vehicles marking significant chapters in his Formula 1® career: a Matra MS80-Cosworth, a Tyrell-Cosworth 002, and, a Tyrrell-Cosworth 006, respectively from 1969, 1971 and 1973 – the years in which he won his three F1® driver's world championship titles racing for Ken Tyrrell.
Other celebrations planned for the weekend include the 60 years of the Jaguar D-Type with a collection of 33 in attendance, of which 20 will go head to head in the Lavant Cup on Saturday afternoon. The 100th anniversary of Maserati will be feted with 16 Maserati 250Fs from 1954 to 1958 undertaking high-speed demonstration laps. If that is not enough, the 75th anniversary of RAF Westhampnett, the wartime aerodrome where the circuit is located, will also be recognized. Over 600 vehicles and personnel will parade around the circuit on the Sunday afternoon, and some 25 veterans, all of whom were based locally, will be introduced and honoured for their courage.
Rolex has been involved in the Goodwood Revival since 2003. Among the many prizes awarded at Sunday night's traditional trackside prize giving is the much-coveted Rolex Driver of the Meeting Award. To the winner goes a sought-after Rolex timepiece: a specially engraved Cosmograph Daytona, the emblematic model launched in 1963 during a golden age for motor sports and the benchmark for those with a passion for driving, high performance and fine engineering.