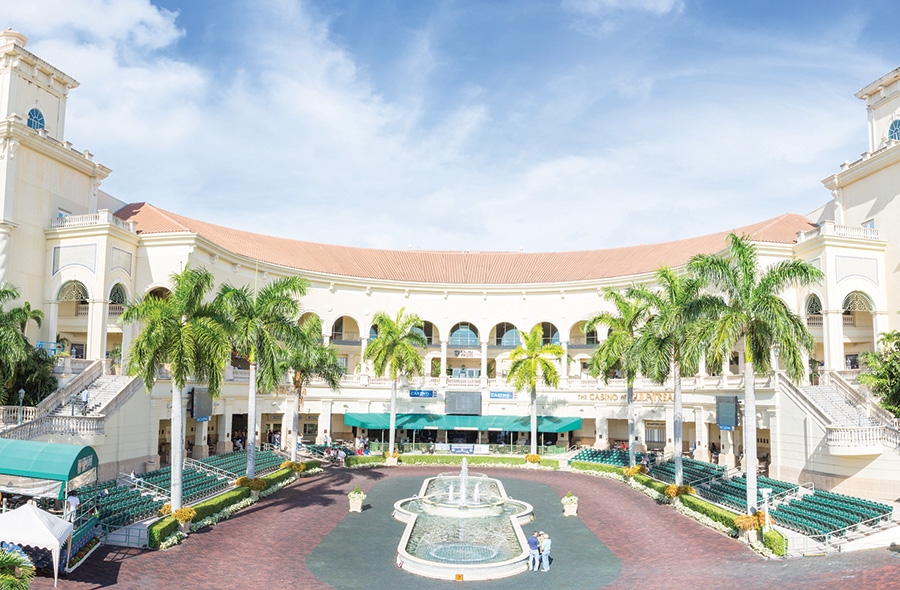 The future of racing and South Florida's best day out. Gulfstream Park is one of the world's most important venues for racing, a must for the sport's top thoroughbreds.
With The Village at Gulfstream Park boasting luxury real estate, hotels, nightlife, a casino and concert venues in tandem with a top-tier racing culture, this is a celebrated lifestyle as much as it is a racetrack. Balmy breezes from Hallandale Beach set the perfect backdrop for South Florida's best day out. With all the lively restaurants and retail at hand, think of it as a whole weekend itinerary with a family bonding vibe.
A short drive from Miami and Fort Lauderdale, Gulfstream is the place to see and be seen in the winter season. Corporate entertaining hits a new high as Fortune 500 executives colonize the chic finish line boxes and private suites, feasting on everything from the finest New York-style steaks to divine fresh sushi.
With the big buzz of Gulfstream Park West, located eight miles west at Calder Race Course, The Stronach Group wins a year-round monopoly on racing in South Florida; their slice of the national wagering pie is likely to expand beyond its current 25 percent share of the $11 billion market. The new six-year agreement ends head-to-head racing by the two tracks. Investing $2.5 million, Gulfstream rebranded the facility, refurbished the dormant turf course and renovated 15 barns to the delight of horsemen and trainers.
"Our initiative is to improve racing for the fans, horsemen and breeders over the long term."
"Our agreement allows us to rejuvenate the fall racing season in Florida with quality horses and quality racing," says Gulfstream President Tim Ritvo. "We've spent considerable time and energy making changes at Gulfstream Park West, not only for the horsemen but also the fans. Our initiative is to improve racing for the fans, horsemen and breeders over the long term."
Gulfstream continues to set records in its state-of-the-art facility. A crowd of 20,382 turned out to watch Stuart Janney's Orb win the $1 million Besilu Stables Florida Derby. Great racehorses like California Chrome are adored in equal measure to South Beach celebrities. With veteran jockeys Paco Lopez and Javier Castellano giving career high performances on a regular basis here, the moment they ride into the viewing paddock is like Warren Buffett endorsing a stock.
Speaking of career highs, Gulfstream has hosted the prestigious Eclipse Awards since 2013, a weeklong series of fan-favored events, culminating in a formal awards dinner celebrating both human and equine champions. The National Thoroughbred Racing Association announced that the 44th annual Eclipse Awards will return to Gulfstream's renowned Sport of Kings Theater in January 2015 and 2016.
Magnate Frank Stronach's commitment to first-class racing comes from a primal source – simple devotion to the horse. This drive to excel in every aspect of horsemanship is his ultimate passion. "Horses play a great role in the civilization of mankind; we owe them so much gratitude," Stronach reflects. "You must nourish your heart from time to time." His vision recasts the sport of racing as an engaging experience with intergenerational appeal, where the whole family unites in a spirited way. At the Village at Gulfstream Park, this comes to fruition on a daily basis at this year-round destination.