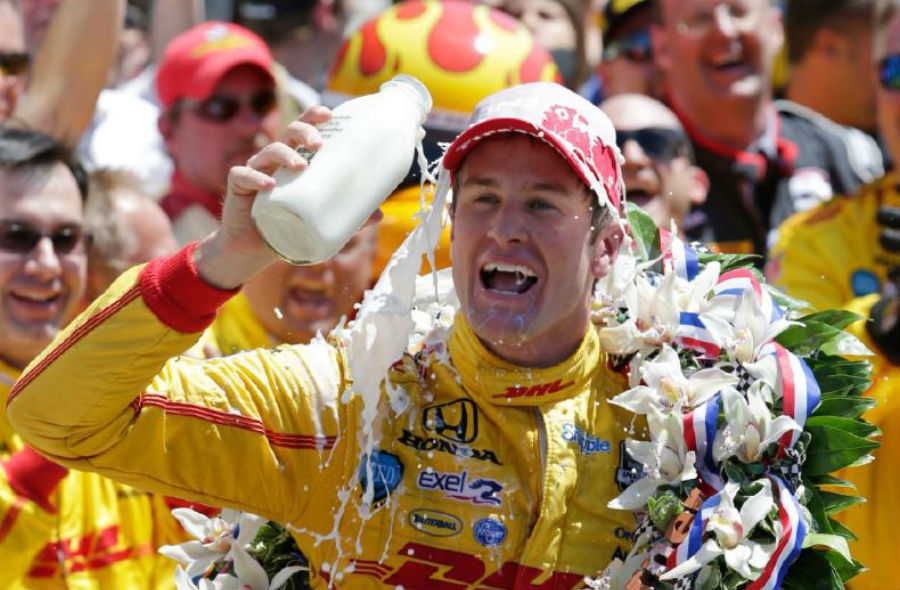 Ryan Hunter-Reay earned $2,491,194 from an overall purse of $14,231,760 for his victory Sunday, May 25 in the 98th Running of the Indianapolis 500 Mile Race.
Hunter-Reay held off Helio Castroneves by only .0600 of a second — the second-closest margin of victory in the history of the event — in a six-lap duel to claim his first Indy 500 victory. Hunter-Reay is the first American to win "The Greatest Spectacle in Racing" since Sam Hornish Jr. in 2006.
There were 34 lead changes among 11 drivers in the fast-paced 200-lap event (186.563 mph average), with Hunter-Reay topping all other drivers by leading nine times for 56 laps after starting 19th in his No. 28 Andretti Autosport DHL Honda. The last time a driver led the most laps of the race from a lower starting position was in 1975 when Wally Dallenbach led a race high 96 laps after starting from the 21st position.
A resident of Fort Lauderdale, Fla., Hunter-Reay took the lead for good from Castroneves on Lap 199 and recorded a 220.927 mph final lap to Castroneves' 220.729 mph, keeping the Brazilian from joining A.J. Foyt, Al Unser and Rick Mears as the only four time winners of the event.
Castroneves earned $785,194 in driving his No. 3 Pennzoil Ultra Platinum Team Penske Chevrolet to a runner-up finish for the second time in his career, matching his performance from 2003.
Hunter-Reay's Andretti Autosport teammate Marco Andretti drove his No. 25 Snapple Honda to his third, third-place finish in nine Indianapolis 500 starts. Andretti led the race three times for 20 laps and received $585,194.
Last year's Indianapolis 500 runner-up and Rookie of the Year Carlos Munoz had another strong performance in driving his No. 25 Cinsay AndrettiTV.com HVM Honda to a fourth-place finish after starting the race seventh. He received a check for $449,194.
Juan Pablo Montoya returned to the Indianapolis 500 for the first time since winning his only other start in 2000, and finished fifth in his No. 2 Verizon Team Penske Chevrolet after starting tenth. Montoya led the race three times for a total of 16 laps and was awarded $441,944.
In the first Verizon IndyCar Series race of his career, NASCAR star Kurt Busch started 12th and finished sixth in his No. 26 Andretti Autosport Suretone Honda. Busch was voted the winner of the prestigious Sunoco Indianapolis 500 Rookie of the Year Award and was presented with $423,889, which included a $25,000 bonus from Sunoco.
Also turning in an impressive rookie performance was Sage Karam, a 19-year-old rookie from Nazareth, Pa., who started 31st and finished ninth in the No. 22 Comfort Revolution/Brantley Gilbert Chevrolet, earning $270,305.
Pole sitter Ed Carpenter, who led the race four times for 26 laps in his Fuzzy's Vodka/Ed Carpenter Racing Chevrolet, finished 27th after a crash ended his day on lap 176. Carpenter received $463,694, which included $100,000 for earning the Verizon P1 Award as pole winner for the second consecutive year.
The Indianapolis 500 Mile Race Purse consists of Indianapolis Motor Speedway and Verizon IndyCar Series awards, plus other designated and special awards. Purse awards were announced and presented at the Victory Awards Celebration presented by Ice Miller Legal Counsel, Contour Hardening, Inc. and Allied Solutions on Monday, May 26 at the Indianapolis Motor Speedway.
The 99th Running of the Indianapolis 500 Mile Race is scheduled for Sunday, May 24, 2015.