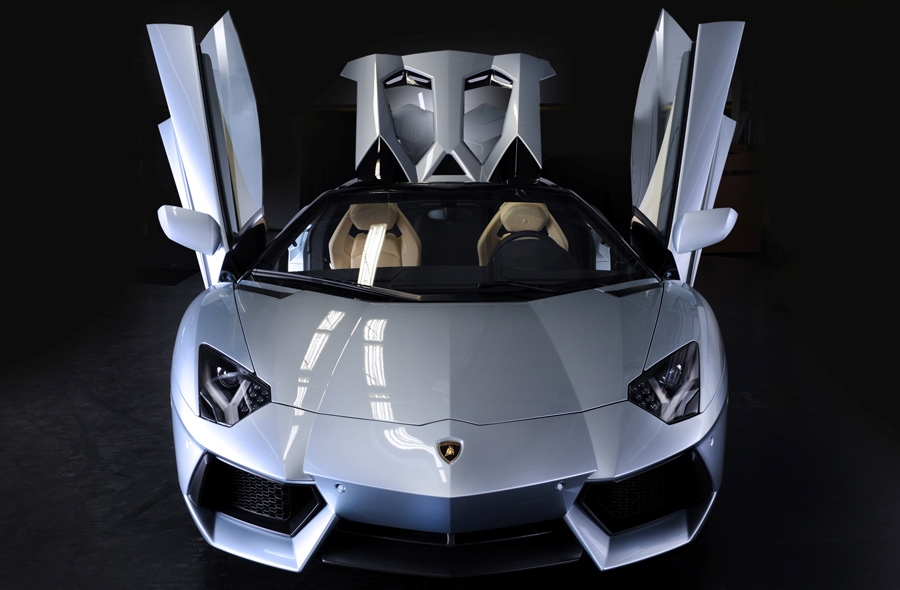 Automobili Lamborghini recently launched the new Lamborghini Aventador LP700-4 Roadster: the most exciting series production Lamborghini has ever built and the new benchmark in the world of open-top luxury super sports cars.
The new Lamborghini Aventador LP 700-4 Roadster can immediately be recognized by the unique profile of its upper area, which extends along newly-designed geometric lines from the removable roof to the engine hood.
The two-piece roof is made entirely from carbon fiber using various technologies such as RTM and Forged Composite®. These technologies guarantee maximum aesthetic performance and stiffness although each component is extremely light. In just a few seconds, the Aventador LP 700-4 Roadster can be admired in all its luxurious beauty.
Right at first glance, it's noticeable that the engine hood on the Roadster differs from the hood on the coupé because of its central "spinal column" with two pairs of hexagonal windows connected at the sides as if they were hyper-tech armor plates. Their purpose is to cool the engine, drain off rain water properly, and, of course, allow the beauty of the V12 power unit to be admired.
The driver of the Aventador Roadster and his passenger can decide for themselves how intensely they would like to enjoy the driving experience. The powered rear windshield not only influences the flow of air in the vehicle, but also controls the experience of the sound from the twelve-cylinder engine.
The new Aventador LP700-4 Roadster boasts record performance. It accelerates from 0 to 60 mph in only 3 seconds flat and has a maximum speed of some 218 mph. These numbers, combined with a drive train featuring a centrally-located, 6.5 liter aspirated V12 generating 700 hp, make the new Aventador Roadster a unique super sports car with no direct competition.
Of course, the Roadster's V12 also includes a cylinder deactivation system when the engine is working at partial capacity, while the innovative, instant Stop & Start system includes high-performance capacitors known as supercaps to awaken the engine. This is an absolute first in the super sports car segment.