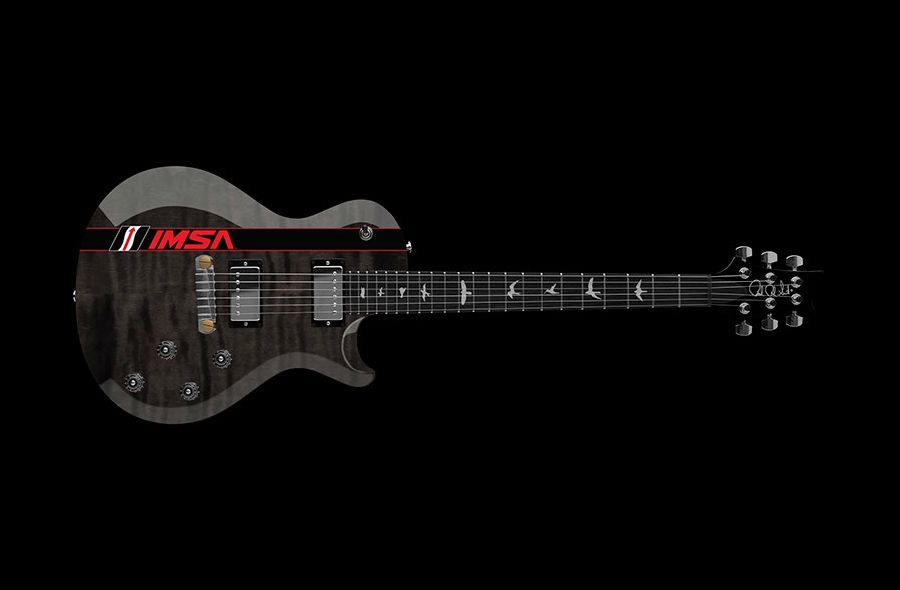 Paul Reed Smith Guitars has stepped up to the challenge of celebrating IMSA's new TUDOR United SportsCar Championship with newly designed US-made "S2" Singlecut custom electric guitar trophies.
This will mark the fifth consecutive year that the Stevensville, Maryland guitar and amplifier manufacturer has created the trophies for sports car race winners. PRS is providing 27 race winners with a unique trophy—a fully functional PRS electric guitar customized with the new IMSA logo. The 2014 PRS S2 Singlecut IMSA Trophy Guitars are US-made "S2" guitars built exclusively for the TUDOR United SportsCar Championship.
Paul Reed Smith Guitars – Trophy Guitar
The new US-Made 2014 PRS S2 Singlecut IMSA Trophy Guitar features an asymmetrical bevel cut, singlecut figured maple top with a mahogany back, a 22-fret mahogany neck, rosewood fingerboard with PRS signature bird inlays, PRS-designed S2 treble and bass pickups with the official IMSA logo on a striking Gray Black finish.
Paul Reed Smith Guitars is a leading manufacturer of high quality instruments in Stevensville, Maryland and has provided some of the world's most renowned musicians with instruments since 1985. Paul Reed Smith Guitars has worked in the world of motorsports in various ways since 2003 when the company sponsored its first Corvette C6.R racing team. In 2007, the PRS Laps for Life charity fundraiser began at Hyperfest, supporting the Johns Hopkins Kimmel Cancer Center. Throughout the years PRS has also created several customized race themed guitars and provided fully-functional guitar trophies for the Chevy Rock & Roll 400 (2005-2009), The Mitty (2012-2013), The GRAND-AM Continental Tire Awards, and GRAND-AM Road Racing's Rolex Sports Car Series (2010-2013).
Carlos Santana, Linkin Park, Orianthi, Opeth, Tim Mahoney of 311, Mark Tremonti of Creed and Alter Bridge, Ricky Skaggs, Cody Kilby, Martin Simpson, Tony McManus, and Warren Haynes are among the artists currently playing Paul Reed Smith Guitars instruments and/or amplifiers.
Here is how the 2014 trophies will be awarded:
Tequila Patron North American Endurance Cup – One Paul Reed Smith Guitars IMSA Trophy for each class winner of each race (Rolex 24 At Daytona, Daytona International Speedway (1/23-26), Mobil 1 Twelve Hours of Sebring presented by Fresh from Florida, Sebring International Raceway (3/12-15), Sahlen's 6 Hours of The Glen, Watkins Glen International (6/27-29), Petit Le Mans Powered by Mazda, Road Atlanta (10/1-4)).
Non-Endurance RacesNON – One Paul Reed Smith Guitars IMSA Trophy awarded for overall winner of each event.
Grand Prix of Long Beach, Long Beach (4/11-13), Continental Tire Sports Car Festival, Mazda Raceway Laguna Seca (5/3-4), The Raceway at Belle Isle Park, Detroit (5/30-31), Kansas Speedway, Kansas City (6/6-7), Canadian Tire Motorsport Park, Bowmanville ON (7/12-13), Brickyard Grand Prix, Indianapolis Motor Speedway (7/24-25), Road America, Elkhart Lake WI (8/8-10), Virginia International Raceway, Alton VA (8/23-24), Circuit of the Americas, Austin TX (9/19-20).