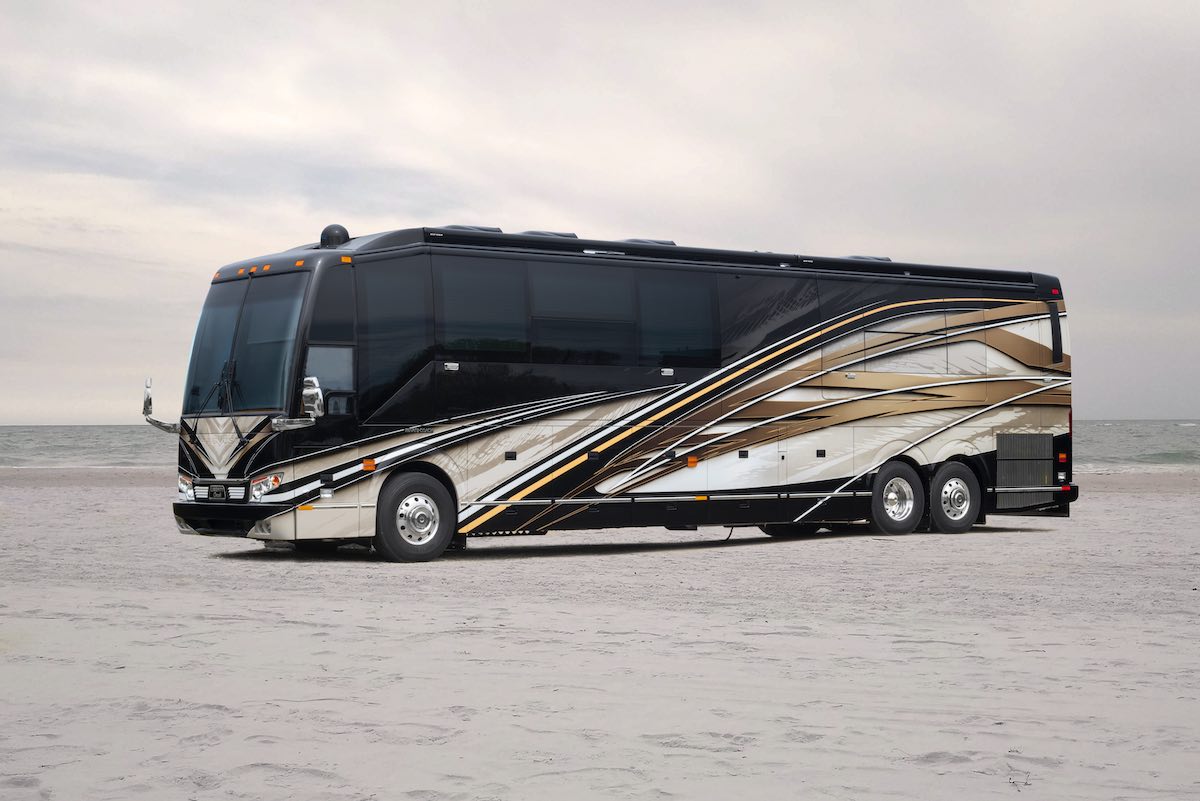 Liberty Coach Vice President Frank Konigseder Jr. tells a story of a recent exchange he had with a prospective customer at a yacht show. It was the man's first look inside a Liberty and he was deeply impressed. "I love it!" he exclaimed. "But tell me – where does the driver sleep?"
Konigseder laughs as he relates the story, in part because it illustrates the unique position luxury motorcoaches occupy within the wider spectrum of high-end personal transportation. Unlike private jets and yachts, motorcoaches are designed to be owner-operated, he points out. "Coach owners are passionate about driving," he says. "That's why they get into motorcoaching in the first place. It's always been that way."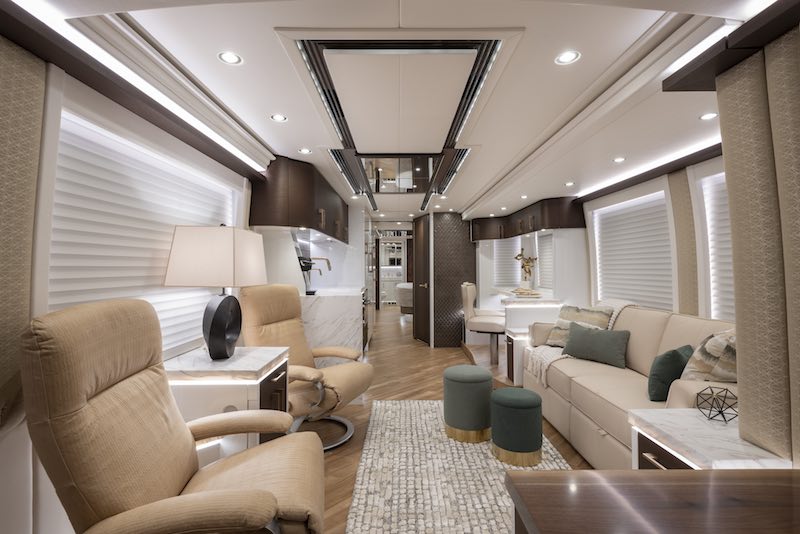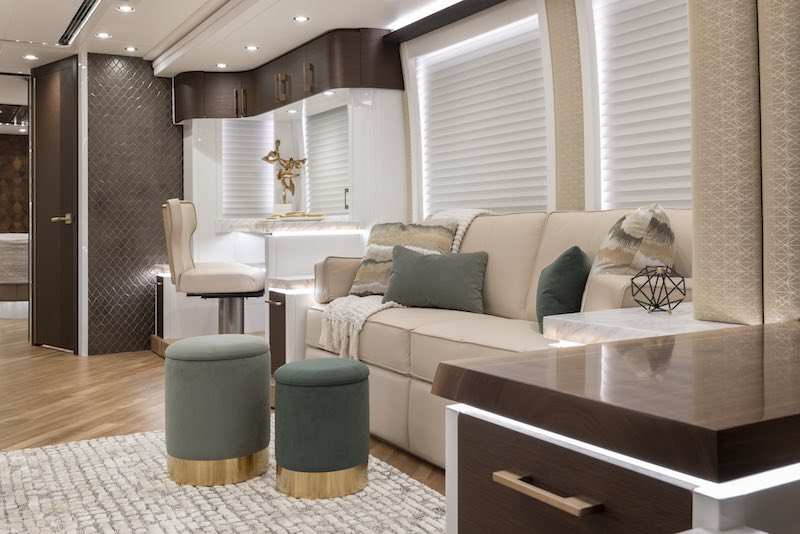 He would know. He and his brother and co-managing partner Kurt literally grew up in the business, helping their parents build Liberty Coach from a backyard hobby into a hugely successful enterprise. The turning point came in 1978 when their father and company founder Frank Konigseder Sr. inked a deal with Canadian bus manufacturer Prevost Car and began converting Prevost bus chassis into ever more luxurious motorcoaches, giving birth to an entirely new category of ultra high-end recreational vehicles. Today, custom Prevost coach convertors are recognized as the most elite motorhome manufacturers in the world, and Liberty Coach reigns as the best of the best – "the Rolls Royce of the industry."
The comparison is well-founded. Built on a Prevost H3-45 chassis, widely recognized as the finest conversion platform in the industry, today's Elegant Lady consists of 45 feet of almost unimaginable luxury. It begins with a professional interior design by Kim Konigseder, Kurt's wife and the company's longtime interior designer. Up front, a custom-designed driver and passenger cockpit area combines ergonomically engineered dash elements with gathered leather upholstery and custom wood grain paneling. The main living area features a gourmet-quality galley with a 2-burner Wolf cooktop, Miele convection/microwave oven, a full-size Fisher-Paykel pantry-style refrigerator/freezer, Keurig coffee system and much more.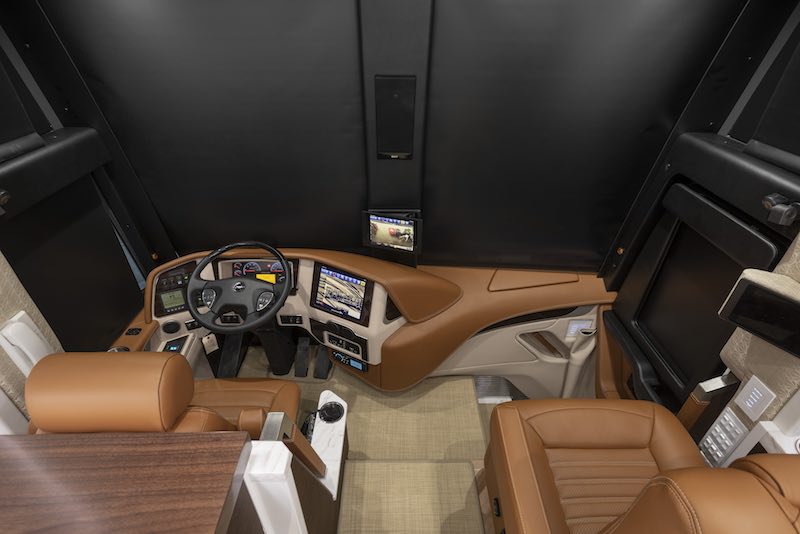 At the rear of the coach is the aptly named Super Suite, an enormous bed-and-bath area whose floor space is considerably enhanced by a pair of custom-configured slideouts. Features include a king-size bed with a PranaSleep mattress and handmade quilted bedspread, elegant his and hers vanities and an oversized glass-enclosed marble shower.
State of the art electronic components abound. On the video side, separate in-motion satellite and local broadcast systems power multiple 4K LED TV screens throughout, including a ceiling mounted roll-down 55" display in the living room and 49" flat screen in the bedroom wall. Audiophile-quality sound is delivered by Integra FM/AM Dolby Pro-Logic Surround sound and exclusive KEF speaker systems. A second complete entertainment center with another 65" LED TV, Integra stereo and full-size refrigerator is included in the lower bay for outdoor activities. And virtually all of it – every system, every component, every coach operation – can be fingertip controlled via iPad or iPhone through the latest Crestron remote control system with Liberty's proprietary i-Link interface.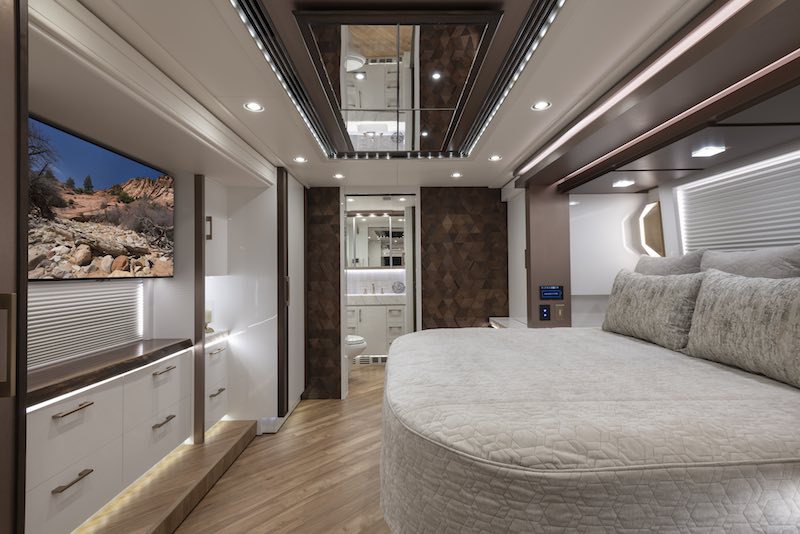 Another noteworthy feature of each new Elegant Lady is the custom exterior design and finish by legendary automotive artist Dean Loucks. Like all of the world-renowned automobile, boat, and aircraft designer's work, every Liberty exterior is truly a work of art, conceived by Loucks in collaboration with the coach buyer and executed under his personal direction at the Art of Design studio in Elkhart, Indiana. Dean's custom exteriors have been a Liberty Coach exclusive since 2012 and today are among the company's most recognizable features.
But as visually stunning as each coach is, it's what you can't see that truly separates the Elegant Lady from any other vehicle on the road. Over 40 years of technological leadership has led to breakthrough after breakthrough, each one significantly enhancing the coach's efficiency and performance. Perhaps the most dramatic of these is the Volta Power Systems' 58-volt automotive-grade lithium ion battery system that enabled Liberty Coach to become the first – and only – motorcoach convertor to meet the U.S. EPA's final Tier 4 emissions standards, the tough new guidelines now being phased in for gas and diesel-powered vehicles of all kinds. The system also reduces the coach's weight, expands available storage space, and greatly extends the amount of time the electrical systems can run with no help from the engine or generator.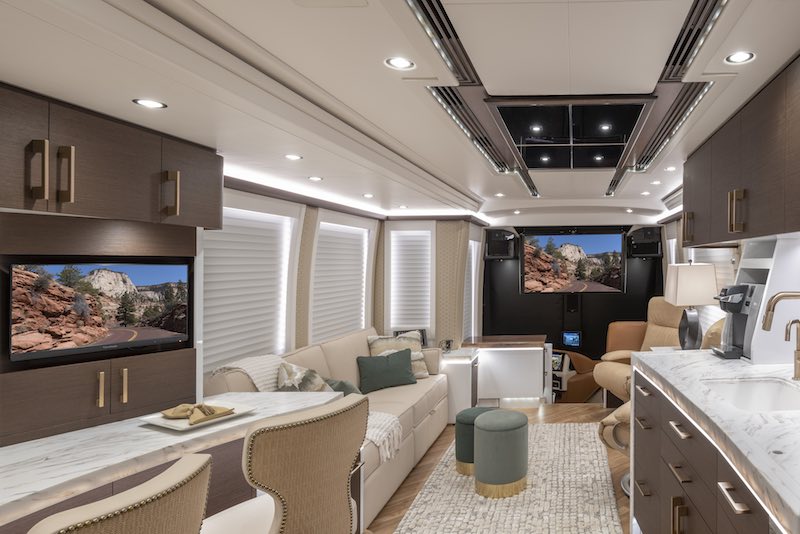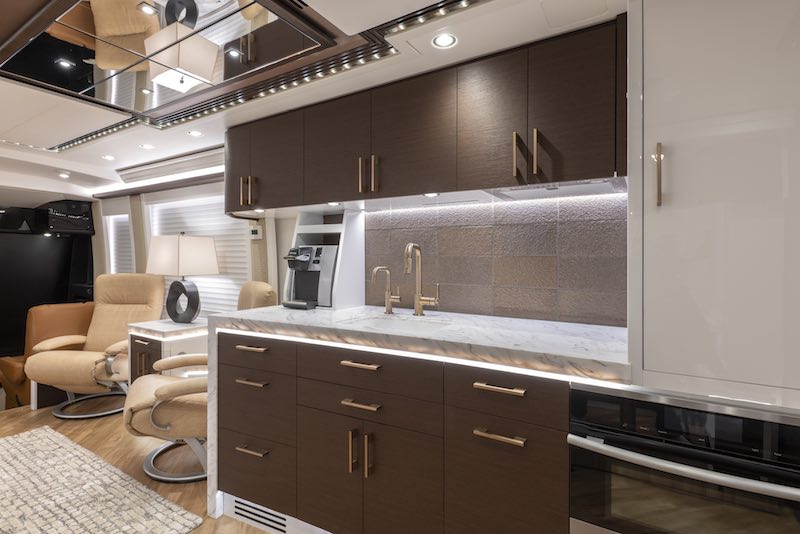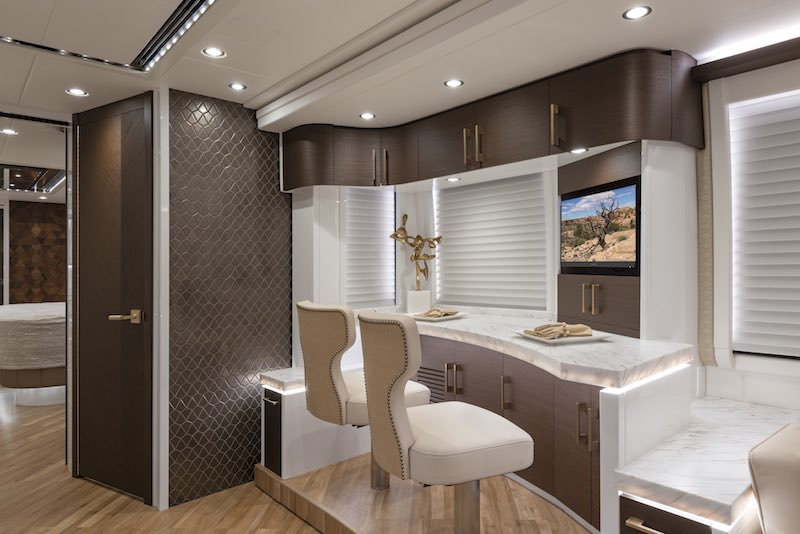 The bottom line? The typical new Liberty Coach is anything but "typical," in any sense of the word. It is truly a penthouse on wheels.
For more information, visit https://libertycoach.com/jetset/ or call 866-314-0972.