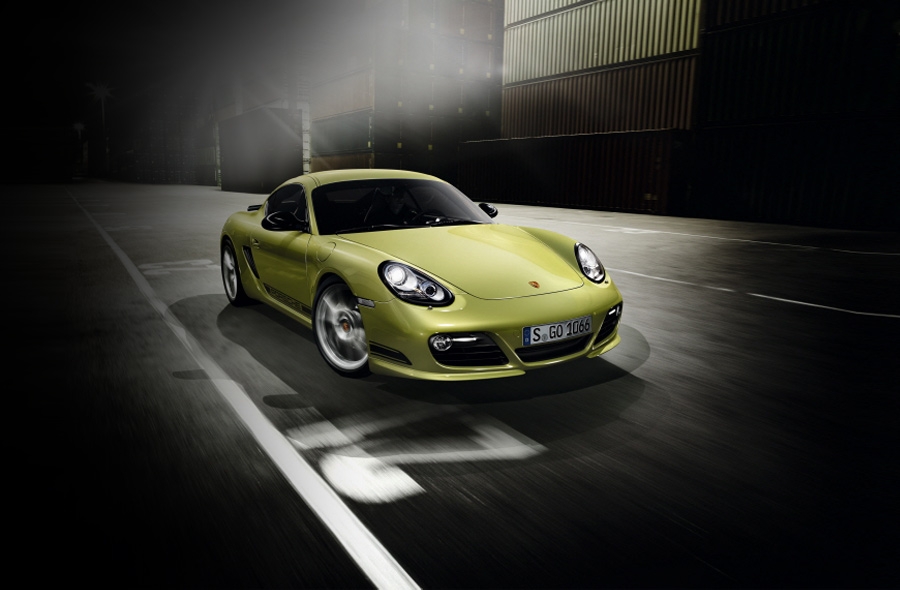 Featuring 121 pounds less weight and the most horsepower available in a mid-engined Porsche, the 330-hp Cayman R has been created for one reason: pure driving dynamics. With its highly-tuned sports suspension and vigilant attention to weight savings, the third Cayman model offers an even more precise driving experience than the "standard" Cayman S. The Cayman R is a direct descendant of the famous 1950's 550 and 1960's 904 mid-engined, high-performance Coupes.
Light And Powerful:
The newest member of the mid-engine family features the highly efficient 3.4-liter six-cylinder Direct Fuel Injection (DFI) boxer engine found in the Cayman S, but produces 10 more horsepower. With a six-speed manual transmission, the Cayman R sprints from a standstill to 60 mph in 4.7 seconds, two-tenths of a second faster than the Cayman S. With the optional seven-speed dual-clutch PDK (Doppelkupplungsgetriebe) transmission and the Sport Chrono package, the exercise is reduced to 4.4 seconds. Top track speed with the manual transmission is up by 3 to 175 mph, 174 mph with the PDK.
The main objective in the concept and execution of the Cayman R was to improve the already energetic two-seater through a systematic reduction in weight, thereby increasing performance, driving dynamics and agility. With a DIN unladen weight of 2849 lbs. (1295 kg), Porsche engineers were able to achieve a power-to-weight ratio of 8.58 lbs. per hp (3.9 kilograms per hp) and with 8.8 lbs per hp (4 kilograms per hp) with the PDK.
More From Less:
The greatest savings comes from the use of lightweight components and the omission of certain standard equipment not directly associated with driving performance.
In addition to the removal of the A/C and stereo, the driver-focused Cayman R utilizes a sports suspension system that lowers the Cayman R by 20 mm, helping lower center of gravity. While optional on the Cayman S, the Cayman R comes with a standard limited slip differential, front and rear spoilers from the Cayman Aerokit, and special lightweight 19″ wheels, also found on the Boxster Spyder.
Lightweight aluminum door skins, carbon fiber-backed sport bucket seats and interior door panels from the 911 GT3 RS also contribute to the weight reduction. Black-framed halogen headlights, contrasting side mirrors and decorative "PORSCHE" side-stripes add to the unique appearance.
Quick Specs:
Horizontally opposed 6-Cylinder, Mid-Engine
Displacement – 3.4 Liters
Bore – 97 mm (3.8 in.)
Stroke – 77.5 mm (3.05 in.)
Horsepower – 330 @ rpm – 7400
Torque – 273 lb-ft @ rpm – 4750
Compression ratio – 12.5: 1
Fuel tank capacity – 14.3 Gallons
0-60 (manual: PDK w/Sport Chrono PDK) – 4.7 seconds /4.4 seconds
Top track speed manual (PDK) – 175 mph (174 mph)