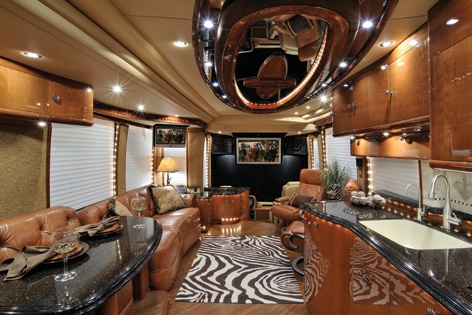 They are the G650s of the open road. Rock superstars unwind in them en route to the next concert.
Top race car drivers enjoy them as luxurious trackside retreats. Fortune 500 companies rely on them as ultimate mobile corporate hospitality centers. Even U.S. Presidents tour the country in them. And beyond the celebrities and VIP's, a select group of discriminating consumers regard them as the land-based equivalent of an ocean-going yacht.
Their owners savor a rarified lifestyle that's all about Prevost's "no-compromises" philosophy -and about levels of refinement reserved for those who demand the best of the best. For people with the means and the desire, a Prevost motorhome represents the ultimate in land-based travel. To them, a Prevost is not merely a symbol of status and success, but more an affirmation of their quest for "the ultimate."
Prevost, based for all of its 80-plus years in the picturesque village of Ste. Claire, Quebec, crafts motorcoach chassis and bodies of extraordinary quality, durability and safety. These "shells" are then delivered to any of a select handful of North American motorhome conversion companies who create, to customers' precise specifications, rolling palaces that defy any preconceived notions of the limits of mobile comfort, opulence and prestige. Conversion requires an average of 7,500 meticulous man hours.
The finished products boast the finest materials, as well as the latest and most advanced onboard audio, video and interactive technologies. The woods, minerals, fabrics and fixtures are customized to each owner's tastes, as are the signature exterior paint designs – some of the highest quality and most painstakingly-applied finishes on land, sea or in the air.
"I have always enjoyed high-quality products," says Prevost owner Neal Nowe. "A Prevost offers, by far, the best ride on the road. It's smoother, quieter and better to drive than anything else out there. Prevost's converters use the finest furnishings available -absolutely top quality, beautifully crafted and extremely durable."
Bob and Carol Wood have owned their Prevost since 2003. Carol, an interior designer with her own business prior to retirement, took a keen interest in the details of their conversion. "We met with the artisans in our converter's design shop and were able to spec the interior out just the way we wanted in every detail," she describes.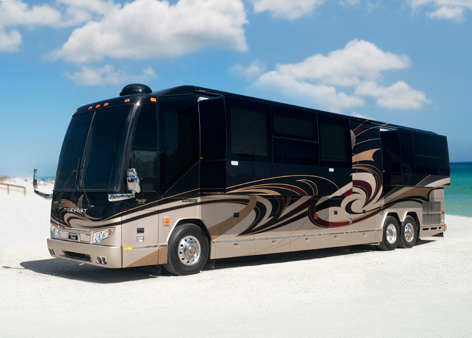 With leisure time to enjoy "coaching," owners like the Woods and Nowes frequent exclusive rallies for Prevost-only clubs. These professionally-organized events at select destinations provide the opportunity for Prevost owners to celebrate the special camaraderie that Prevost owners enjoy. The gatherings – under the auspices of one of the Prevost-only clubs or one of the converters -typically span three to five days in length, and can feature wine tastings, special shopping and sightseeing tours, and sometimes access to very special fellow owners.
"In 2011, we attended a rally in Washington, D.C.," Bob Wood recalls, "and Supreme Court Justice Clarence Thomas – a long-time Prevost owner – hosted a dinner for us within the halls of the Supreme Court building."
The Prevost lifestyle embraces more individualized touring, too. Luxury resorts that cater to owners and their motorhomes are located near many high-end vacation destinations around the U.S. Hearthside Grove, near the resort town of Petoskey, Michigan, is just such a private oasis. The resort is owned and operated by brothers Craig and Kirk Rose, whose personalized focus on the desires and expectations of Prevost owners enables them to provide services and amenities designed to delight even the most demanding guests. The Roses describe their clientele as both adventurous and leisure-oriented.
Many stay closely connected to their businesses back home from the comfort of their Prevosts. "Prevost coaches represent the absolute pinnacle of mobile comfort and technology," Craig says. "While these owners have achieved levels of success that allow them to own the best of everything, they remain, above all, people who value the quality of their relationships with friends and family." He then added this personal affirmation: "My son and I recently traveled with my father to take delivery of his newly acquired Prevost. Spending time across the miles in the Prevost was, for all three of us together on the open road, quite simply as good it gets."