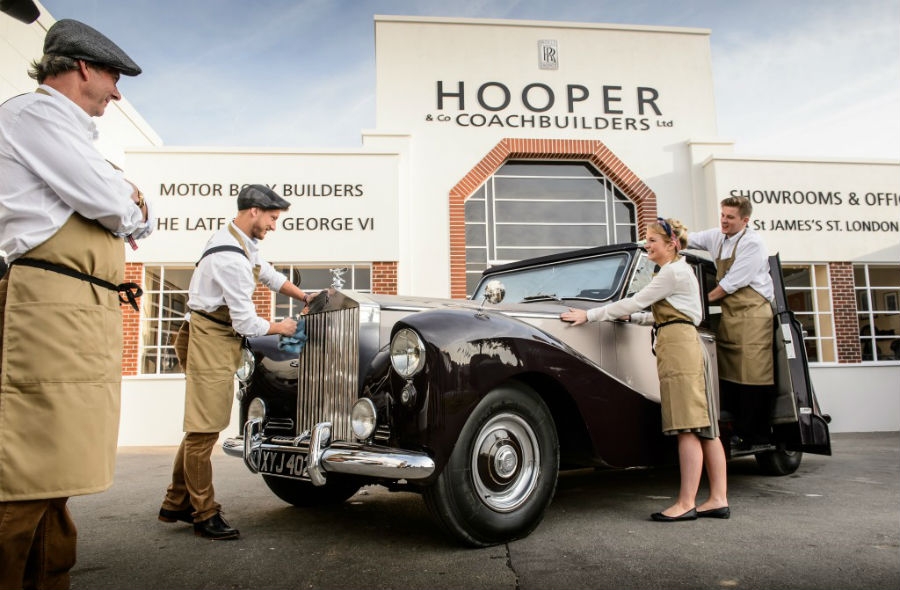 Rolls-Royce Motor Cars celebrated a record Goodwood Revival over the weekend.
The local manufacturer of super-luxury motor cars hosted customers, prospects and VIPs and also entertained the thousands of visitors to the world's most popular historic motor race meeting in true Rolls‑Royce style.
The Rolls-Royce Hooper's building at the March Motor Works presented an authentic recreation of a trim shop from the Revival period. Hooper & Co were a British coach building company synonymous with the marque, with an association dating from 1909. Revival guests were greeted by craftsmen and women – all employees of Rolls-Royce Motor Cars ­– 'working' in the trim shop, and were able to closely examine the attention to detail that has hallmarked Rolls-Royce workmanship from the outset of the company.
Outside the Hooper's building, a handsome 1953 Rolls-Royce Silver Wraith Dedanca de Ville with 'Empress' style coachwork was displayed. The car was originally specified with an electric division, electric windows and air conditioning, all of which are still fully functioning. The original owner was known to prefer his chauffeur to drive in a brisk style, and the rear division features a speedometer to allow the gentleman to monitor progress from the rear compartment.
Rolls-Royce was represented on the Motor Circuit throughout the event, with a beautiful 1961 Rolls-Royce Silver Cloud II Four Door Cabriolet in Smoke Green, with bodywork by H.J. Mulliner, forming part of the Course Director's entourage. Special guests of the Company were conveyed in period luxury, with the silence of the 'magic carpet ride' only marginally disturbed by the ticking of the clock. The car is the only model of its type in the world and was very kindly loaned for the occasion by a customer of Rolls-Royce Motor Cars.
Departing the Revival, invited guests returned to the current day in contemporary luxury, as they were conveyed in exquisite Rolls-Royce Phantom, Ghost and Wraith motor cars hand-built at the Home of Rolls-Royce, located within the Goodwood Estate, a short distance from the Motor Circuit.