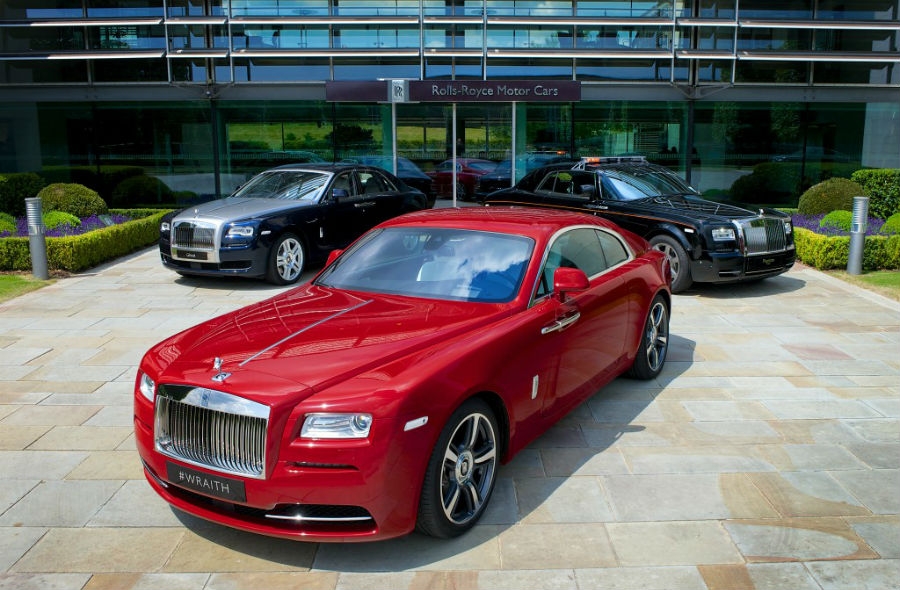 Rolls-Royce will celebrate the 2014 Goodwood Festival of Speed with a significant presence on the famous Hillclimb, including examples of all three current models in the company's stable. Phantom, Ghost and Wraith will be on familiar turf, with Goodwood House within sight of the Home of Rolls-Royce.
Course Car. The Course Director's car this year will be a Rolls-Royce Phantom Series II Coupé, resplendent with race lights and Goodwood decals. The car is finished in Diamond Black, with the interior in Black and contrasting Mandarin leather and Piano Black veneer. The art deco-style mounts for the roof-mounted race lights were handcrafted in aluminium at the manufacturing plant. The car will be seen driving the course between each Hillclimb Run throughout the weekend at the 2014 Goodwood Festival of Speed. The Phantom Series II family was launched in 2012, thoughtfully updating the original with contemporary yet timeless design enhancements that frame the introduction of cutting-edge technologies and significantly improve the car's drive-train, ease-of-use and connectivity. As a consequence of these changes, Phantom reconfirmed Rolls-Royce's position at the very pinnacle of the super-luxury goods marketplace.
Supercar. The ultimate gentlemen's gran turismo, Wraith can be seen on the Supercar Run up the hill and in between Hillclimbs in the Supercar Paddock. At the heart of Wraith lies hallmark Rolls-Royce attributes of luxury, refinement and hand craftsmanship, combined with a unique character defined by power, style and drama. The elegant fastback design hints at its dynamic prowess: 624 bhp/465kW, 800 Nm from 1,500 rpm: 0-60 mph in 4.4 seconds (0‑62 mph in 4.6 seconds). The car presented is finished in Ensign Red, with the interior in Arctic White leather and Piano Black veneer.
First Glance. Ghost Series II makes its first UK public appearance at this year's Festival of Speed. Ghost is the definitive contemporary combination of luxury, technology and connectivity available to the successful entrepreneur on the move. A less formal, more contemporary and dynamic expression of Rolls-Royce luxury, it has been the cornerstone of Rolls-Royce success around the world since its launch in 2009. Ghost Series II is clad in a subtle re-design and proves a showcase for the most recent technological advances from the marque. Available to customers later this year, Ghost Series II can be seen in action on the Hillclimb in the First Glance category. The car presented is finished in Midnight Sapphire, with the interior in Navy Blue leather and Crossbanded Walnut Burr veneer.
An exclusive fleet of Rolls-Royce motor cars will also be evident in the area during the 2014 Goodwood Festival of Speed. Invited VIP guests being conveyed in luxury from the Company's manufacturing plant and head office on the south-eastern corner of the Goodwood Estate.