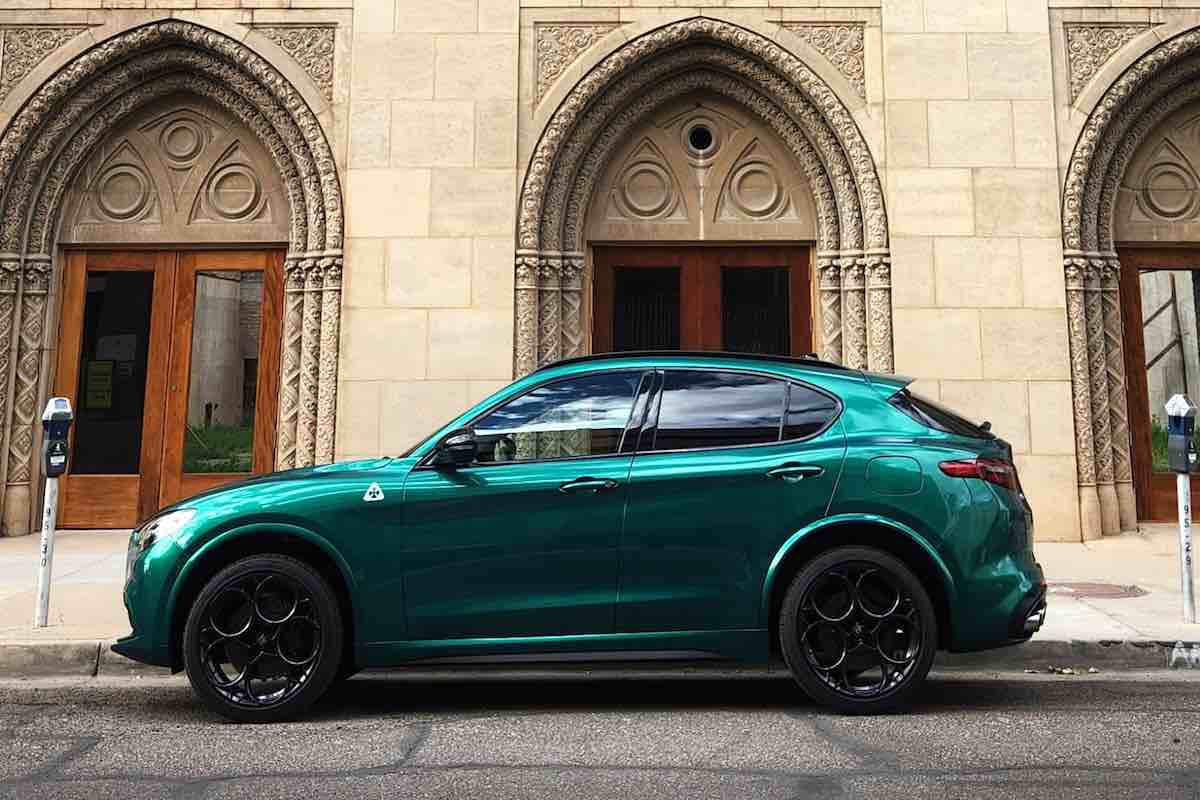 When you think of sports cars, an SUV is probably not the first thing that comes to mind, yet a recent trend toward performance-focused versions of the popular people mover is taking the streets by storm. With most luxury models on the market often considered on the high side of the cost spectrum, many potential buyers have pondered when a moderately priced option might become available. Meet the 2023 Alfa Romeo Stelvio Quadrifoglio AWD, a super sport utility vehicle with some seriously impressive performance, and all at a price well below what you might expect from a luxury Italian marque.
Inspired by a long line of Italian relatives and models such as its Giulia counterpart, the Stelvio Quadrifoglio AWD has earned substantial acclaim – including setting the illustrious Nürburgring circuit lap record for a production SUV when it first debuted in 2017. To accomplish such a gargantuan task, the track-ready Stelvio has been meticulously engineered with nearly perfect 50/50 weight distribution. Under the ventilated hood, the engine has been front-mid mounted, leaving the bulk of the all-aluminum 90-degree-mounted motor behind the front wheels. Innovative technologies such as a lightweight carbon fiber driveshaft and active torque vectoring of the vehicle's rear differential help optimize balance, with adaptive damping of the Stelvio's independent suspension regulating ride quality and cornering performance.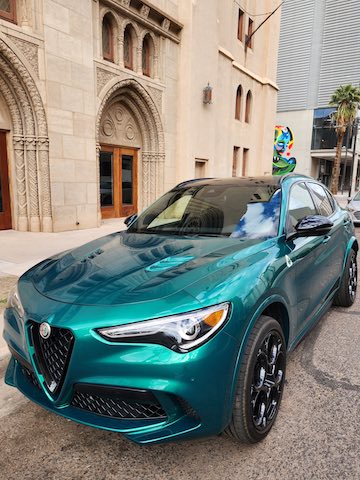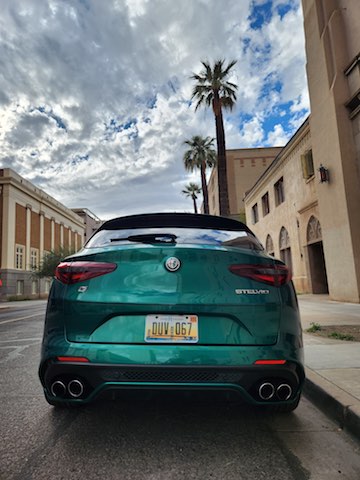 Featuring a race-tuned 2.9L twin-turbo V6 capable of making 505 horsepower and 443 lb-ft of torque, the new Stelvio can reach a top speed of 176 mph and move from zero-to-sixty in 3.6 seconds. The sporty SUV's oversized aluminum paddle shifters deliver ultra-quick inputs to the Quadrifoglio's 8-speed automatic transmission, while also providing a pleasantly aggressive acoustic from the vehicle's dual-mode exhaust system. Gorgeous 20-inch (or optional 21-inch) wheels wrapped in Pirelli P Zero tires have been intentionally offset an extra inch at the rear for improved grip and handling in a move that's rare to the all-wheel-drive segment. Brembo 4-wheel disc brakes provide plenty of stopping power when it's time to bring the vehicle to a halt.
From the driver's seat, a ravishing interior further ups the appeal of the Stelvio Quadrifoglio, with striking design accents and extensive use of carbon fiber paneling throughout. Generous embellishments of Alfa Romeo's famous Quadrifoglio (meaning "four-leaf clover" in Italian) abound as well, as a constant reminder that you're lucky to be experiencing the automaker's record-setting masterpiece. Front and rear heated seats plus a heated, leather-wrapped carbon fiber steering wheel add additional comforts to the model's well-equipped amenities. Other luxuries that are offered as standard options include keyless entry and remote start, a wireless cellphone charger, 14-speaker Harman Kardon sound system, power adjustable front seats, a 115V auxiliary power outlet, and more. A smaller than usual, yet less obtrusive, 8.8-inch infotainment cluster grants easy access to navigation, entertainment, and the rear back-up camera.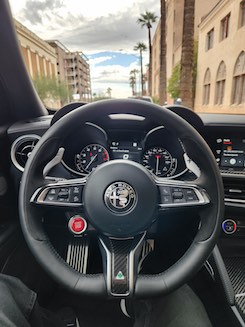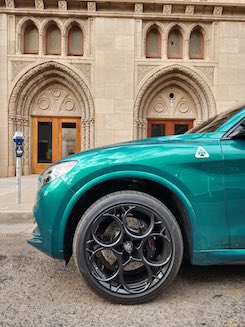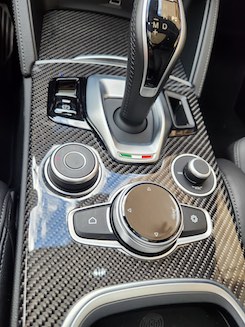 The Stelvio Quadrifoglio AWD offers four unique driving settings, accessible through the DNA Pro Drive Mode Selector. Placed in A (Advanced Efficiency Mode), the Stelvio intelligently modifies vehicle settings for maximum fuel efficiency. When in N (Natural Mode), the most practical daily driver settings are enabled giving way to the vehicle's inherent engine response. Switch the Stelvio to Dynamic Mode and you're awarded with improved steering feedback and the vehicle's full power potential. Or, when it's time to really get serious, an extended right turn of the knob selector activates Race Mode which disables traction and stability control, opens the exhaust baffles, and stiffens the dampers for full racetrack-ready performance.
With performance-driven features like these it's easy to forget that this is still a functional family-sized SUV. The Stelvio includes all of the standard safety features you'd expect, such as forward collision warning, blind-spot detection, and lane departure warning. In fact, the only optional package available is the Active Assist Plus Package which adds additional functionality to the vehicle's already advanced safety systems. Even when fully equipped with the manufacturer's most expensive paint color and optional carbon fiber Sparco racing seats, the Alfa Romeo Stelvio Quadrifoglio AWD is available for a net price of only $98,260. That's unbelievable value for a supercar-inspired SUV with enough room for the entire family. Plus, with its rich Italian racing heritage, it's sure to fit in perfectly with your stable of prancing horses and raging bulls.