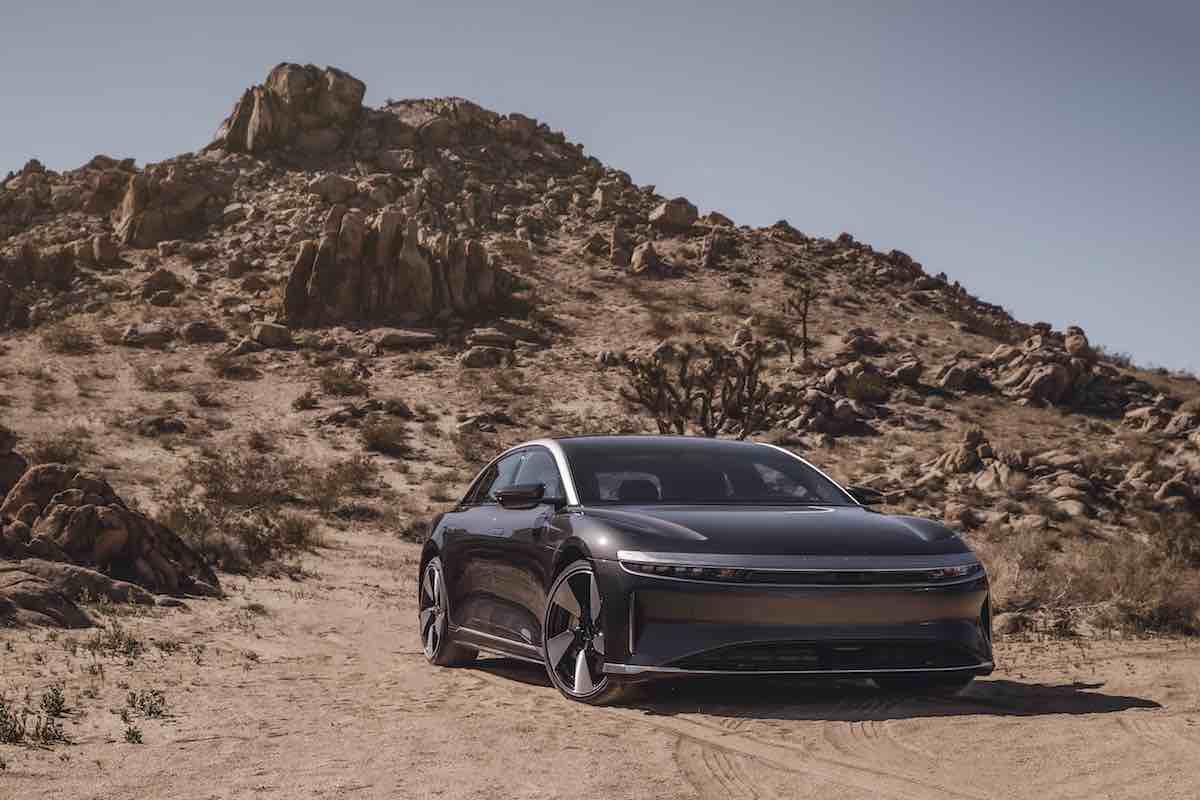 "It's electric!" is no longer just a catchy 80's lyric. The world at large has officially begun to embrace electric vehicles, and one optimistic US manufacturer is planning to take charge. With roots in the highly competitive sport of Formula E, luxury electric car manufacturer Lucid is making waves in the automotive industry with its first foray into the battery-powered space in the form of the Lucid Air – a grand tourer with next-level range and a multitude of modern day amenities. Currently available in a sprinkling of different trim levels, the brand's Lucid Air Grand Touring Performance provides its most exclusive options, offering an unrivaled cabin experience and an astonishing 1,050 horsepower.
The Lucid Air certainly makes a striking first impression. The model's unique appearance stands apart from other executive sedans with its bold bodywork and futuristic features. Instantly recognizable, the Air's extraordinary exterior shell features a wrap-around glass canopy and subtle hints of the electric marque that are cleverly incorporated across various elements of the exterior. An array of LED integrations adds to the drama and provides an entertaining light show as you approach and exit.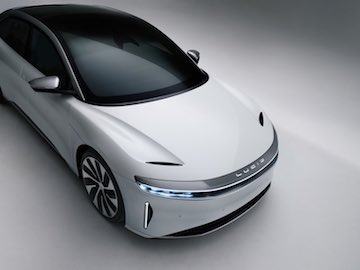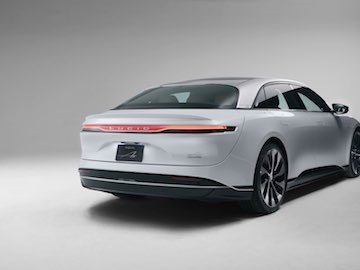 Beneath the covers, the Grand Touring Performance is powered by a 118kWh battery pack delivering 900V of electricity to the Air's two electric motors. Capable of adding as much as 200 miles of battery-range in as little as 12 minutes on a 300kW charger, the all-wheel-drive sedan produces more than a thousand horsepower and an impressive 921 lb-ft of torque that's available at zero RPMs. Perhaps even more astonishing is the ability of each motor to rev up to a staggering 20,000 RPMs and propel the two and a half ton saloon to the coveted quarter-mile in just 10 seconds.
The Grand Touring Performance offers three unique driving modes: Smooth, Swift, and Sprint. The Air's Smooth mode delivers an unexpectedly calm ride and feel while sending the model's standard 819 hp to its 21" wheels and Pirelli P Zero tires. This mode also unlocks the vehicle's full battery range potential, EPA estimated at a whopping 446 miles per charge (or an industry best 516 on the non-performance-oriented Grand Touring specification). In Swift mode, the Air offers a number of slightly noticeable improvements in handling and on-demand power while still maintaining extraordinary range. When it's time to flex the Air's muscles, a quick touch of the Sprint mode button unleashes the model's full power potential with a significant boost in torque, for remarkable off-the-line performance and the ability to effortlessly pass other vehicles on the highway or in busy traffic situations.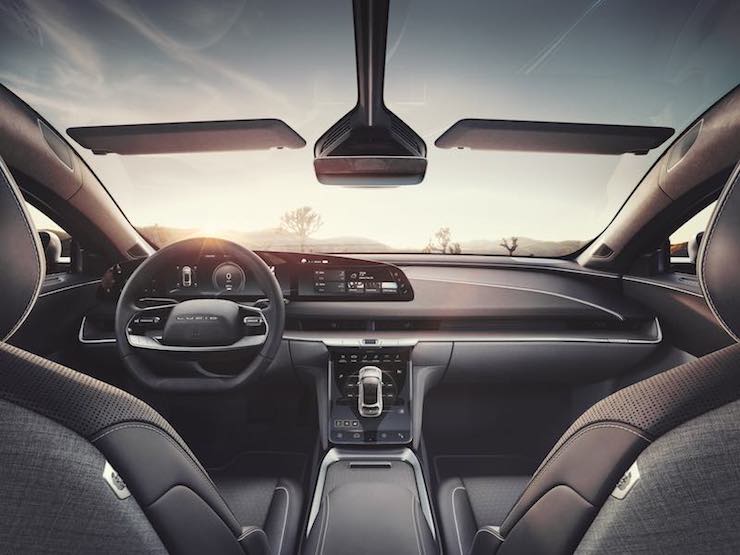 Competing for market share among the world's most popular luxury sedans, the Lucid Air inherently includes a variety of today's must-have conveniences, both new and familiar. These consist of niceties such as soft close doors (front and rear), receding handles, remote open and close of both the frunk and trunk, 360-degree camera and parking assist, a 21-speaker sound system, plenty of storage space, and 20-way adjustable heated/ventilated massaging front seats.
Interior treatments in premium Nappa leather and custom-finished Alcantara (developed exclusively for Lucid) perfectly complement the Air's stunning 34-inch curved touch-screen display, affectionately dubbed the Glass Cockpit. The vehicle's central infotainment screen, which controls a majority of the Air's functions and systems, can be electronically stowed away into the dash for easier access to storage, while a number of unique accent lighting themes help create the occupant's ideal cabin environment.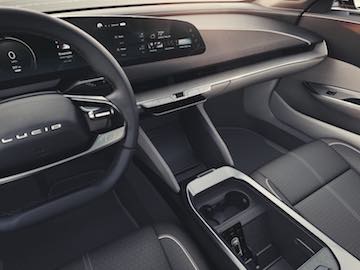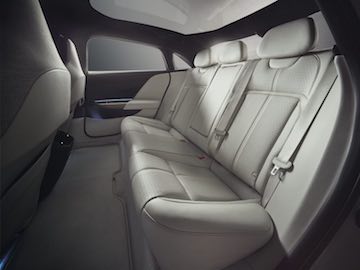 Back seat passengers also enjoy innovative amenities such as temperature-controlled seats, powered side and rear privacy screens, and substantial leg room for optimal comfort. It's certainly a setup worthy of hiring a chauffeur for those who prefer to be driven to their destination in VIP fashion.
Designated a "software-defined vehicle," the Lucid Air Grand Touring Performance is loaded with next-gen technology. As is often the case with ground-breaking EVs, the brand's optional DreamDrive™ Pro system utilizes a combination of 32 different sensors and Lidar to provide adaptive self-driving functionality. And while some of these futuristic features can be a bit confusing at first (like the lack of a start/stop button as the vehicle self-regulates these operations), the intelligent integration of over-the-air software updates is sure to streamline the owner experience as new and improved iterations of the Air's UX interface emerge.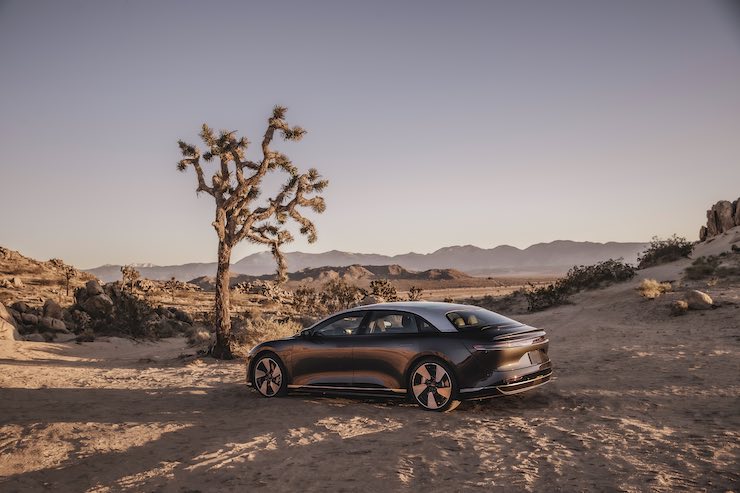 Built in Casa Grande, AZ, the Lucid Air Grand Touring Performance is available today from $179,000. Learn more at lucidmotors.com/air