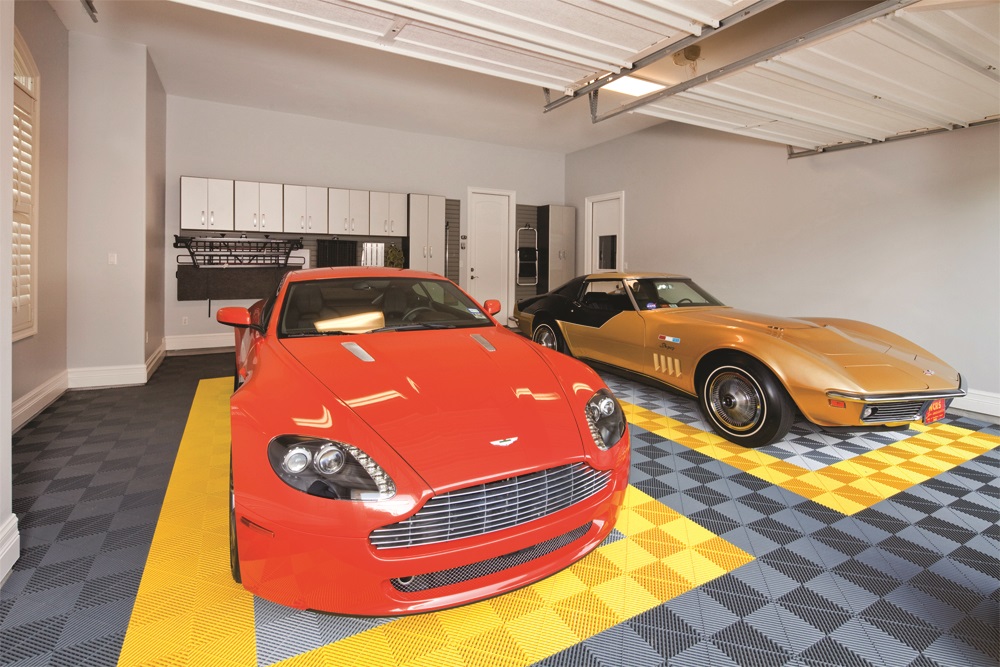 Swisstrax: The World's Finest Modular Flooring
For your garage, hangar, gym, sport, commercial, event or exhibit flooring solutions, Swisstrax is engineered with superior thickness and unmatched strength. Our premier tiles are low maintenance, simple to install, easy to clean, but most importantly, Swisstrax is a solution for all your needs. Our tiles are manufactured to the highest standards with strict quality control measurements. The UV stabilizers in our tiles ensure a fade resistant and brilliantly colorful floor for decades. We understand that garages and hangars are multipurpose, so versatility and dependability should be required attributes of your floor. With compressive strength of 3,120 psi, our tiles can stand up to the test. Our designs ensure equal strength throughout the entirety of each tile − thus eliminating the possibility of weak spots and ultimately increases the longevity of your flooring investment. Our tiles are non-slip and have excellent resistance to oils, solvents, acids, salts, hot tires and other fluids, including Skydrol. You'll have peace of mind when you invest in Swisstrax, the World's Finest Modular Flooring Solution.
Witness Rockstar Performance Garage Put Swisstrax to the Ultimate Test
Key Benefits of Swisstrax
15 Year Warranty
No toxic fumes or hazardous materials
No preparation
DIY
Installs within hours
Oil, solvent, acid & chemical resistant
Salt or magnesium chloride resistant
Unaffected by hot tires or tire marks
Unaffected by moisture
Naturally slip resistant when wet
Available with .25" self-draining design
Easily repaired and cleaned
Disassemble and move anywhere

The Strength in Swiss Engineering
6 Swiss Click™ interlocking modules per side, fastening together for a seamless aesthetic, incomparable strength, and unparalleled durability.
24 patented Swiss Click™ modules per tile, resulting in the most engaged interlocking system on the market.
The Swiss Click™ system is unrivaled in design, not just by the amount of fasteners per tile or polypropylene per module, but most notably for ease in tile replacement. The Swiss Click™ modules make each tile fully removable. Have access to any part of your floor at any time, without dismantling more than one piece. Replace one tile, in one move, with ease. Swisstrax keeps your floor low maintenance, as it should be.
Watch video here to witness tile replacement for yourself: https://youtu.be/mzTLMCb1hbw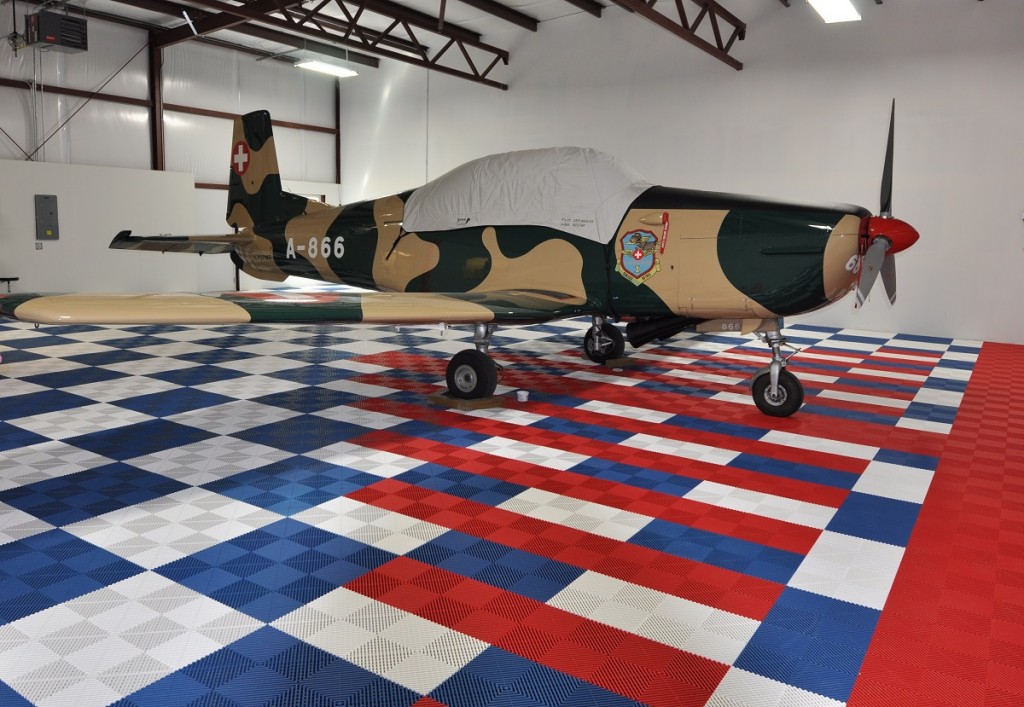 Thickest Tile: Strongest Substructure
The substructure beneath our tiles creates a seamless strength no matter the size of your floor. This design easily supports 3,120 lbs + psi. However, the true beauty of Ribtrax® comes from the channeling system built into the underside of every tile. Each Ribtrax® tile is fully channeled to allow dirt, dust, debris, moisture, and air to flow freely and efficiently. This maintains the appearance of your floor, reduces surface wear and tear, and eliminates odors or worrisome mold and mildew.
What Do They Think?
"Using Swisstrax throughout the sponsor pavilion as well as the Barrett Jackson staging lanes has really elevated the presence of these areas. We used to use carpet but the Swisstrax tiles have proven to be the best flooring option, hands down! They look great and hold up perfectly show after show!"                       
            – Craig Jackson, CEO Barrett Jackson Auction Company
"I have looked at a lot of garage tiles, Swisstrax tiles are by far the BEST! Thicker, bigger, better quality, easier to put together and take apart for sure…Thank you to you Eddie and Swisstrax for all of your help and for supplying me with such a superior product! I'm a customer for life!"
            – Lance LaRoche, Reno NV.
See more testimonials here: http://www.swisstrax.com/swisstrax-testimonials/
No matter your application, Swisstrax offers flooring solutions in a variety of designs, colors, and styles. Choose from one of our 10 variations and create the custom space you've always desired. With over 20 years of Swiss and American Innovation, you can trust you're actually getting the World's Finest Modular Flooring.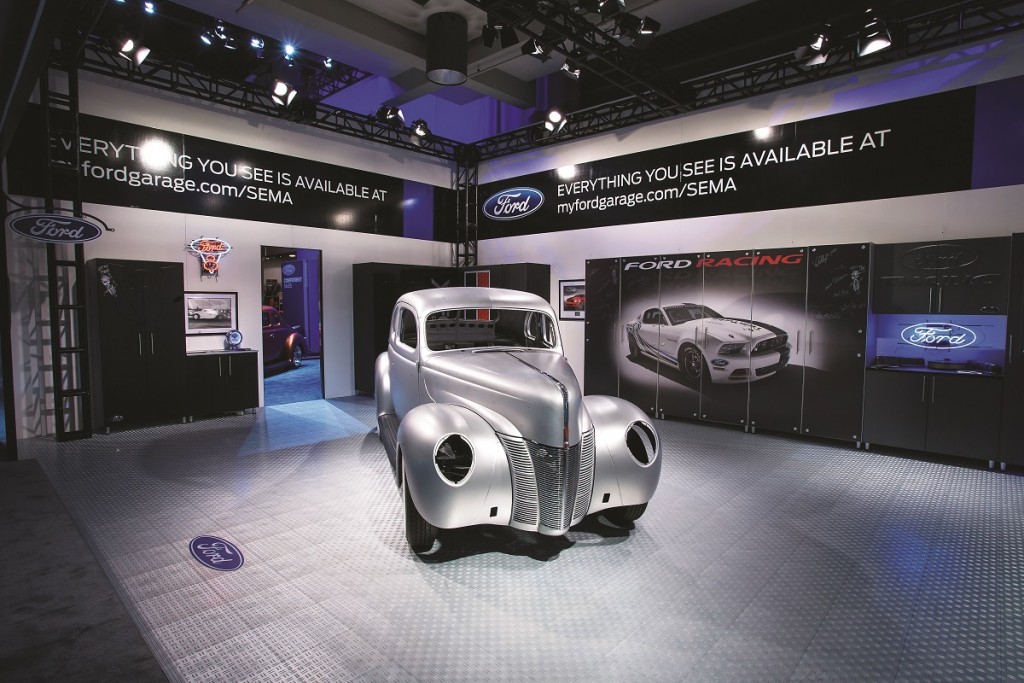 Exclusive Offer for Jetset Readers
With 19 colors to choose from, maximum resistance to oils, solvents, salts, and hot tires, Swisstrax easily, durably, and reliably creates a timeless showroom feel. Proudly manufactured in North America, Swisstrax interlocking tiles are backed by a 15 Year Warranty & Money Back Guarantee. With over 20 years of innovation, Swisstrax has been engineered for your application, no matter what it may be. Enjoy an exclusive 25% off, using PROMO: JETSET16.