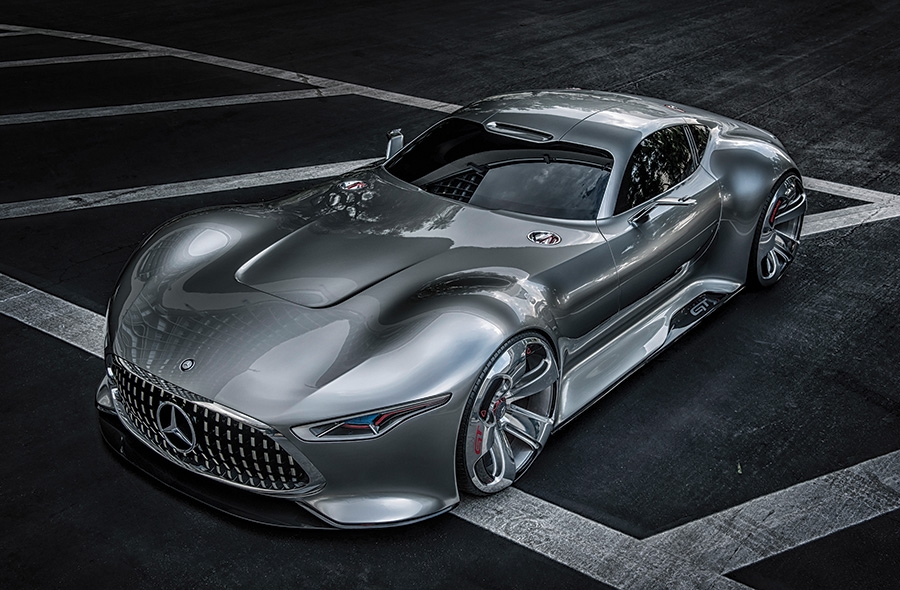 Mercedes-Benz has designed and developed a visionary super sports car concept for the Gran Turismo 6 racing game for PlayStation® 3 – the Mercedes-Benz AMG Vision Gran Turismo.
By virtue of its proportions and expressive appearance, this new Mercedes-Benz concept embodies the brand's defining design philosophy of sensuous purity in a unique way. The design of this concept car reflects to extreme effect the perfect symbiosis between emotional, sensuous contours and intelligently-presented high tech.
The exterior design, which is systematically and passionately geared to motor racing, is congenially mirrored in the interior of the two-seater. Inspired by the Formula 1 cockpit, the red integral sports seats blend into the black flooring of the footwell to form a protective shell. The central display is optimally positioned in the driver's field of vision.
Operation is by rocker switches in the center of the dashboard and in an overhead console, like in a jet. The steering column visibly penetrates the firewall to the engine compartment, creating a visual connection between the driver and the heart of this super sports car, the front-mid engine.
The AMG V8 biturbo engine develops 577 hp and a maximum torque of 590 lb.-ft. in a vehicle designed to weigh only 3,053 pounds. That amounts to around 5.2 lbs. per hp — an unrivalled figure in the super sports car segment. Excellent deceleration values and fade resistance at the highest level are ensured by the AMG ceramic high-performance composite braking system.
While fans of the Gran Turismo 6 video game are the only ones who can "drive" this sleek, stylish concept car, spectators who attended the 2014 Pebble Beach Concours d'Elegance had an opportunity to see one in real life. A full-scale model was displayed on the event's concept lawn for all to admire..