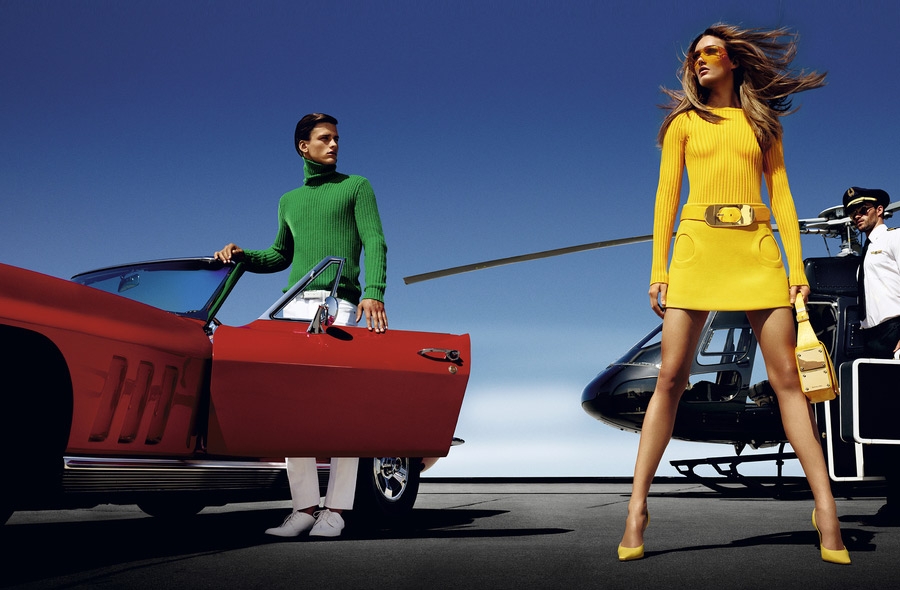 Hot House Hues. This season, designers turn to a range of colors for a brilliant effect. Jetset's Spring Fashion Guide is here to help shape your fashion choices.
When it comes to fashion, it's easy to play it safe with neutrals. But spring's unabashedly high-wattage tones aren't for the risk averse. Vibrant color takes center stage this season, as designers embrace eye-catching brights. From pops of cobalt and emerald, magenta and mulberry, to entire ensembles in citrine and nectarine, the audacious shift towards color demands attention.
There is no denying wearing color from head-to-toe is an audacious trend, yet for a true fashion follower, nothing compares to making a bold entrance. With this in mind, menswear brands Brioni, Ermenegildo Zegna, Thomas Pink, and Stefano Ricci have taken sartorial cues from spring 2013 womenswear collections from the likes of Burberry, Vera Wang, Rachel Zoe, and Michael Kors to bring a refreshed depth and range to their latest threads. From airy cardigans, tapered trousers, lightweight jackets, and traditional suits with a twist, designers have literally reworked key pieces into highly covetable items that are the perfect expression of spring's color crush.
ERMENEGILDO ZEGNA
This season, Ermenegildo Zegna combines Italian sartorial tradition with a touch of eclecticism and eccentricity by reinterpreting menswear in an array of new fabrics that highlight the spring/summer offerings of the Zegna Silk project.
The looks in this lineup feature beefy fabrics that lend an air of sophistication to formal and cocktail attire, with suits and overcoats in silk taffeta, laser perforated double silks, and shimmering shantung. For self-confident men who favor impeccably tailored suits with a touch of eccentricity, Zegna's relentless pursuit of sartorial perfection offers the ideal match. Featuring pieces in traditional colors ranging from classic tobacco to more adventurous cobalt blue and dark teal, their mix of materials, texture, and styling brings elegance to a brand known for style.
BRIONI
A departure from seasons past, Italian menswear label Brioni gravitated towards a kaleidoscope of unexpected hues designed to appeal to a well-heeled crowd seeking clothing for gentlemanly pursuits. Brioni first presented their spring/summer 2013 collection in the picturesque gardens of Milan's La Triennale to create portraits of men leisurely unwinding amidst nature on a balmy Sunday afternoon.
The tone of Brioni's latest collection is set with the Jardigan, a garment envisioned as a modern rendition of a 1960s lapel-less cardigan fashioned from fine wool crepe in a warm ochre tone that evokes the Tuscan countryside at sunset.
Not to stray too far from its storied heritage of expert tailoring and craftsmanship, Brioni's collection showstopper is a classic suit reimagined in cherry red, which perfectly illustrates the modern evolution of this beloved brand.
THOMAS PINK
A leading international luxury shirt brand, Thomas Pink is known for spicing up traditional dress shirts with liberal infusions of color and patterns. For spring/summer 2013, the Thomas Pink label released their stylish Bengal Stripe collection, combining classic fabrics with modern design for a refined look begetting a man of means.
These classic stripes that originated from Bengal, India, during the Regency period are reinvigorated on Thomas Pink's slim fit shirts, which feature a cutaway collar, double cuffs, and contoured side panels on an ultra fine cotton. Paired with a contrasting tie, finely tailored suit, and a pair of Thomas Pink's whimsical cufflinks – or dressed down with a pair of jeans – it's a contemporary look perfect for a variety of occasions.
STEFANO RICCI
Classic detailing defines Stefano Ricci's latest collection of menswear. Designed and constructed in Italy for the wardrobe of a man who already has everything, Stefano Ricci combines unusual shades of colors and exclusive materials to craft suits and dress shirts that are both wearable and fashionable for men seeking fine Italian tailoring.
This season, Stefano Ricci relies on cool and warm tones to create a sartorial palate that is fresh, yet refined. Toasty pecan and crisp cucumber tones elevate traditional jackets and ties that are highly distinctive and evocative of uncompromising luxury.
Styles from the Runway
BURBERRY
Embracing a very British sort of glamour, Burberry Prorsum's use of ombréd fuchsia and red appeared in slinky pencil skirts and in a vibrant iteration of the classic trench.
The colors are "so intense," said Burberry designer Christopher Bailey, "you could wring them out."
MICHAEL KORS
A zest of citrine popped up in Michael Kors collection, as an homage to geometric glamour. Channeling the sixties, among Kors spring offerings was a simple yet striking tank dress with zipper accents and a skirt suit in the same bright citrusy hue.
VERA WANG
Vera Wang played with emerald – Pantone's 2013 color of the year – for key looks within her spring collection.
With India as her inspiration, she featured this rich color on a tunic-over-pants look and on luxe diaphanous layers, including delicate lace tops and skirts.
RACHEL ZOE
Equal parts California bohemian and rebel rocker, Rachel Zoe's laid-back SoCal style translates into wearable looks that come across as effortlessly chic.
Her spring collection plays on this California cool in reimagined pantsuit and short ensembles composed of vibrant shades of nectarine and coral.