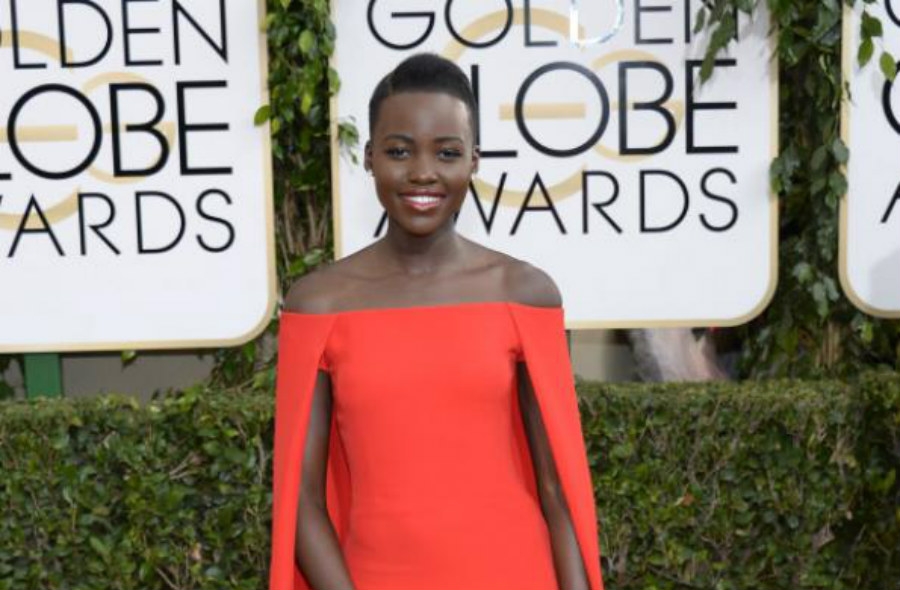 At the 71st Annual Golden Globes Awards this year, we noticed the bling was in the form of jewel encrusted and glitter gowns more than on wrists and necklines – with the exception of Modern Family star Sofia Vergara who was wearing a massive turquoise and diamond necklace that some reporters dubbed as 'gaudy.'
What really sole the show, was red hott red gowns which consumed the carpet from Ralph Lauren with a cape on 12 Years a Slave star Lupita Nyong'o (pictured above) also in tasteful Fred Leighton jewels, to Co-Host Tina Fey in a deep red form fitting gown encrusted with rubies and E!'s Giuliana Rancic in a Lorena Sarbu embroidered orchid tulle ball gown. House Of Cards actress Kristen Connolly also wore a red draped silk gown with lace details by Lorena Sarbu. Other scarlet dresses were seen on Best Actress winner Adam Adams for American Hustle, and nominees Julia Louis Dryfus, Edie Falco and Julie Delpy. Presenters Kira Sedgwick, Julie Bowen from Modern Family and Emma Watson also donned the crimson color.
The 2014 Annual Golden Globes Awards Season actually kicked off once again with the Audi sponsored fete at Cecconi's in West Hollywood on Thursday night. Produced by Tony Schubert, the Red Carpet was filled with Dowtown Abbey's Michelle Dockery, Scandal's Joe Morton, Liev Schreiber and Naomi Watts, while others mingled inside with Champagne and bites of truffle risotto balls, veggie pizza and crispy chicken sliders.
The Golden Globes weekend gifting suites started with Secret Room Events at SLS in Beverly Hills benefiting PETA. One whole room was dedicate to treats for animals such as Pet Head products and doggie beds, where we spotted Millionaire Matchmaker Patti Stangler picking up a few stuffed toys. We also discovered jewels by DAO Fournier and Bohemme, and were very excited to discover Jill Renofrom from Houston and her reasonably priced bronze rings, along with Hannah Vasiek from Tasmania and her delicate cross necklaces under the brand Francesca. Pampering included eyelash applications by DNK Skincare in Beverly Hills who also specialized in Diamond Microdermabrasion and 24 K Gold Facials; make-up by Cate McNabb Cosmetics, and luxe Iso Peacock ceramic stylers. Skincare was well represented with LifeCellSkin who was recently voted top skin care line on Yahoo.com, Fairiche for skin brightening, JOEY New York for quick results eye fixes and Astara botanical line from Phoenix for overall body care.
71st Annual Golden Globes | Andrew Dice Clay
Over at the L'Ermitage Hotel, hosted by GBKProductions, we were thrilled to hang with Andrew Dice Clay while he picked up urban goods from Rolf Bleu by Caryn Sterling and a bag of hand-crafted jewels and art by The Artisan Group. The presenters and nominees will certainly look their best thanks to SPANX, Tweezerman, Sleep-in-rollers, Barbar Hair Tools and Burke Williams Spa. Of course guests were also feeling good thanks to BLOW HOOKAH, Awake Chocolate and V Wine Room in WeHo. This lounge always showcases the most charitable organizations under one roof and we were very impressed with Made by Survivors who employs and educates victims of human rights abuse by selling handmade jewelry made by women around the world who are survivors human trafficking and other atrocities.