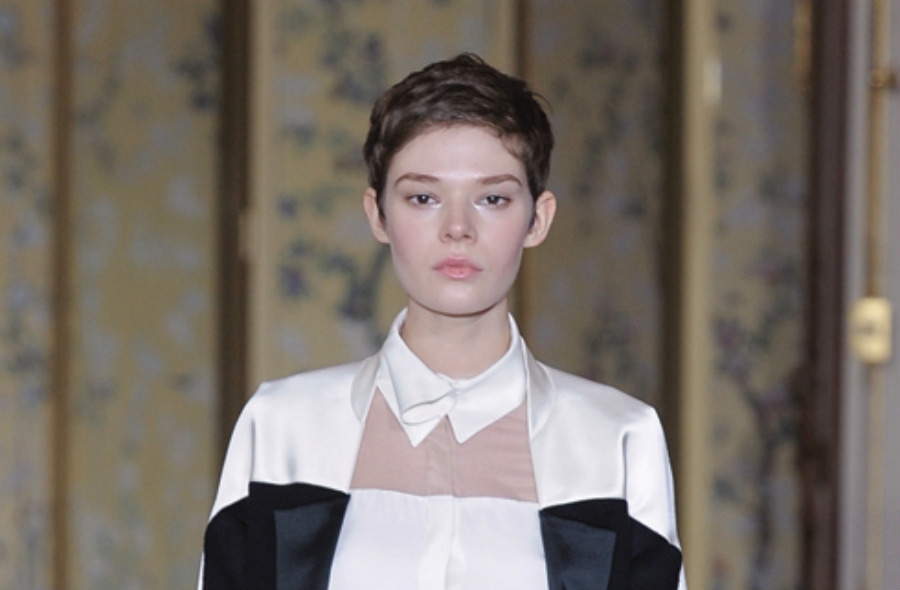 Fashion designer Anne Valérie Hash has once again impressed us this year with her collections in haute couture and ready-to-wear which include some stylistic consistencies and fresh new elements.
Every season I am pleasantly surprised with the details of her cuts, draping and color combinations. Every year I become more drawn to Hash. Since my interview with the designer, I now understand why she uses manly traits, and realize how apropos it is that her name is the same as the hallucinogen due to her unique color combinations, a Dali-like melting look of the designs, and androgynous style. With le smoking as her main inspiration this season, the designer will get you, too, intoxicated on Hash.
Hash is known for obvious masculine features softened with femininity, so it is fitting that she says her inspiration for Fall-Winter 2012/2013 was the suit, a.k.a. le smoking, which was so famously created by Yves Saint Laurent in the 60s. "I keep on balancing a masculine style with a feminine attitude," Hash explains, "the masculine aspect enhancing femininity." You will notice this throughout all four Hash labels: Couture, AVHASHBY, and label Anne Valerie Hash which also includes a separate line for young girls.
Hash has had a steady yet quick climb to the top in her industry, partially due to her studies at the highly acclaimed Chambre Syndicale de la Couture Parisienne, and through the experience she gained with some of the most respected names in the world of fashion. Her first internship was with the revered Carven Maison. "After that, I had other experiences at Nina Ricci, Chloé and Chanel. I learned technique, and how to build a garment, which is like architecture. At Nina Ricci, for example, I was retouching haute couture pieces. I had to deconstruct and reconstruct the pieces. This greatly influenced my vision of fashion."
For her Spring/Summer collection this year, Hash was very brave in her color combinations, appropriately named Blue Tangerine. It is courageous to juxtapose the bold Yves Klein blue with a crisp orange, equally deep in pigment. Blue Tangerine is dedicated to the ten-year anniversary for Hash and she calls this "a journey to maturity." If only all women could mature as gracefully as Hash who explains, "For this collection, I started with a new color palette experimenting with tangerine, Klein blue, and pomegranate associated with tones dear to our house such as powder, sand and smoky blue. I have put the wardrobe together with delicate fabrics such as cotton chiffons, linen voiles, silk and taffetas."
The strong colors and gallant designs are symbolic of who Hash is and what she represents. Her ten-year anniversary last year during the development of this season's collections was when Hash decided, "It was the perfect time to take a moment to think about our evolution and try to define properly the codes of the house." Hash knows her clients well, and her clients are representative of her. "My client is modern. She is strong, precise and sharp, with a presence and an aura. She is sensual, she unveils, she suggests, but she is never vulgar or obvious."
The feminist fashionista Anne Valérie Hash describes her evolution. "When I started my company, I was feeling young and vulnerable. I guess that's the reason why I started working on men's clothes. The fabrics of a masculine wardrobe (wool, cashmere, etc.) are reassuring and protective. I think working on men's garments helped me to grow and to feel stronger in the fashion industry. Femininity entered little by little in my collections. Subtly, I started playing with lace, silk and muslin in pale skin tones. There I found my balance, and I am now fully expressing myself, acting rather than reacting, choosing and not being imposed."
Anne Valérie Hash holds the highly regarded official haute couture label protected by the Chambre de commerce et d'industrie de Paris. Her defined codes of fashion apply to the custom couture line for her clients, which at times can require several hundred work hours per piece. "Haute couture is actually an artistic experience linked to the highest quality. It is based on mastering the traditional know-how and on an absolute attention to details. The technique is then freeing in order to create the outstanding, and the never before seen.
"Of course, haute couture inspires me when I design my ready to wear collections," states Hash. This explains why her ready-to-wear makes me feel like I am wearing haute couture, with its uniqueness and superb fabrics. I loved, for instance, the way the sheer chiffon wrapped around the neck and draped along the torso as seen on blouses this season. This topped off with the reinvented le smoking where, "The shoulder line melts into a loose form of letting go." Those are the details I refer to as Dali-like. "I also like to mix avant-garde pieces together with traditional looks or the other way around. This is the way I see fashion," Hash explains.
For more on Anne Valérie Hash and where to buy, visit the web site at
a-v-h.com/en/
"She, who chooses her attire, chooses the designer herself as well, like a beautiful friendship that could very well exist with a writer, a musician or a painter."
–Anne Valerie Hash