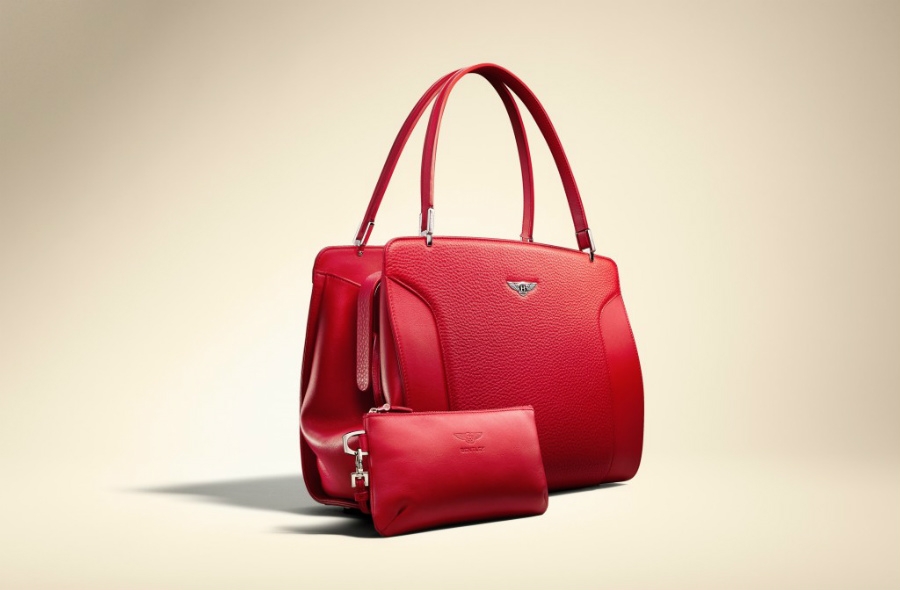 Bentley Motors announces the launch of the Bentley Handbag Collection at the prestigious Pebble Beach Concours d'Elegance, the world's premier event for automotive enthusiasts and connoisseurs of culture.
The launch marks the realisation of a project which is unique in the automotive industry, a reflection of the essential values for which Bentley is renowned worldwide: an exquisite design aesthetic, highly skilled craftsmanship, attention to detail and dynamic performance. The Bentley Handbag Collection transfers the functional luxury of our cars into an accessory that women can cherish.
Dr Ariane Reinhart, Member of the Bentley Board for HR, has spearheaded this star lifestyle venture to introduce more women to the brand and attract new female customers who share a passion for exclusive, high quality goods.
The Collection features two distinct models – The Barnato and The Continental.
The Barnato is named after Diana Barnato, socialite daughter of Woolf Barnato, one of the original 'Bentley Boys' and chairman of the company. She was an experienced Bentley driver and an accomplished aviatrix. Diana was the first British woman to break the sound barrier and always portrayed both daring and glamour in equal measure.
The Continental is named for one of Bentley's famed model lines, used on successive generations of Grand Tourers since 1952 and the underpinning of the brand's current success since the two-door Continental GT coupe was launched in 2003.
Bentley's Head of Product Design, Daniele Ceccomori, has worked closely with renowned luxury leather bag designer and expert craftsman Vincent du Sartel to bring to life a wholly feminine interpretation of Bentley's design concepts, highlighting the brand's contemporary elements.
Inside, the handbags' unique level of features and finishes are offered to evoke the same exact impression of when stepping inside a Bentley; they are exclusively lined all in fine leather with quilting features and functional compartments, including a waterproof pouch, elegantly blending core Bentley aesthetic values with everyday functionality and practicality, like a Bentley car.
Extensive attention has been dedicated to the execution of the details; the metal furniture with the typical knurled signature finish enhances luxury and the sense of craftsmanship unique only to the world of jewellery, in true Bentley style. To highlight the unique nature of the handbags each will contain a metal plaque that commemorates its individual number in the limited edition series, with the option to have this personalised to the owner and their car.
The Bentley Handbag Collection is available from October 2013. This limited edition collection comprises 160 bags globally, 80 of each style, in four colourways. This palette of options will be expanded in 2014 to include new models. Further information can be found at www.bentleyhandbagcollection.com