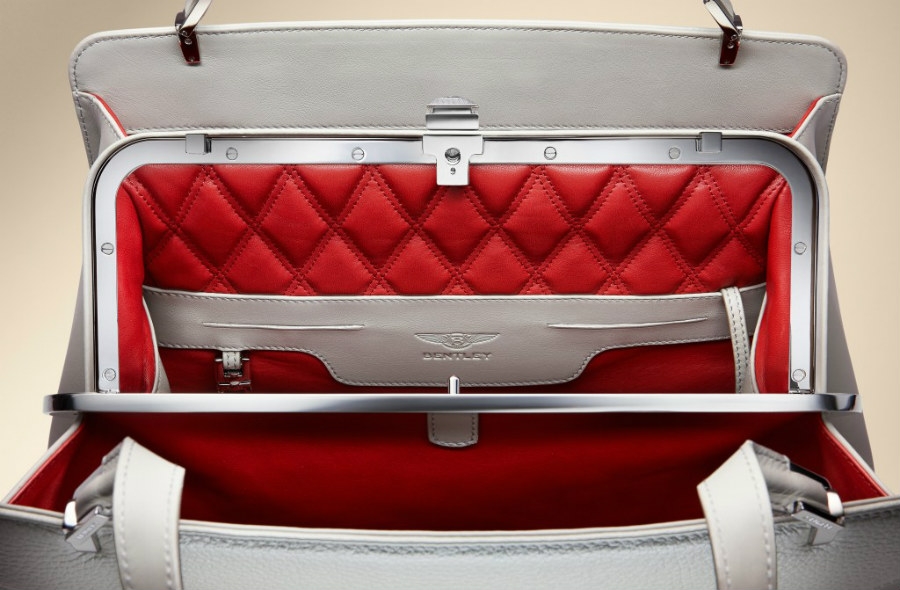 Bentley handbags are celebrating the spring season with a new range of colors for its capsule handbag collection on sale at the Geneva Motor Show next month (March 4).
Vivid examples of Bentley handbags and their exquisite color palette bring new haute-couture choices to a woman's range of luxury accessories.
The celebration of 'pure' color extends the collection around two models of Bentley handbags – the Continental and the Barnato bags – with references to Bentley's signature bespoke hide combinations.
Bentley Handbags Concepts
Concepts of refined luxury inspire a Special Ivory derived from Bentley's 1952 Continental R-Type executed for the Continental Bentley handbag model in patent leather with a deep Burgundy interior. The Barnato Bentley handbags are now offered in an Imperial Blue exterior with Linen panels, a Linen interior accented with Imperial Blue pockets, representing the ultimate expression of luxury and refinement in harmony with sea and coastal landscapes, yachting and other leisure pursuits.
Classical historic colors include Dragon Red drawn from the Continental GT V8, also executed in patent leather; and Cumbrian Green, which glances back to the renowned Bentley Blower model executed in combined patent and smooth leather, thus replicating the traditional 1930's design where the car body was part paint, part trimmed in leather.
Further intense colour specifications have been created through the significant expression of combinations evident in Bentley's model palette. These bespoke pairings reflect a variety of global definitions of luxury taste, matching regional social and cultural values. The color combinations can also be perceived as 'passe-partouts', or central blocks of color which are bordered by contrast tones, as a picture in a frame. Such combinations include: Saffron/Linen, Imperial Blue/Linen, Portland/Pillar Box Red, Saddle/Linen.
Relevant to Bentley's extensive current car colors are combinations which express a thematic contemporary fashion statement: Autumn/light blue (seasonal), Burgundy/Linen (classic), St James' Red/Aquamarine (avant‑garde).
Dr Ariane Reinhart, member of the board of Bentley Motors, comments: "The colors are strong and exciting. We want to bring accents of daring color into a woman's wardrobe.
Bentley Handbags Complimented by Bentley Silk Scarves
"The shades emphasize an aspect of the true Bentley personality, which a new generation of female customers can enjoy in their daily lives. The colors of the new Bentley handbags are complemented by the new silk scarves and bring the refined luxury and bespoke elements of a Bentley to a wider female audience."
The silk scarves depict architectural and natural landscape features in an abstract pattern. Within the scarf images are featured the Jacobean mansion of Crewe Hall, the historic estate of Tatton Park and the renowned façade of Bentley's factory.
The pool of colors lifts the traditional silk scarf into a modern interpretation that is full of life. In the two color combinations of blue/Magenta and orange/Magenta can be found a compass, a composition of Bentley's wings logo, a map of the world and a dial from a Bentley dashboard.
The hand-rolled edge of the scarves is framed by an interpretation of the matrix grille on the front of Bentley models, emphasizing the heritage of the brand as a Grand Tourer.
Continental handbag: $US 5,500
Barnato handbag: $US 7,000
Silk scarves: $US 278