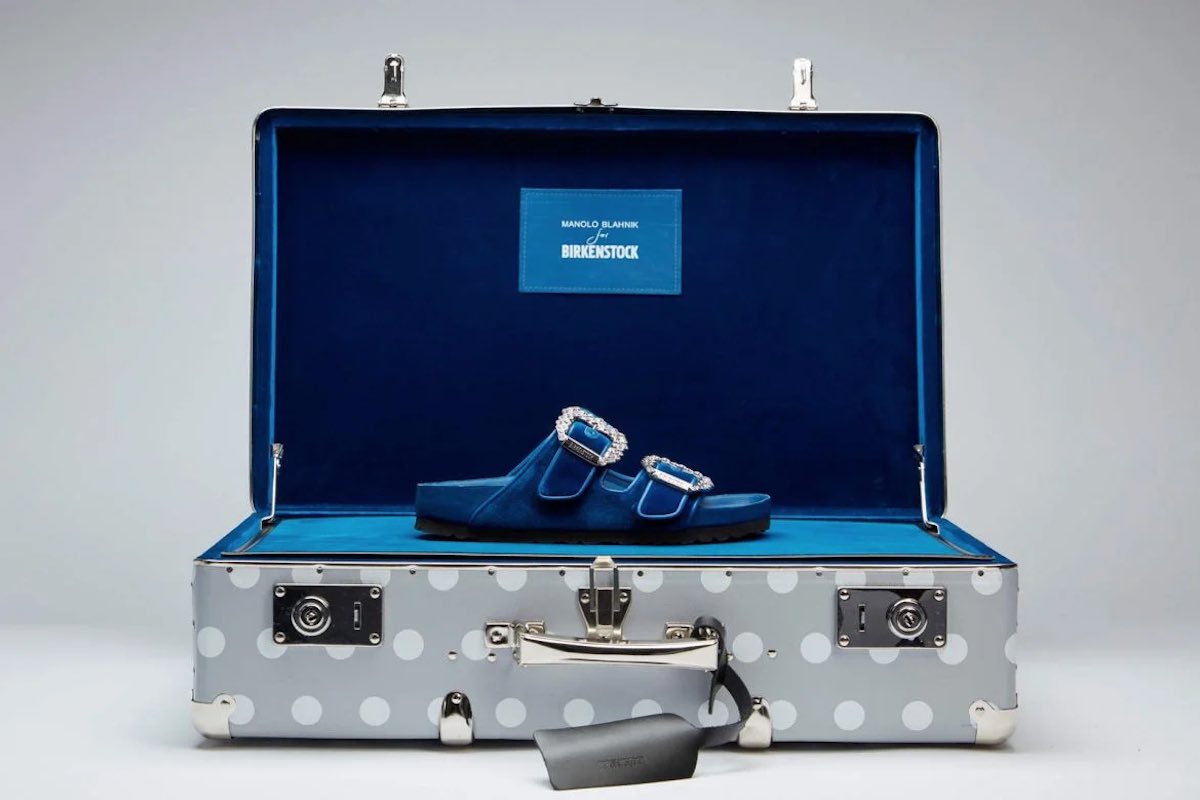 If you're looking for fabulous sandals with style and bohemian glamour, Manolo Blahnik and Birkenstock have joined forces for their latest release.
The exclusive collection combines the spirit of Birkenstock with that of renown designer Manolo Blahnik to produce bold, innovative styles that are out of the ordinary and fancifully distinguished. 50 years into his own shoe empire, Blahnik merges elegant allure with down to earth day-to-day practical footwear attire.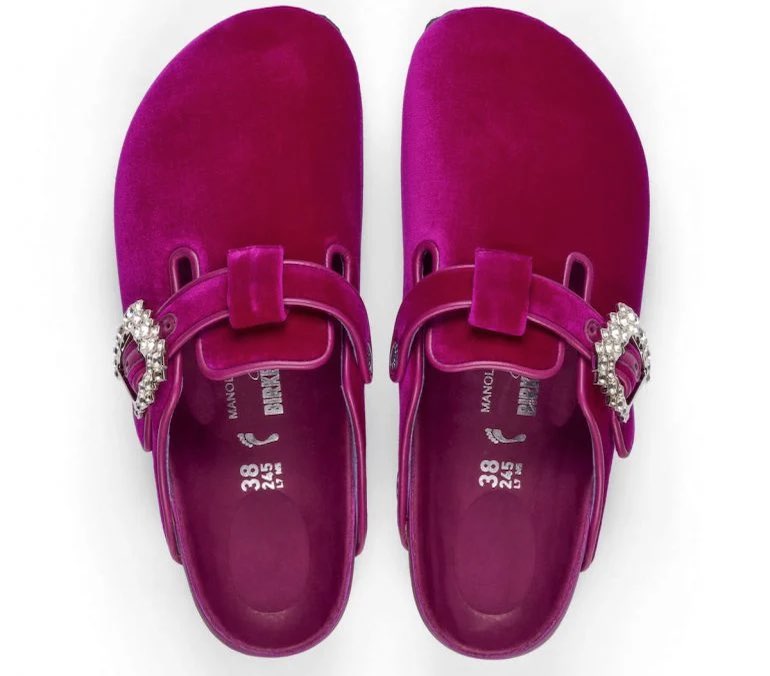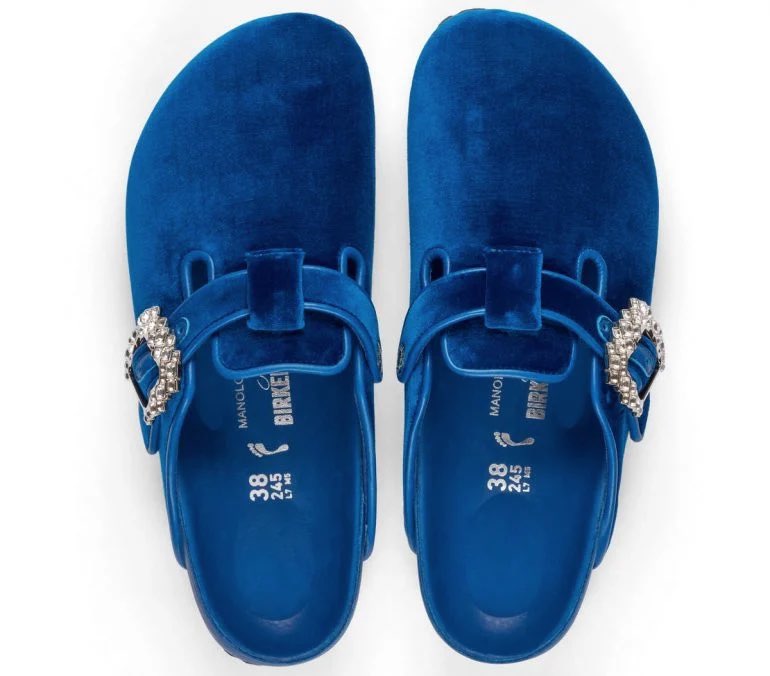 Each opulent shoe design is embellished with glittering crystals for an aesthetically royal looking wearable ensemble. The crystal buckle reimagines Birkenstock's Arizona sandal and Boston slip-on footwear clog with velvety and silky authentic leather in colors of fuchsia, blue, and black. The natural charisma and practicality of these beautiful sandals are apparent even at first glance.
The Birks are showcased with Manolo Blahnik's signature features, focusing on detailed eye-catching embellishments and glitzy trimmings. The jewel-adorned shoes are presented in a polka-dot shoebox and dust bag inspired by Manolo Blahnik's designer elements. Additionally, extravagant finishing touches spruce-up the Birkenstocks, such as the cork sole wrapping that's been color-matched to the tones of the top of the sandal.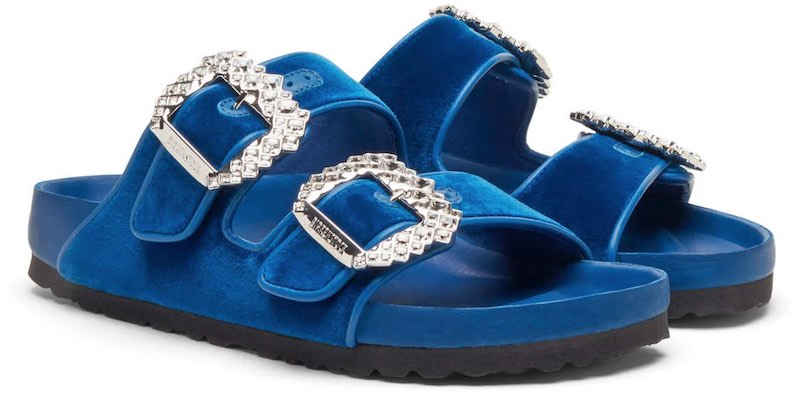 Timeless in their design and manufactured with the highest of quality standards, the unrivaled shoemaking craftsmanship for this collection was developed in the Birkenstock studio by some of the world's most accomplished artisans. Blahnik's inclusion helps to produce versatile and comfortable footwear, with his designs suitable for both Birkenstock fans and the Manolo connoisseur.
There is an evident belief in the power of fashion collaboration. Increasingly, more established out of the box visionary designers than ever are recognizing the value of selective partnerships, with big fashion houses collaborating on one-off artistic creations.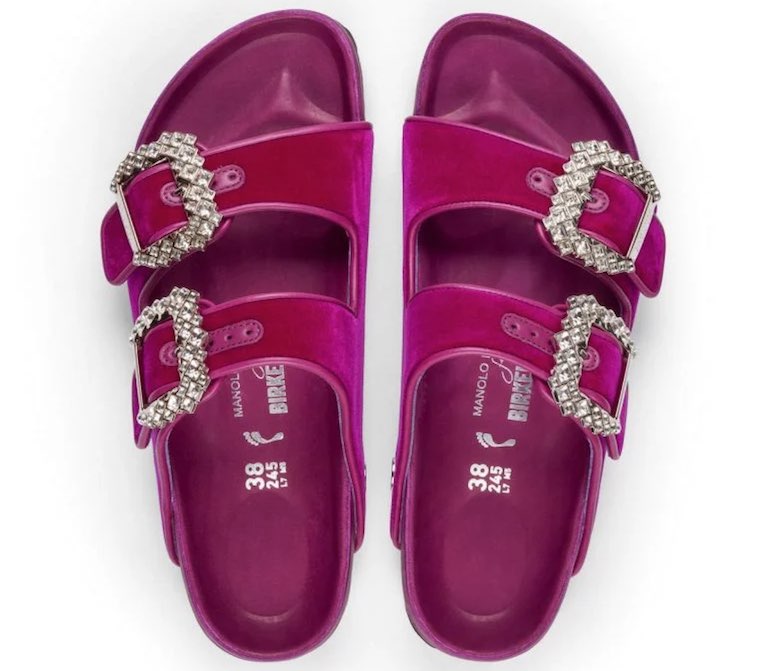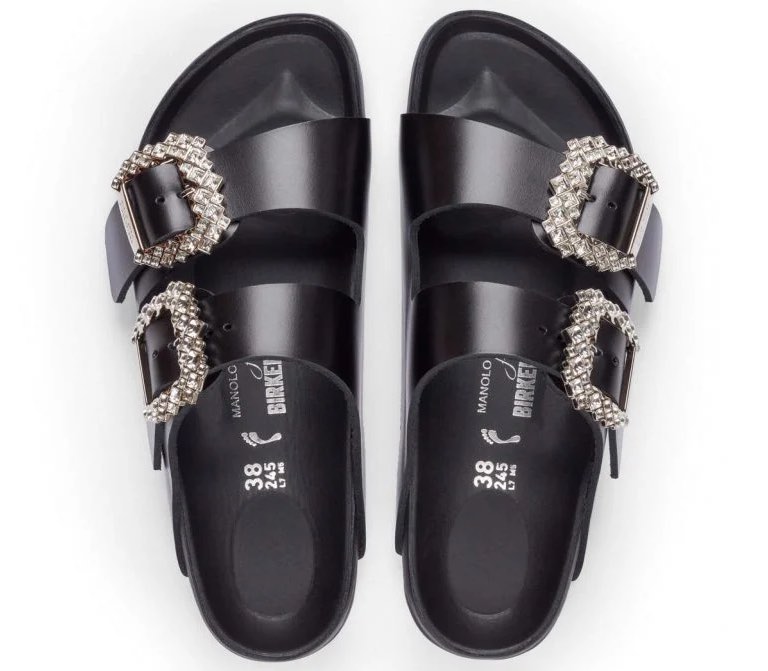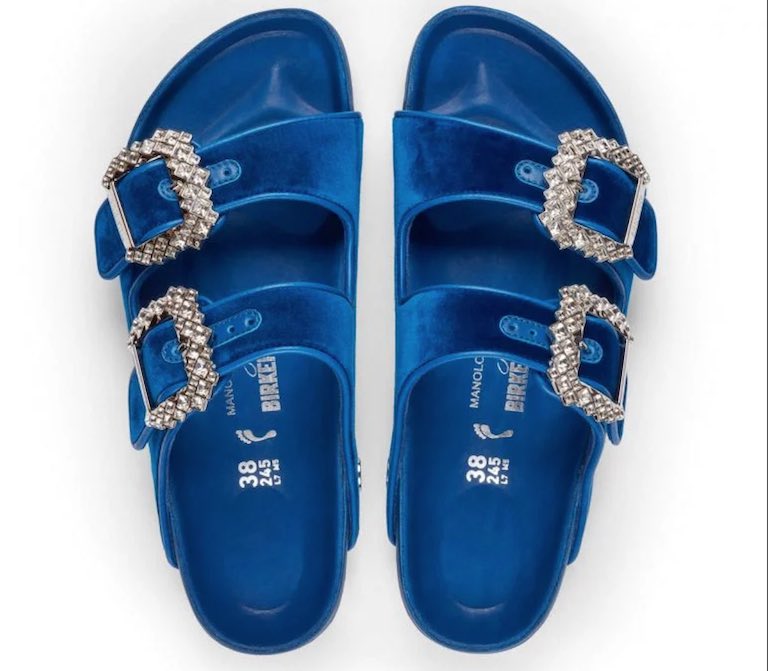 Manolo Blahnik has been on the Birkenstock bandwagon since the 1970's, when he got his first pair. Understanding that many Manolo Blahnik customers already own a pair of Birkenstocks, Manolo Blahnik CEO Kristina Blahnik, the niece of the founder, set out on a mission to create a new wardrobe category for their loyal and dedicated customers by adding stunning sparkle and style into the popular Birkenstock sandal.
This is one-of-a-kind collection fuses the signature styles of the iconic German footwear company with Manolo Blahnik's elegant pizzazz to offer creations that embody a dramatic and extravagantly purposeful look that elevates both brand-identities to a higher platform. Simplicity and comfort merges seamlessly with luxurious glitz and glamor.