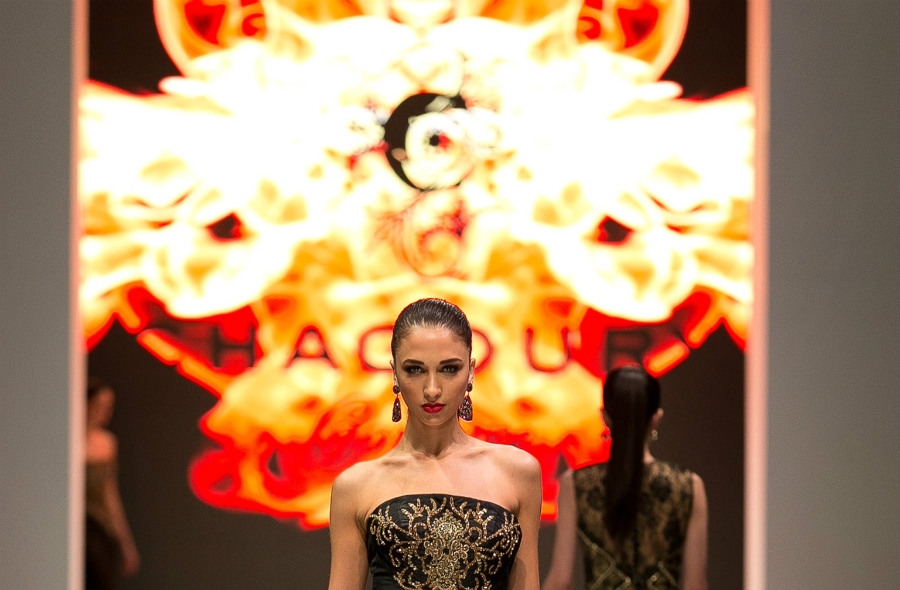 Lebanese born, French raised, designer Gilbert A. Chagoury is well known among the stylish ladies of Beverly Hills for his provocative lace dresses.
Whether couture ball gowns or wedding dresses, to designer wear or ready to wear, Chagoury has dressed Eva Longoria, Kate Perry and Edie Falco to name a few.
Just this week, the design house has moved from its three year location on Little Santa Monica in Beverly Hills over to the action packed strip near Melrose Place's 'golden triangle' where they will be in good company across the street from Alexander McQueen and just down the road from Marc Jacobs, Vivienne Westwood and Paul Smith among others.
The new retail space is like walking into a purple and mirrored jewel box complete with hand blown glass chandeliers and a large private dressing room. You'll want plenty of leg-room to swan around in the long golden brocade trains on coats, form fitting lace cocktail dresses and tuxedo pantsuits that has put the designer on the fahionista map. Using fire red embroideries and sleek black crystals adorning endless yards of silk and tulle these frocks are truly statement pieces.
Since the new home is more spacious, the back of the house includes a full staff snipping and sewing the couture gowns, in addition to being fully equipped to make any last minute alterations for a ready to wear nip-and-tuck.
If you are interested in the 25 piece Prêt-à-Porter Capsule Collection (ranging from $300-$1,200), you will need to wait for your fashion to be doled out in four deliveries over a six month period, and you must love the only three colors used – black, white and red. Other options include the new White Collection and the Fall/Winter 2013 couture collection aptly titled 'Shattered Innocence' melding Victorian-era elegance with seductive tailoring.