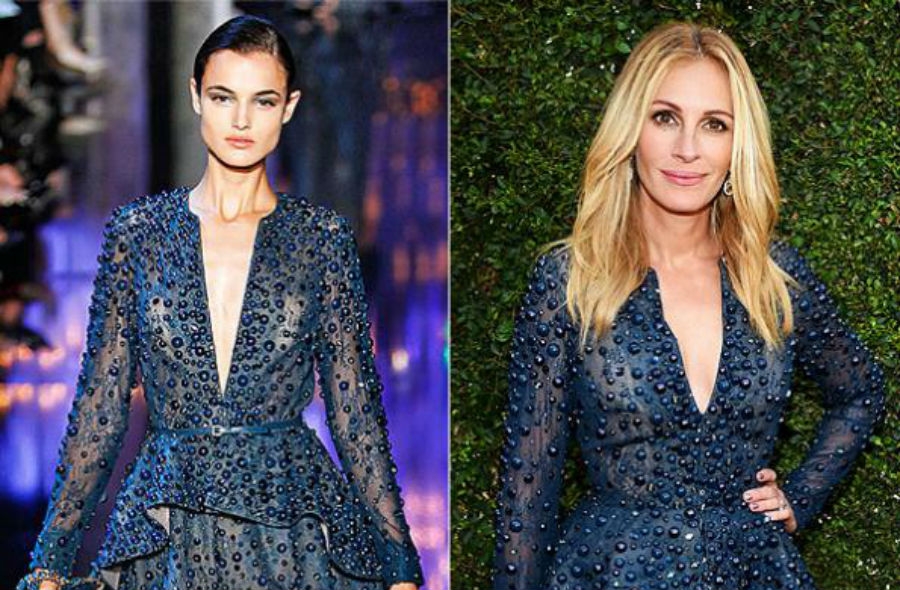 Congratulations to "Breaking Bad" star Bryan Cranston for winning in the lead drama actor category for the fourth year in a row, and the cast of "Modern Family" for sweeping best comedy series once again, but sorry ladies, but this was the worst Red Carpet Emmy Award dress year that we can remember. Here's a look at some of the epic Emmy Award wins, both on and off the red carpet.
From the duller-than-dull to just plain disasters, only one nominee knocked it out of the park: Julia Roberts in a deep blue beaded Elie Saab mini-dress. Stylists, please take note. Her runner up was "Mom" comedy actress winner Allison Janney in a deep purple velvet gown with a giant center bow.
Not all was lost, Audi returned as the official partner and vehicle provider of the Television Academy for the fourth consecutive year, and showcased the all-new Audi Q3, during the pre-Emmy bash at Cecconi's in West Hollywood.
Nominees Aaron Paul, Michelle Dockery, Julie Bowen, Ty Burrell, John Voight, Joe Morton and Tony Hale along with Zoe Saldana, Jessica Paré, Eric Stonestreet, Sarah Hyland, Taryn Manning, Dascha Polanco, Betsy Brandt, Rich Sommer, RJ Mitte and more helped celebrate television's biggest names while sipping on Champagne, nibbling truffle risotto balls and lobster tortellini.
Eric Stonestreet, Ty Burrell and Rich Sommer danced a funny number together to a 90s hip hop song, even though Eric mentioned earlier that he had to work the next morning and needed to save his energy for an early call time. "Orange is the New Black" co-stars Taryn Manning and Dascha Polanco were spotted taking a selfie for another of the Emmy Award wins just before Dascha quickly hopped out of her seat to dance to Beyoncé's "Yoncé."
By Carole Dixon, Editor-in-Chief of www.thecaratdiet.com