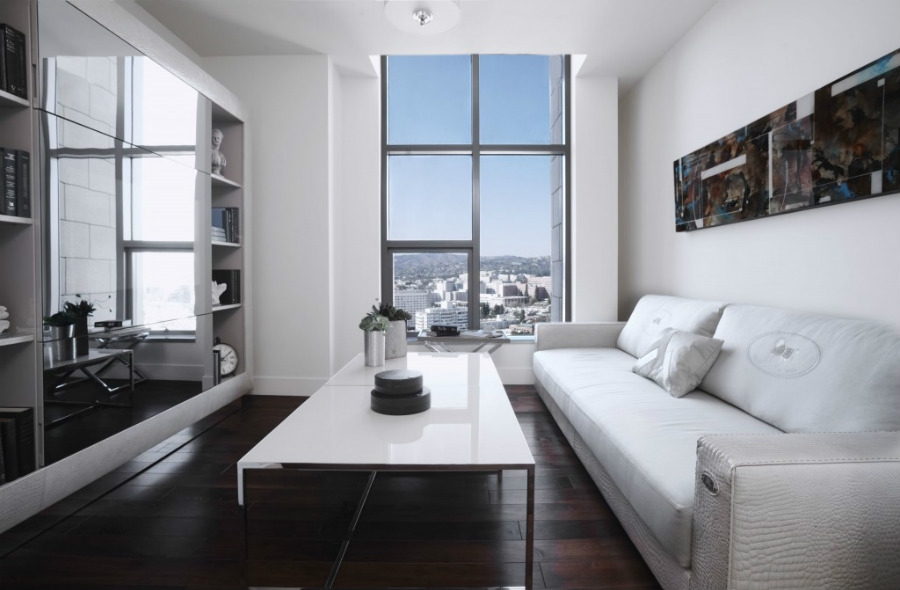 The Carlyle, with Luxury Living, exclusive retailer of Fendi Casa, has created a striking, new model residence high above the Wilshire Corridor.
The 2,837-square-foot two-bedroom, two-and-a-half bathroom luxury residence, priced at $3.275 million (not including furniture), is located on the 21st floor of The Carlyle Residences, affording inspiring, east, south, and north-facing views.
The apartment's interiors are an original display of one of the newest aesthetic sensibilities from Fendi Casa. The artful composition of inherently modern furniture and prestigious objects expresses beguiling, subtle luxury. Nearly all pieces selected for the residence are from the Fendi Casa Contemporary Collection – designed by Toan Nguyen – which introduced distinguishing belts and buckles, leathers and fabrics of primordial origin and tone, and the rich elemental colors of cuoio (reddish brown), lava and earth. The full collection of Luxury Living furnishings in Residence 2101 adds to the sophisticated dynamic that is present throughout the building, as Fendi Casa's distinctive furnishings create an elegant ambiance for residents and their guests in The Carlyle's lobby, lounge, salon and private dining room.
"Elad Group is thrilled to be continuing our relationship with Fendi Casa at The Carlyle with the debut of this incredible apartment," said Samantha Sax, Director of Sales and Marketing for Elad Group, the building's developer. "Fendi Casa's sophisticated interior design reflects the extraordinary luxury high-rise living on the Westside, and also highlights the opportunity to live in a turn-key apartment, a concept that appeals to many of our buyers." In addition to the elegantly appointed Fendi Casa furnishings, the model residence features a hand-picked art collection from local art dealers, Art Angels.
"Fendi Casa's furnishings are the perfect complement to the aesthetic at The Carlyle Residences," said Raffaela Vignatelli, president of Luxury Living USA. "We are very proud to provide the backdrop for this unique apartment, which provides an eclectic and contemporary context that further enhances the excellence and magnificent workmanship of Fendi Casa furniture."
The Fendi Casa collection on display pairs modern style and comfort with innovation of form. Understated elegance is expressed in sinuous lines of natural wood, sofas of commanding volume, and in the pleasant tactility of the materials.
Fendi Highlights Include
Highlights include an Agadir sectional sofa with Villa Borghese embroidery; a Serengeti dining table in seamless ebony macasar paired with Blixen chairs with gunmetal grey frame and buckles unique to the Contemporary Collection; and a Mirandus Ambra mirror framed in layered hide inspired by Fendi Fashion's layered hide heel and integrated 40" LED TV.
"It's great to see The Carlyle Residences and Fendi Casa partner for the design of Residence 2101," said Mauricio Umansky, CEO and Co-Founder of The Agency, the exclusive sales and marketing team at The Carlyle Residences. "Residence 2101 is one of only a few remaining high-floor apartments, has a fabulous layout, has 12-foot ceilings and touts panoramic northeast views of the city and the Santa Monica Mountains. Fendi Casa has expertly furnished and curated this apartment and we are confident that their style and décor will resonate well with our discerning buyers."
For a full list of furnishings available at The Carlyle's newest model, please see the list For additional information on The Carlyle, where homes start at $2.475 million, visit www.thecarlyleresidences.com.
The Fendi Casa home collection was created in 1989 with an aim of outfitting rooms in a similar fashion to how Fendi furs, clothes and accessories have dressed generations of women. Fendi Casa is dedicated to delivering a fashionable approach to residential interiors by offering pieces for the entire home in a range of styles from contemporary to modern to classic. Each piece is the result of thorough research, meticulous care and fine workmanship. Furnishings are characterized by signature Fendi details, such as the iconic double 'F' logo, Villa Borghese embroidery, the unique Spy Bag drawer handles and saddle stitches. Italian made, Fendi Casa prizes craftsmanship and attention to detail as an integral part of the unabashed extravagance that is Fendi.