With a background that includes stints with Giorgio Armani in France, and his successful line of upscale casual shirts called Bogosse that he launched in 2004, Fabrice is taking all he's learned and experienced into his new lines which are available at select Neiman Marcus stores and online at Fabricetardieu.com.
Fabrice's fan base is extensive, eclectic, global, and, in some cases, highprofile with numerous A-list professional athletes and entertainers wearing his pieces.
We caught up with Fabrice to talk about his creative motivations, plans for expanding his line and the incredible story of how he's built a respected, successful and cool fashion line from the ground up.
Jetset: It takes vision, guts, capital, talent and an instinct for what consumers want or need to start a clothing line. How did you know it was time to launch your own brand?
Fabrice Tardieu: I knew it was time because it was impossible to find a brand in the marketplace that was relevant to today's fashion while focusing on high-quality craftsmanship and a comfortable fit at the right price points. For instance, finding a nice pair of handmade sneakers bellow $500 is not something that anyone was focusing on creating. As far as the apparel goes, every time I saw a nice jacket, it was either cut too slim when the price was right, or it was too expensive when the fit was right. That is when I knew the timing was perfect to launch the brand.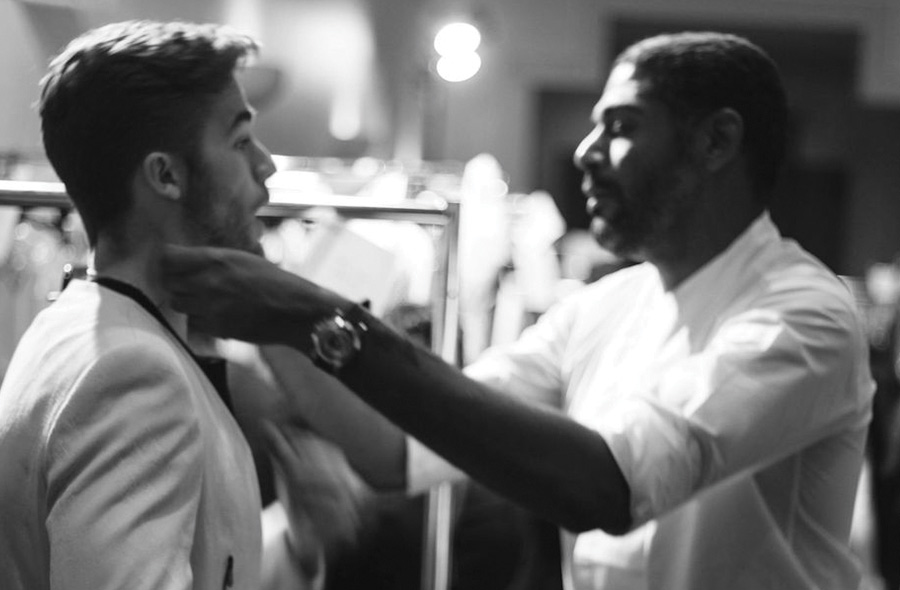 Jetset: You were very successful for a decade with your shirt line Bogosse. What were some of the lessons you took from that experience into your new line?
Fabrice Tardieu: The most important thing I took from my past experiences going all the way back to working for Giorgio Armani in Paris, was this philosophy:
Always make sure that the brand is distributed by a minimal number  of retail partners while making sure that the partners that do distribute it are the ones capable of generating maximum sales and exposure. That helped me make the decision to partner with Neiman Marcus for my new line from the very first season.
Make sure your brand has a strong identity and is recognizable from a mile away.
Remember that the small details make the biggest difference.
I have been applying this formula since I co-founded Bogosse, and it is again my philosophy for Fabrice Tardieu today.
Jetset: How hands-on are you on the style, look, feel, color — all of the aspects of every piece of clothing in your line? Are you personally creating all of it?
Fabrice Tardieu: I am an extremely anal person, especially when it comes to the design aspect of the brand. I therefore design every single item in the collection, but also make sure that I wear and experience every piece prior to presenting or selling it in order to be sure that the final consumer will always be happy with their purchase.
Jetset: Describe your clothing in your own words and who it is you are designing it for.
Fabrice Tardieu: The Fabrice Tardieu brand philosophy is to create a laid-back luxury lifestyle.
The typical customer is a professional that wants to be comfortable while looking sharp. He is that guy that is subtle but always noticed when he arrives in a room. He travels a lot and has an eye for details. He is often in the movie or music industry, in the restaurant business, an athlete or an agent or an architect. He is a creative person that appreciates craftsmanship and quality. He is a watch fanatic, likes sports cars and works hard, but plays even harder.
Jetset: Where did you get your sense of style?
Fabrice Tardieu: I grew up in a family that was in the shoe manufacturing business in Haiti. I have been exposed to fashion since a very young age.
Jetset: To have the success you have had, you have to wear many hats – entrepreneur, marketer and sales expert – along with having to deal with and find investors. Do you enjoy the business side of running a fashion line as much as the creative side?
Fabrice Tardieu: I am a very creative person and have a true passion when it comes to designing. It is the thing I enjoy doing the most in the world. When I am selling the brand, I do it also with a lot of passion. Therefore, I enjoy doing both. Fabricetardieu.com