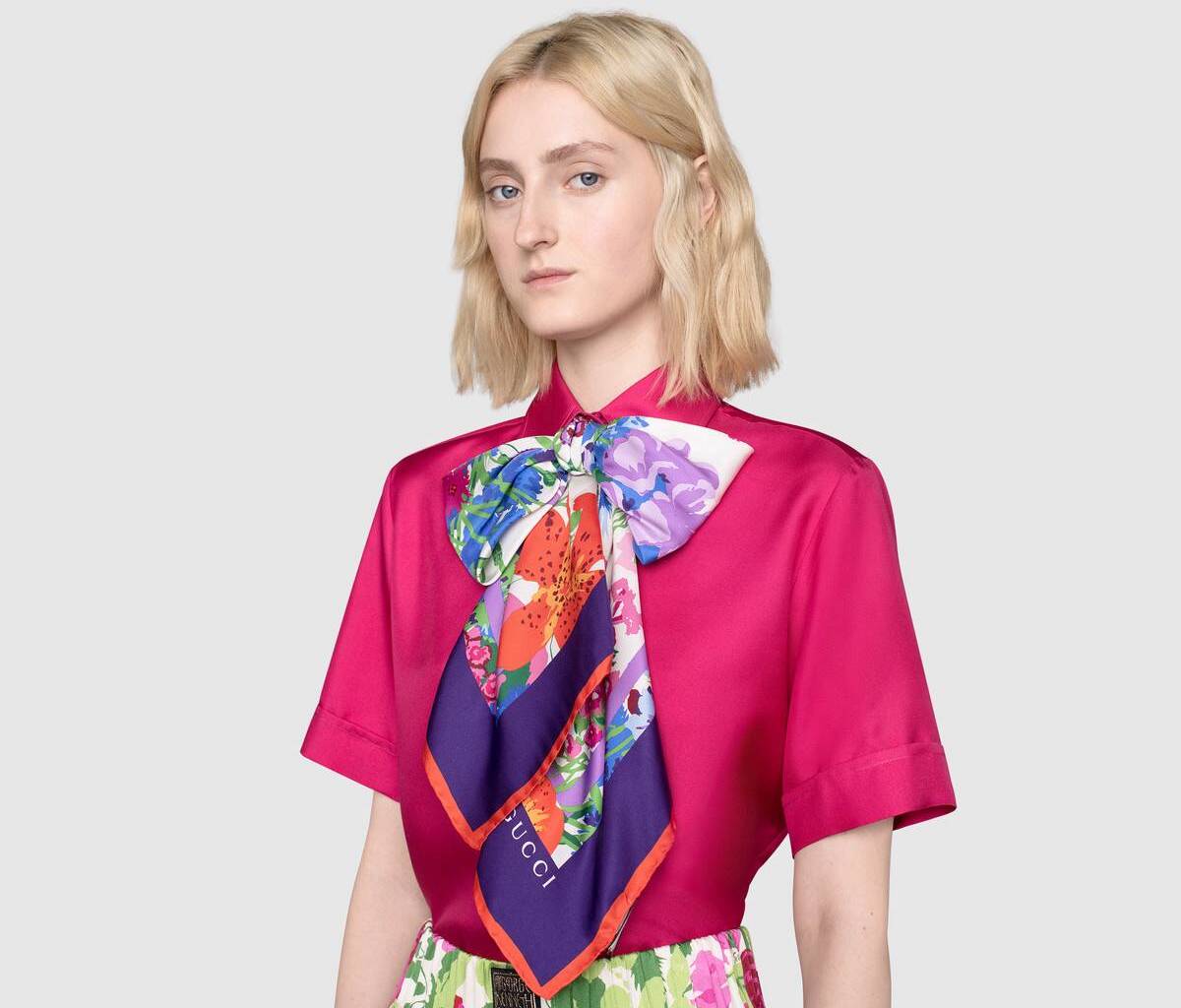 Silk was extremely expensive in the 1800s therefore not accessible to all. Silk scarves were a luxury item only available to society's upper class. In 1937, Hermès was the first brand to dedicate an entire collection to them. Grace Kelly was unforgettable using a Hermès silk scarf as a sling for her broken arm.
In the 50s, icons like Marilyn Monroe, Audrey Hepburn, and Jacqueline Kennedy made silk scarves a fashion staple. Since then, it has become a timeless and indispensable accessory that has both design and wearability versatility. Here are 4 fashionable silk must-haves for spring from some of our favorite brands.
Ferragamo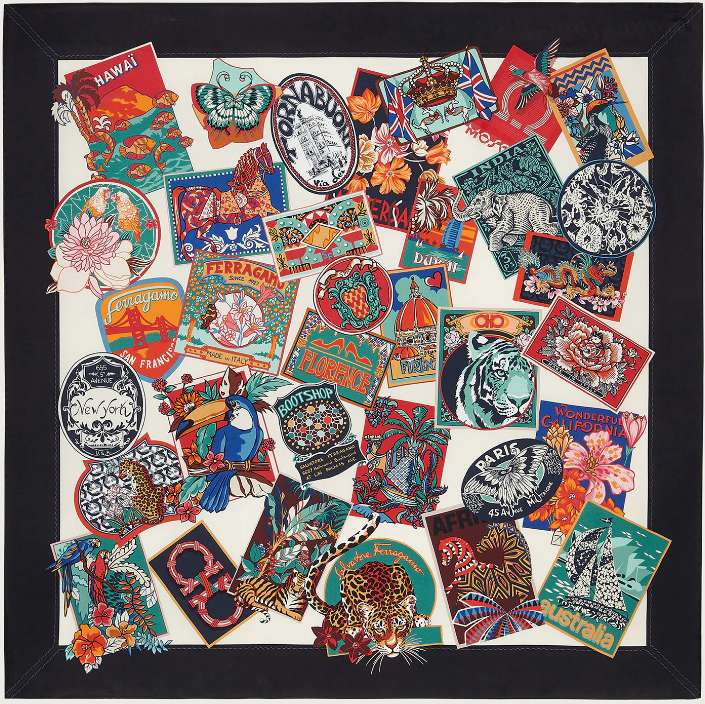 Fashion house Ferragamo introduced their silk collection in the 1970s. It was an immediate success and kept growing over the years due to their unique ability of creating patchwork from different elements, prints, or styles. The Cartoline print silk scarf is the perfect example of this signature Ferragamo style. Cartoline means postcards in Italian and on this scarf, there are 34 postcard-inspired images, from flowers to animals to exotic locations, all of which have been used in other creations throughout the Maison's history.
Maison d'ETTO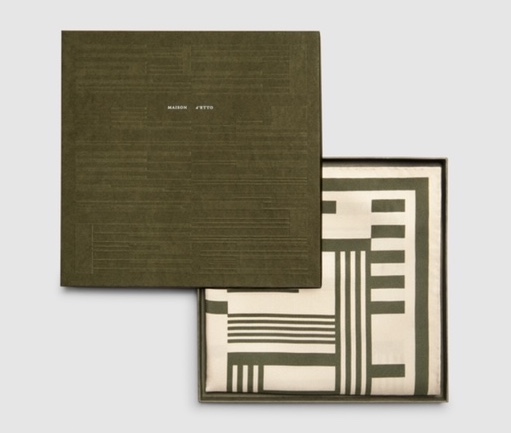 Maison d'ETTO, known for its artisanal fragrances and gender-neutral creations, has launched its first accessories collection with two stable scarves. Both are made of 100% silk twill and the hem is rolled by hand. They come in moss green and flaxen fields, but each scarf has one color more prominent than the other. The result is a very warm-colored scarf that can be worn in every season. Available in limited edition.
Hermès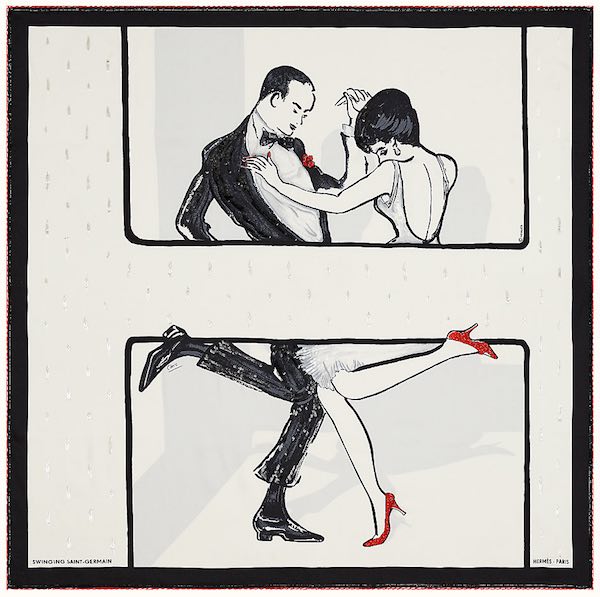 Saint-Germain-des-Prés was known in the 50s to be the buzzing center of music, art, and culture in Paris. You could witness famous philosophers debating and singers performing. It felt like the entire neighborhood was always dancing to the sound of jazz. During this time, the Swiss painter Jean-Louis Clerc sketched for Hermès two dancers during their mid Charleston's swing. Hermès made this black and white scarf exceptional by adding some tone-on-tone sequins, and black and red glass microbeads.
Gucci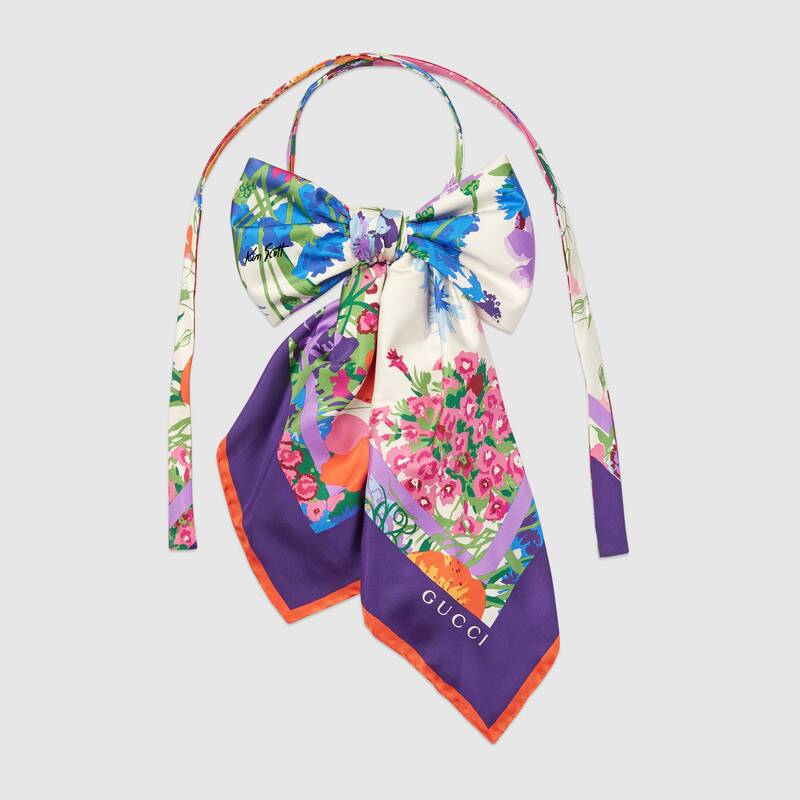 Ken Scott, known as the 'Fashion Gardener,' was an American designer famous for his colorful flowered prints for both men and women. Gucci pays homage to him with an exclusive capsule collection of silk neck bows. This bright botanical neck bow tie in perfect Scott-style is reminiscent of 70's romanticism.
Available in two colors: ivory and dark purple or Ivory and pink GG jacquard
Silk scarves can be worn in a variety of ways: as a neck wrap, a headband, a hair accessory, a wrist wrap, or a handbag accessory.