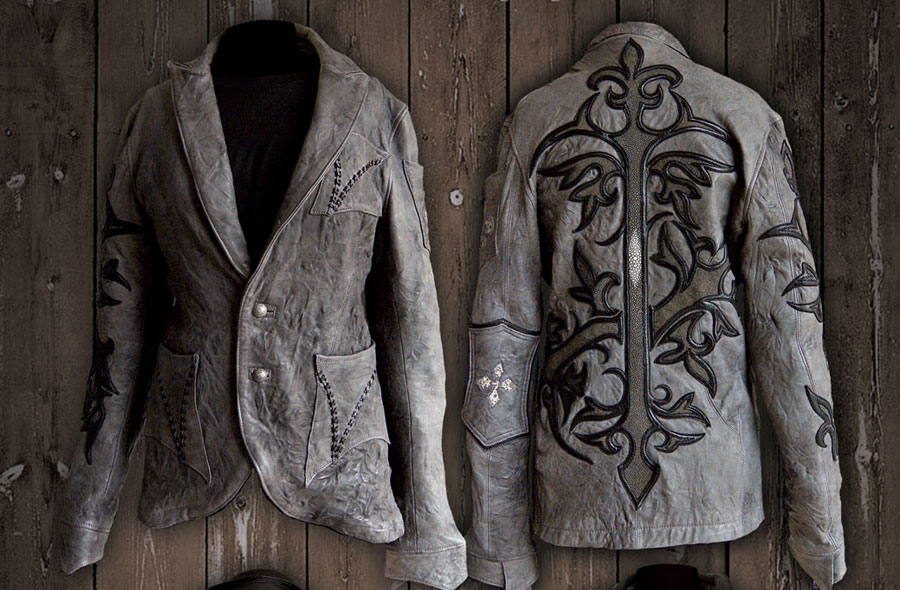 Logan Riese creations are the embodiment of the consummate rocker attitude and bear a unique, immediately recognizable signature.
Logan has been designing clothing with a rock star edge for over a decade. In that time not only has his collection expanded to include everything from yachts and high-end car interiors to interior design for homes, so has his following. He has gone global with distribution in New York, London and Japan. His 'by appointment only' flagship Los Angeles boutique has a waiting list comprised of celebrities from the music industry and clients who simply appreciate the unique, cutting edge looks. Logan ships world wide to a loyal client base in China, Taiwan, Russia, Paris, and more.
There is definitely an elegant side, a cultivated expression. The whole "rockin" thing means someone has their sh*t together enough to apply some skills and talent along with the balls to express themselves, which some would say beats a "cultured" elegance anyday.
Logan's success is due not only to his famous fans, but also to the quality of materials, the design and the craftsmanship that goes into each piece. Each pelt is carefully selected based on the garment it will eventually become. The grain, the color and the condition of the leather are reviewed extensively before any work begins. Logan uses only the very best there is including exotics, such as: stingray, python and alligator.
All the garments are produced in his studio where Riese oversees all aspects of construction—from cutting to 'sculpting' the intricate designs for which he is renowned, as well as all the luxurious finishes…
and the placement of his hallmark "dripping" pockets.
Every designer has a trademark design and Logan Riese is no exception. His cuffs are slightly pointed in the back to elongate the arm. And, pocket placement has become an element of style that serves to highlight the artistry of the garment. Logan is also known for his inlay work—mixing hides and skins to create unique patterns highlighted by tight, uniform stitching throughout. The leather is strong and sturdy for jackets; soft and supple for leather shirts and pants. Each garment can be custom tailored per the client's frame. They can also be created with a unique combination of mixed media; inclusive of leathers, colors, appliqués and more.
The entertainment industry is a regular customer of Logan Riese's designs, contracting unique items for feature film, major music tours and performances, and fashion editorials. Logan's leathers became the second-skin pants on Stacee Jaxx, portrayed by Tom Cruise in Rock of Ages…for the out-of-this-world costumes worn by Zoe Saldana and Benedict Cumberbatch in Star Trek, Into Darkness 3D and for Matt Damon's Behind the Candelabra suedes.
For years Riese's custom-created, high-end leather fashion has had a unique vibe that musicians from metal to country—and every genre in between—tune into. Rock legend, longtime client and friend, Jon Bon Jovi is regularly photographed in his designs. (Riese was also the architect of Jon's wardrobe for his Have a Nice Day world tour.) His jackets have been spotted on Megan Foxx, Kid Rock, Lynyrd Skynyrd, singer/style-setter, Lenny Kravitz and in several feature films like The Hunger Games Catching Fire and The Hangover Part III. To see some of Logan's most recent designs, look no further than the 2013 Bon Jovi tour.
Riese's success and star-studded following can be attributed to many factors. However, after seeing his collections, we've come to the conclusion that beauty is truly skin deep.